If You Build It, They Will Come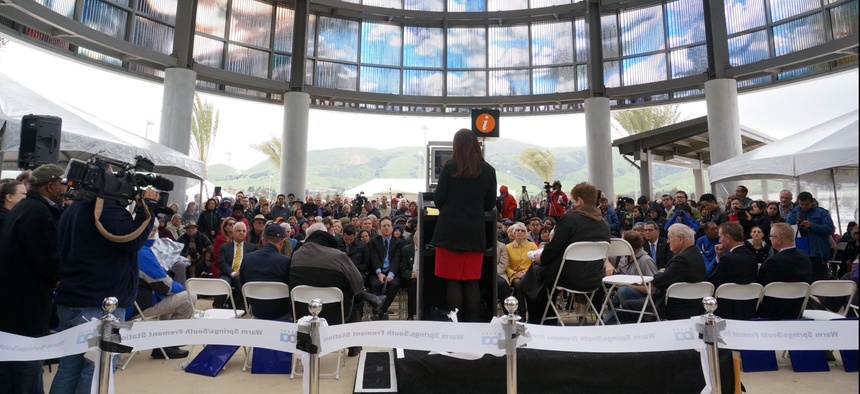 With a newly opened BART extension, the city of Fremont, California, aims to spur major economic development. For now, it's a work in progress.
The opening of a transit extension is always an exciting moment for local elected officials, agencies and other civic stakeholders. And that was certainly the case this past weekend in Fremont, California, with the ribbon-cutting for the Bay Area Rapid Transit system's new 5.4-mile rail extension to the Warm Springs area of the city.
The completed extension came in around $100 million under its $890 million budget.
BART's 46th station is a sleek one, complete with solar panels, electric-vehicle charging stations, bicycle lanes and intermodal facilities connecting to regional bus networks.
But the adjacent areas around the station are somewhat empty. At this point, there's not much there except for a lot of parking.
In time, that will change. The Warm Springs / South Fremont Station has been envisioned as an anchor for future transit-oriented development.
As Streetsblog reported from the station's opening this past weekend.
"On the west side of the station there are 4,000 housing units planned," said Nick Josefowitz, BART director and Streetsblog contributor. Indeed, Streetsblog could see the bulldozers were already at work preparing the land. "We should make all our stations with…EV-charging stations, solar panels," said Josefowitz, standing near the dramatic rotunda at the entrance. "The station should be a testament to what the public can build when we are ambitious about public spaces."
In a January 2016 guest article for Route Fifty, Fremont's then-mayor, Bill Harrison, detailed the Warm Springs extension's long journey, which began when the BART system was originally envisioned in the 1960s, but was put on the backburner numerous times until the early 2000s when it saw new life:
The planning involved extensive community outreach with landowners and residents in the surrounding area. Community interests clearly focused on the need for additional school capacity, followed by a local roadway infrastructure to serve planned development. Fremont decided to strike while the iron was hot and push forward with its vision of transformation.
For transit-oriented development to be successful and transformational, local jurisdictions first need to build the transit.
With the Warm Springs extension, the city of Fremont has wrapped up that part of a long and complicated story.
The next few chapters are still being written.
In the meantime, check out the new station.