Calif. Governor Asks Trump for More Federal Assistance With Storm Recovery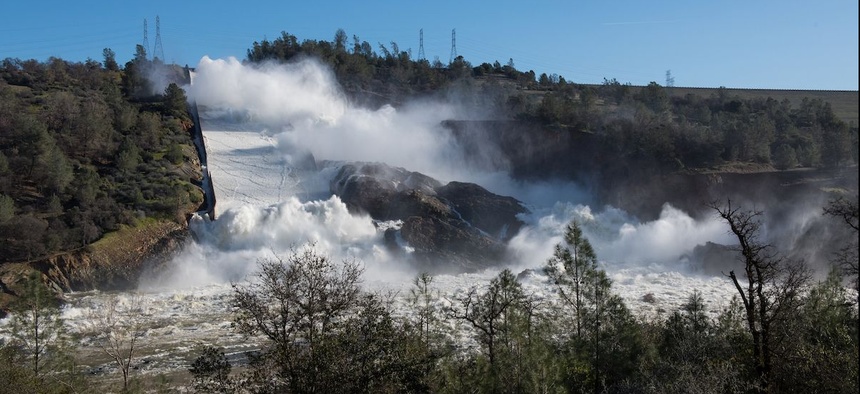 Assessments now peg damages from winter weather systems in the state at over $539 million.
With damage estimates from storms in California this winter totaling hundreds of millions of dollars, Gov. Jerry Brown on Sunday sent a letter to President Trump asking for additional federal assistance with recovery efforts.
Brown's disaster declaration request is the fourth he has sent to the White House in recent months. Three others have been approved—two in February and one last week. The governor said joint federal-state assessments now peg damage from the storms at over $539 million.
"There are literally hundreds of examples of damage to public infrastructure across the State," Brown, a Democrat, wrote in his letter to Trump asking for a Major Disaster Declaration.
The latest request specifically focuses on storm systems that hit California between Feb. 1 and Feb. 23. Stormy weather in the state during January and February caused flooding, mudslides, power outages and other problems.
Brown's letter notes that the most severe damage from the February storms occurred at the Oroville Dam, which is located roughly 75 miles north of Sacramento on the Feather River.
About 188,000 residents were forced to evacuate from homes near the dam in early February after the main spillway deteriorated under heavy water flows and ground along an emergency spillway began to erode, causing officials to fear that catastrophic flooding could take place.
Some other examples of damage highlighted in Brown's letter to Trump include: the failure of the Coyote Canal in Santa Clara County, forcing over 50,000 residents to evacuate from the surrounding area; a water main break in Contra Costa County that cut off water supplies to more than 1,000 residents and an oil refinery; and a sewage spill in San Mateo County.
Weather systems that struck California in February broke nearly 200 precipitation records between Feb. 1 and Feb. 22, according to the letter.
"There was simply too much water flowing through our waterways," Brown said in his request.