Will Trump's Planned Cuts Scuttle an Ambitious P3 Plan for Broadband in Kentucky Coal Country?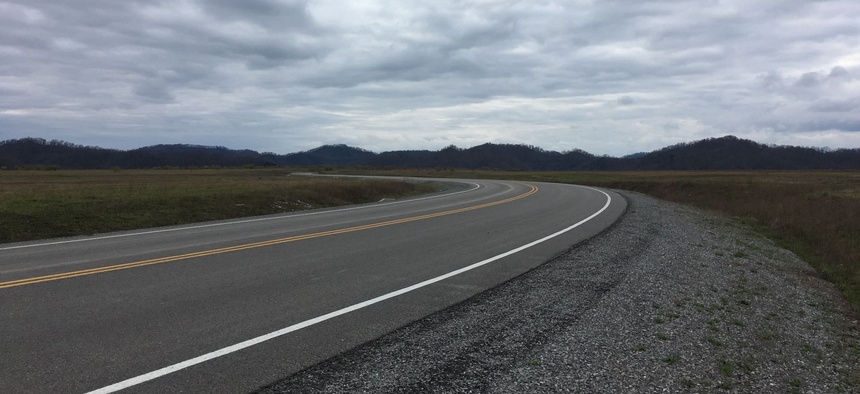 The feasibility of the project in Pikeville could depend partly on federal grant programs that may be eliminated.
PIKEVILLE, Ky. — Declines in coal production and thousands of job losses tied to the mining industry have battered the local economy here over the last decade.
That said, mining is not the only sector this city of about 7,000 residents relies on.
"Pikeville has actually continued to thrive and to grow," Donovan Blackburn, the city manager said Tuesday during an interview at his office, as he discussed how the city's economic health has fared in recent years. "A lot of it's because of diversification," he added.
But when it comes to attracting new employers and remaining economically competitive, Blackburn said that Pikeville has a problem: internet service in the city is sluggish and unreliable.
"It is bad," he said.
'If it Doesn't Work in Pikeville...'
Since 2015, Blackburn has been pressing for a public-private partnership deal that will deliver high speed broadband to Pikeville. It would piggyback on a broader state program, known as KentuckyWired, that is focused on developing high-speed broadband in Kentucky.
Both projects are unfolding alongside other initiatives, like workforce-training programs, meant to strengthen Kentucky's tech sector—especially in the eastern part of the commonwealth.
Blackburn believes Pikeville's broadband effort could serve as a template, and a test case, for other localities interested in bringing broadband to their communities.
"In eastern Kentucky, if it doesn't work in Pikeville, it doesn't work anywhere," he said.
Why is that? Blackburn explained that, compared to the rest of the region, the city's population density is relatively high, and that there's a solid base of commercial internet customers.
As envisioned, an initial phase of the Pikeville broadband project would deliver internet, with one gigabit per second speeds, to between 1,500 and 1,800 homes and businesses by 2019. It would cost about $15 million. With borrowing, Blackburn said, the city can currently afford about $7 million to $8 million of that expense.
To come up with the rest of the money, Pikeville is seeking federal grants.
Some of these grants would come from agencies President Trump proposed cutting, or eliminating entirely, in a budget proposal he sent to Congress earlier this month.
Blackburn, who said he voted for Trump, expressed some concern Tuesday over the prospect of losing those federal dollars. But, for now, he's forging ahead with the broadband project.
Argument for Federal Funding
As the city manager made his case for the U.S. government chipping in money for the broadband initiative, there was a point he circled back to several times. Tightened federal environmental regulations, in his view, are a major reason the coal industry has faltered in eastern Kentucky.
"The federal government created the collapse," he said. In turn, he argues that the federal government should help the region lay groundwork for other forms of industry.
As for Trump's pledge to revive the coal sector, Blackburn said he takes the president at his word and applauds him for it. "Some mines have fired back up," he noted.
"We will never leave, or under-support, what the mining industry means to eastern Kentucky. That has been our bread and butter," he said. But Blackburn, who has been city manager for 13 years, added: "We also know what happens when you literally turn the lights out on us overnight."
The sources of money Pikeville is looking toward for the project include grants from the Appalachian Regional Commission and the Economic Development Administration, both of which the White House proposes eliminating entirely in its fiscal year 2018 budget blueprint.
He also mentioned grants from the U.S. Department of Agriculture, an agency that faces a 21 percent spending cut in the budget proposal.
Not providing federal support for initiatives like the Pikeville broadband build-out could also have a price, according to Blackburn.
"You're going to be subsidizing every single person that's not going to leave this area," he said. "You're going to be paying more Medicaid, more Medicare, unemployment."
A Regional Hub in Coal Country
Pikeville is nestled among steep hillsides, along the Levisa Fork of the Big Sandy River, roughly 20 miles from Kentucky's border with West Virginia. The town is known in part for the Pikeville Cut-Through project, which took place over a span of about 15 years, beginning in the 1970s.
The project involved blasting away millions of cubic yards of rock and other material from Peach Orchard Mountain and rerouting the Levisa Fork in order to create more level land for development, while also reducing flood risks and easing rail and road travel.
Pikeville serves as a regional hub for medicine, higher education, legal services and retail and is the county seat of Pike County, which has about 60,500 residents.
Establishments in and around downtown include Pikeville Medical Center, which employs about 3,200 people, a U.S. District Court, a Big Sandy Community and Technical College campus and University of Pikeville, which has a new optometry school under construction.
Bit Source, a startup company that has drawn attention for transitioning coal miners into computer coding jobs, is also located here. And, at the edge of town, there's upwards of 300 acres of fresh industrial park space on reclaimed coal mining land that's waiting to be developed.
Pike County was the top coal-producing county in eastern Kentucky in 2015, according to a state report from last year.
But production has fallen steeply in recent years and with it mining employment. Tons of coal produced in Pike County dropped to around 6 million tons in 2015 from around 28 million in 2004. Over the same period, jobs at coal mines in the county declined to 1,591 from nearly 4,000.
Unemployment in Pike County has not fallen below 7.5 percent since the onset of the Great Recession in 2008. It was estimated to be around 10 percent in January, according to the U.S. Bureau of Labor Statistics—roughly double the national rate that month.
During last year's presidential election, about 80 percent of voters in the county backed Trump. Blackburn offered one explanation for why: "loss of coal jobs."
'Not Very Good'
Ask around in downtown Pikeville about the quality of the local internet service and it's not hard to find people who will provide critical reviews. Amber Sussan, for instance, was working behind the counter Tuesday afternoon at CC Belle, a woman's clothing boutique on Caroline Avenue.
"It's really spotty," Sussan said of the service at the store. It tends to go out at least twice a week, she said, which is problematic for processing credit card transactions.
A customer who did not want to give her name said she paid extra to upgrade her cell phone data plan so she could have online access when her $60-per-month internet service fails.
"It goes in and out all the time," the woman said.
A couple blocks away, at GoodFellas Barbershop, Tommy Smith, an employee, said service was commonly out once a week at the shop. "We could definitely use an upgrade," he said.
"It's terrible," griped a man getting a haircut, describing his home connection.
There seemed to be some consensus in the shop that service was somehow affected by poor weather.
Candice Smith was on her way to work at a restaurant when she stopped into Roasted Coffee and Cafe. She said her home Wi-Fi had been out the night before and during the day.
"It's not very good," she said.
Smith said she pays about $60 or $70 a month for internet and recently switched providers from Suddenlink Communications to AT&T. Service was better at first, but is getting finicky again.
"It's very unpredictable," she said. For someone working at home, or needing internet access for their school work, Smith added, "It would definitely present some problems."
Tough Terrain, Dispersed Population
Topography and population density are two reasons why developing a high-speed internet network in the area in and around Pikeville is not a simple or inexpensive undertaking.
The same hilly terrain that prompted the cut-through project complicates running fiber optic cable, installing poles to hang it on, and putting electronic equipment in place.
At the same time, homes and businesses are more spread out than they are in bigger cities—even though Pikeville is more dense than other localities in eastern Kentucky.
In Lexington, Kentucky, it might be possible run cable from a pole to an apartment building and provide service to 50 customers. Do the same in Pikeville and a provider might reach one house, before having to continue 200 feet up the street to the next home.
Blackburn said the cost to run fiber for high speed broadband in a place like Lexington pencils out to about $1,400 per household. The price in the Pikeville area is closer to $4,400.
How the Deal Will Work
One of the early steps the city took on its quest for high speed broadband was to make a deal with the commonwealth of Kentucky to secure 144 extra strands of dedicated fiber, along a roughly 15-mile stretch of cable, that is set to be installed in Pike County as part of the KentuckyWired program.
This cost Pikeville $315,000 and about $20,000 in estimated annual maintenance. The city did not have to pay for costs like installation labor, or pole attachments, only the fiber itself and the maintenance.
Adding the strands of fiber to the commonwealth's broadband line fattened the cable by a fraction of an inch and, according to Blackburn, saved Pikeville about $1 million compared to what it would have cost the city to install the cable on its own.
The plan is for these 144 strands of fiber to provide the backbone for the city's broadband program.
While getting the fiber main line in place is one part of building out the system, the city also needs to make connections to residences and businesses and will need to find a private partner, or partners, that can engineer, operate and manage its broadband network.
Specifics about how the city's eventual financial arrangement with the private operator of the network will look are still uncertain. But Blackburn explained some of the basics.
The city will agree to pay a private partner it selects through a competitive bidding process a set price to operate and manage the system. Meanwhile, the operator would maintain an "open network," meaning the broadband system would be open to internet, television and telephone providers that want to pay to use it.
Providers would pay the operator a "toll fee" each time they use the network to make a connection to a household or business. The operator would collect the fees and transfer them to the city. The city could then use that revenue to cover its payment to the operator.
If the monthly toll fees only total, say, $200,000 and the operator fee is, theoretically, $400,000, then the city will have to dig into other parts of its budget to make up the difference.
This is one of the risks Pikeville will take on with the deal. If enough people and businesses don't subscribe to services offered over the network, then it threatens to the city's ability to cover the payments to the operator and interest for any debt it takes on as part of the project.
Offering an additional financial buffer is revenue from a city restaurant tax increase that went into effect in January. The tax went up to 3 percent from 2 percent. Under state law, this money can only be used for certain purposes, which do not include broadband internet.
But revenue from the tax is allowing the city to free-up other money in its general fund that can go toward the costs of the broadband initiative.
This tax hike did generate backlash from some local restaurant owners.
Matt Corbin, owner and general manager of The Blue Raven Restaurant and Pub, wrote a letter to the Appalachian News-Express in December voicing opposition. Corbin said his profits were already "razor thin" and that the tax would deter people from eating out.
Affordability
The price of service on the broadband system is also yet to be determined. Blackburn said the city is hoping that residential gigabit internet service will be about $100 to $120 per month and that business service will be in the range of $200 to $240. Non-gigabit service could be available on the network at lower prices, he also pointed out.
"The word affordable is very, very important," Blackburn said.
But to Candice Smith, the woman who stopped into the coffee shop before work, $100 a month sounded like an expensive price.
And Tommy Smith, the man working at the barbershop, raised questions about whether broadband should be a top priority. He and another employee discussed how there are places in Kentucky where residents have trouble getting drinkable tap water.
"It would be a convenience," Smith said. But he added: "We already have internet."
Blackburn acknowledged water and sewer systems are important. He believes, however, that without a foundation for new jobs in the region the local population will gradually empty out.
For now, the city's ambition is to start construction on the broadband project in six to eight months and to have it up and running in about two years. Blackburn said that timeline could shift.
A big open question is whether the feds will contribute money to help make the project happen.
"We're at a point now where we've done our work," Blackburn said. "What we now have to have is for the federal agencies to step up." He added: "We need that infusion of grant funding."