Seattle Sewage Disaster Raises Bigger Questions About Infrastructure Resilience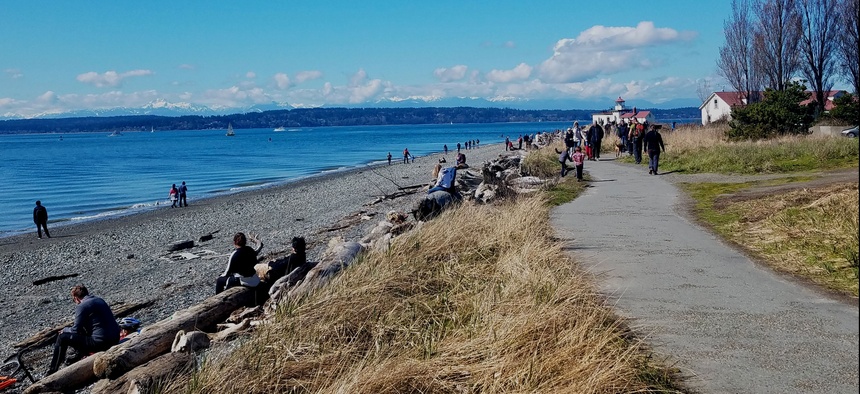 The hundreds of millions of gallons of untreated waste that poured into Puget Sound in recent weeks will likely be a "moot point" during an even larger catastrophic event. What can be done to mitigate the risk?
This is the first in a two part series on the management of wastewater infrastructure.
SEATTLE — After a particularly dreary stretch of weather in recent weeks, the sun finally came out on Sunday, drawing throngs of Seattleites to Discovery Park, an expansive promontory of land jutting out into Puget Sound that was once the home of an Army base.
The West Point Lighthouse is a popular destination in the park, allowing visitors to take in the Olympic Mountains across the sound and boats heading in and out of Elliott Bay. But many of the people walking along West Point's rocky beach on Sunday were likely oblivious to the environmental disaster that fouled the adjacent waters in recent weeks.
While conditions have improved to where beaches have reopened, that wasn't the case in February when authorities in King County, which includes Seattle, warned residents and visitors to steer clear of the water.
The culprit? King County's West Point Wastewater Treatment Plant, which was designed to blend in with Discovery Park's natural surroundings and is mostly hidden from view.
Hundreds of millions gallons of untreated raw sewage and stormwater flowed from the plant into Puget Sound starting on Feb. 9 following a succession of events at West Point that knocked the facility offline.
The hazardous situation flooded parts of the complex, causing millions of dollars in damage to wastewater treatment systems and prompted what's been described as a heroic and very difficult around-the-clock effort to return West Point to full service, which is expected by the end of April. (The plant has been operating at 50 percent capacity and is currently sending partially treated wastewater into Puget Sound, a violation of its permit.)
At a meeting on March 13, the Metropolitan King County Council approved an ordinance to consolidate the county's inquiry into the West Point disaster under its legislative purview, a move that was endorsed by the office of King County Executive Dow Constantine, who has jurisdiction over the West Point plant. After a 471-page preliminary report was released earlier this month by the county's Wastewater Treatment Division, a consultant's comprehensive report commissioned by the council is expected back in July.
"It was a real shock to everyone and we've all been wanting to find out what went wrong ... and make sure that this never happens again," King County Councilmember Jeanne Kohl-Welles said during a March 13 council meeting. "It is our responsibility as a council to provide the public with a full and unbiased understanding of what went wrong."
The West Point situation has forced county leaders to take a crash-course in the science and engineering of wastewater treatment.
During the March 13 meeting, Councilmember Rod Dembowski compared the situation to an investigation into an airplane crash where there's usually "a series of catastrophic events that leads to failure" instead of one simple explanation.
In this case, some of the factors at play, as identified in the preliminary report, include heavier-than-normal precipitation that "produced an extremely high influent flow" to the plant and failures in electrical switchgear that power pumps that feed outflow pipes 220 feet below the surface of Puget Sound. Those failures led to a flood of raw sewage inside the plant, damaging treatment systems, including digesters, sedimentation tanks, heat loops, raw sludge blenders and gravity belt thickeners. In all, more than 200 pump motors need to be replaced along with 100 electrical panels, according to the report. (A recent in-depth examination by The Seattle Times detailed the difficult battle underway to save critically important microbes that digest waste solids at the plant.)
While county leaders like Kohl-Welles and Dembowski have many questions about the complicated series of events that led to the sewage crisis, there's something else important to keep in mind with the West Point situation that any agency that manages wastewater treatment infrastructure ignores at its peril.
February's failures in King County gave wastewater agencies everywhere a taste of what could come if a regionally disruptive disaster—like a future Cascadia megathrust earthquake scenario in the Pacific Northwest—severely damages or destroys critical infrastructure.
What will happen at the West Point plant or other facilities like it when sewage lines rupture in a massive earthquake? Instead of a few weeks of raw sewage entering into Puget Sound, what will happen when repairs take many months or perhaps years? How long will it take for the region's post-quake cesspool to recover environmentally? What can be done to limit the ecological impacts of a regional megaquake before and after it strikes?
At this point, those are big what-ifs. But they are very real what-ifs.
"We have to look into it," Kohl-Welles told Route Fifty in a recent interview. "I'm convinced of that."
During last year's Cascadia Rising regional megaquake response scenario, Kohl-Welles said that wastewater infrastructure was a low-priority topic and didn't recall much discussion about treatment facilities like West Point during the multi-jurisdictional planning exercise.
When the next major earthquake strikes the Pacific Northwest, "it may be a moot point with what happens with wastewater," Kohl-Welles said, considering how resources to respond will be severely strained during what will be a difficult, multi-faceted and highly disruptive disaster and recovery period.
It's assumed that following such a disaster, drinking water and sewage systems will be knocked offline for many months, requiring interim sanitation solutions to meet the basic needs of a recovering community. But there are some steps that can be taken to make wastewater infrastructure better able to stand up to a major seismic event, including retrofitting sewage pipes with earthquake-resilient joints, which have thus far shown great promise in testing.
Like so much of the other infrastructure in Seattle and King County, pipes that carry drinking water to customers and wastewater to plants like West Point are aging, vulnerable and costly to upgrade.
Will leaders in the Puget Sound region, including those in King County, make addressing those larger resiliency challenges a priority? As we await the next real-life disaster-management situation, time will tell.