Trump Budget Chief: Administration Wants to Move HUD Money to Infrastructure Package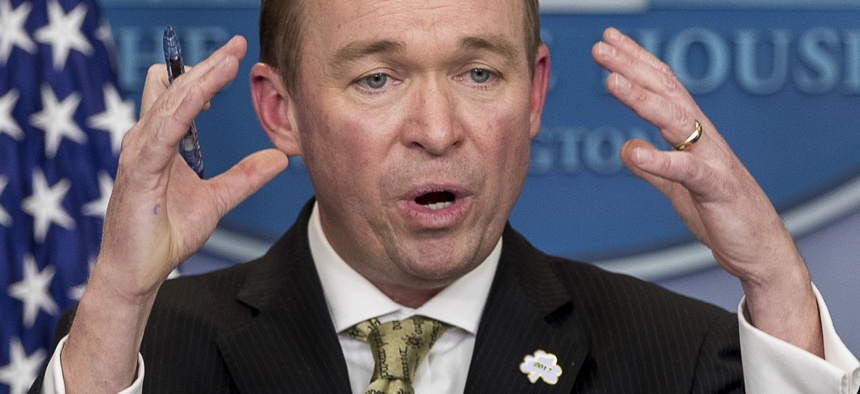 White House Office of Management and Budget Director Mick Mulvaney indicated the same is true for U.S. Department of Transportation dollars.
WASHINGTON — The White House budget chief on Thursday suggested that the Trump administration will push for federal housing dollars to be shifted toward an infrastructure investment package the president plans to unveil later this year.
As he discussed Trump's newly released budget proposal during a White House briefing, Office of Management and Budget Director Mick Mulvaney said the administration was trying to figure out how to better spend funding for the U.S. Department of Housing and Urban Development.
"I talked to Dr. Carson about this just today," Mulvaney said, referring to HUD Secretary Ben Carson. "What we saw as we went through the analysis of the HUD budget is that a lot of their money got spent on government housing and building. It's actually infrastructure."
"We are working on a large infrastructure program that we hope to roll out this summer," he added. "What Secretary Carson wants to do is take the money for the infrastructure that's in HUD right now—and not very well run—and move that into this larger program."
The $1.1 trillion discretionary spending blueprint Trump sent to Congress on Thursday calls for cutting HUD's fiscal year 2018 funding by about $6.2 billion, to $40.7 billion. It's not clear from the details in the plan how much of that money could be moved to the infrastructure package.
Mulvaney indicated on Wednesday and Thursday that money could be moved from U.S. Department of Transportation programs toward the infrastructure package as well.
Details about the package are currently limited in terms of where the money would come from and what types of projects it would pay for. "Infrastructure," broadly defined, could include anything from roads, to power grids, to airports, or broadband internet networks.
The president has said he wants the infrastructure program to total $1 trillion and to involve public and private investment.
Trump met last week with business leaders to discuss infrastructure.
The White House in late February announced DJ Gribbin had been named as a special assistant to the president for infrastructure policy. Gribbin previously led advisory teams structuring public-private partnership deals for government clients at Macquarie Capital.
Trump has also turned to Steven Roth, CEO of Vornado Realty Trust, and Richard LeFrak, CEO of the LeFrak Organization, which has interests in real estate, the energy sector and other areas, to lead a new infrastructure council.
"What we're saying," Mulvaney said Thursday, after referring to HUD and Department of Transportation spending in the president's budget blueprint, "is, look, for years and years we have built infrastructure like this and it doesn't work very well."