Trekking Up the 'First Road' in the Last Frontier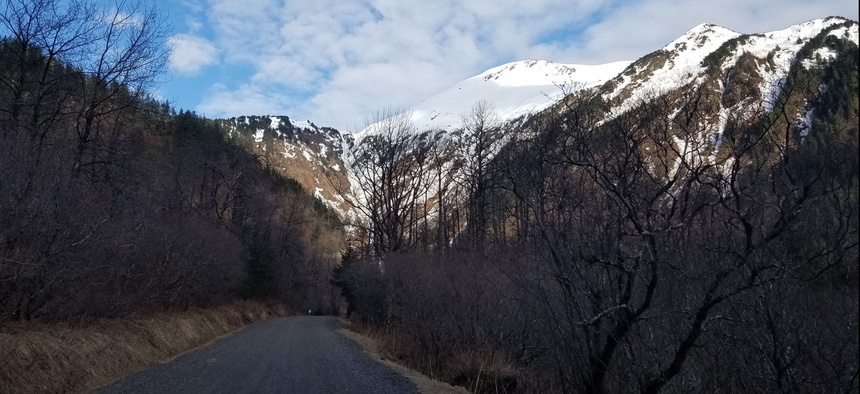 PHOTOS: This historic—and stunningly beautiful—mountain route put Alaska's capital city on the map.
This is the first in a series of Route Fifty dispatches from Alaska.
JUNEAU, Alaska — The Last Frontier's seat of government is a fun one for those who enjoy state capital trivia. For starters, the City and Borough of Juneau is the nation's second-largest municipality by land area, and might grow a bit larger if it annexes part of Admiralty Island, as has been proposed. (Sitka, Alaska's former capital, is the nation's largest municipality by land area.)
By road, Juneau, which has a population of around 30,000 people, is isolated not only from the rest of the state, but also the rest of the North American continent. The rugged mountains and coastal topography here are a formidable physical barrier—you either have to fly or take a ferry via the Inside Passage.
That's not to say there aren't local roads. Going north and south out of downtown Juneau, you can drive along the Gastineau Channel. (The phrase "Out the Road" is used locally to describe a section of Alaska State Route 7 that ends abruptly about 45 miles north of downtown.)  
Going west, there's also a bridge that connects Douglas Island to the mainland.
You can also go east, like Route Fifty did on Sunday, by driving uphill through Juneau's narrow network of streets and take Basin Road over a narrow one-lane wooden bridge that hugs a steep ridge and continues a bit farther up along Gold Creek before it ends near the Last Chance Mining Museum.
This is "Alaska's First Road," and was a critical link between Juneau and the mining communities that popped up in the Silver Bow Basin in the late 19th and early 20th centuries.  There were at least five gold-mining operations along the Gold Creek Valley.
The Juneau Mining Record wrote in 1889:
This is the first road of any great extent and cost we know of in Alaska … The Canyon to the Basin is steep and confined by precipitous bluffs, in many places requiring considerable skill and practical knowledge to overcome the difficulties met with its construction. This is the longest and best road and will ever stand as a monument to the enterprise of the company.
Today, the mining in the Silver Bow Basin that put Juneau on the map is gone but the route to the Silver Bow Basin is popular with Juneauites for its hiking opportunities due to its proximity to downtown—granted, the ascent is more than 1,000 feet, so it's not necessarily an easy stroll.
The Perseverance Trail, which starts where today's Basin Road ends, continues along the original route, which includes a cragged section called The Horn where there's a steep drop-off down to the creek.
It's hard to believe that a century ago, tourists navigated this somewhat nerve-racking location—if you don't like heights or the prospect of sudden rockslides—in a car. But a historical marker shows pleasure seekers in a 1915 Buick posing for a photograph at The Horn. (Motorized vehicles are prohibited from this section today.)
Beyond that, the Silver Bow Basin opens up and beyond that, hundreds and hundreds of miles of mountains, snowfields and glaciers.
Undoubtedly, this is a one-of-a-kind spot for a state capital, where you quickly transition from an urban center to a beautiful wilderness.