How the I-85 Collapse in Atlanta Could Be an Opportunity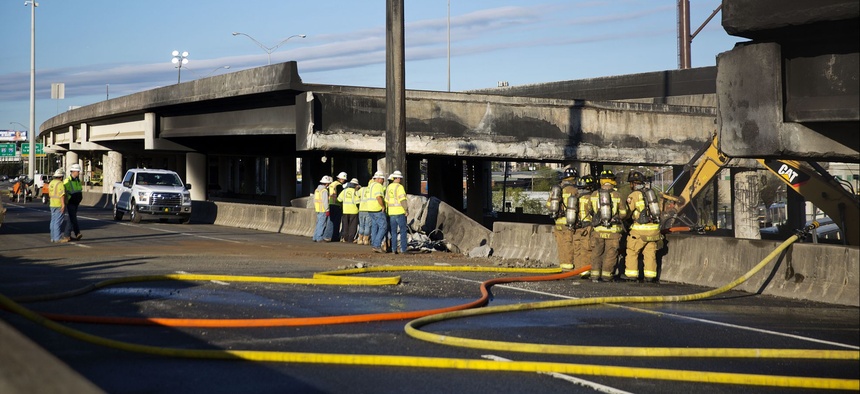 The structural failure of a busy section of interstate highway in Georgia's car-reliant largest capital city could have a silver lining.
If you complain about your commute, be thankful you aren't in Atlanta.
It's the first full work week without a heavily traveled section of Interstate 85 that collapsed Thursday evening following a fire that started underneath a viaduct about six miles north of downtown.
This weekend, as Georgia Department of Transportation crews started demolition work on the impacted section of highway, a homeless man was charged with arson and criminal damage to property in connection with Thursday's incident.
Interstate 85 usually carries around 250,000 vehicles daily, so Monday's morning commute will be a major test of the resiliency of the greater Atlanta area's transportation network. The Atlanta Journal-Constitution wrote on Sunday that "the usual nightmare commute may enter a new circle of Dante's hell."
In any auto-centric metropolitan area, the sudden, unexpected unavailability of a vital piece of infrastructure—as I-85 is in sprawling Atlanta—is a big test of the ability of transportation network to quickly react and accommodate the closure of one of its central arteries.
The 2007 collapse of the I-35W Bridge tested the Minneapolis area in a similar way, as did, more recently, the closure of a bridge connecting the New Jersey and Pennsylvania turnpikes due to a structural weakness.
It's expected that commuters in Atlanta, especially those who live in its northeastern suburbs and travel downtown, are in for many weeks—and likely months—of pain with that stretch of I-85 out of commission.
But there's silver lining, of sorts: The impacted highway corridor runs roughly parallel to the Metropolitan Atlanta Rapid Transit Authority's main north-south rail line, giving those impacted by the I-85 shutdown a reason to try public transit.
As WXIA reported on Friday, the transportation upheaval will test Atlantans in ways not seen since the 1996 Olympic Summer Games:
So, here we are again. In our moments of greatest traffic need, we turn to MARTA. MARTA will come out of this a savior. Or a disaster. There is opportunity. And, they're making initial steps to fill it.
On Friday, MARTA saw its ridership jump by 25 percent, according to the Journal-Constitution.
As WSB-TV noted this weekend, the I-85 collapse will be a big test for MARTA, which has increased its service as a result of the collapse. But the agency, according to General Manager Keith Parker, isn't sure how long it can sustain the higher service levels.
"But there will come a point if we try to keep too long of a period of sustained service, that we may have a manpower or staffing shortage," Parker told WSB-TV. The agency could face difficulty meeting the challenge financially, too, and has already contacted the Federal Transit Administration and Georgia's congressional delegation.
If MARTA performs well during the I-85 shutdown and eases some of the pain of that traffic-weary Atlantans will be enduring, more commuters may stick with transit for the long haul. And if they don't, they'll better appreciate the often overlooked transportation resiliency MARTA provides in and around Georgia's largest city.
The agency has benefitted from some recent goodwill: In November, Atlanta voters approved a sales tax increase to fund about $2.5 billion for MARTA improvements and expansion projects.
Thursday's event, for as disruptive as it was and will continue to be, could prove to be a pivotal moment for the transit agency.
As Atlanta airborne traffic radio anchor Doug Turnbull wrote this weekend: "Now seems like the perfect time to finally embrace MARTA."
PREVIOUSLY on Route Fifty: