Federal Money for Caltrain Electrification Project Could Be Doomed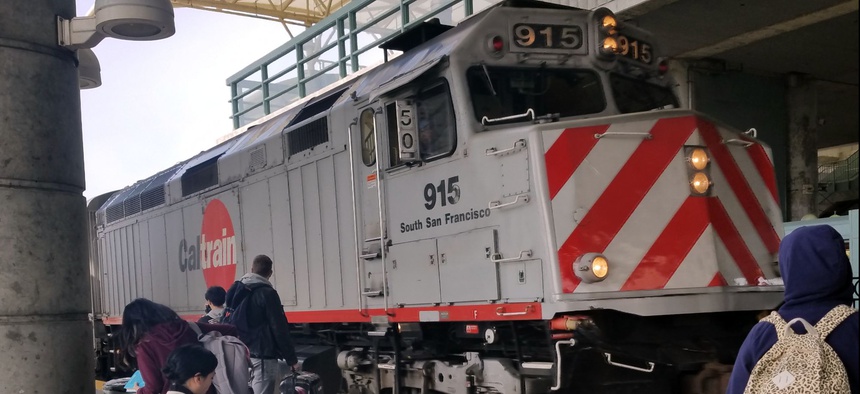 "There's no funding. And, so, that's a problem," U.S. Transportation Secretary Elaine Chao told a U.S.Senate Committee on Wednesday.
WASHINGTON — U.S. Transportation Secretary Elaine Chao is not offering strong reassurances that federal funding will materialize for a train electrification project stretching between San Francisco and San Jose, California.
Chao testified Wednesday before the U.S. Senate Committee on Environment and Public Works. U.S. Sen. Kamala Harris, a California Democrat, asked the secretary during the hearing about the status of federal funding for the Caltrain project.
Caltrain, a commuter rail line operator, says the roughly $1.9 billion Peninsula Corridor Electrification Project would allow faster and more frequent service in the corridor, improve air quality and cut down on noise from trains, while leading to other beneficial outcomes as well.
The locomotives that now serve the corridor are diesel powered.
Harris said there were already $1.3 billion in matching funds raised, that the project was ready to start construction and that it could create 10,000 jobs.
Fiscal 2017 spending legislation, she added, allows for $100 million for the electrification of the rail line. But the law, Harris said, requires the U.S. Department of Transportation to enter into what's known as a "full-funding grant agreement" for the project to receive funding.
"The project could be in jeopardy," she said,"if the full funding grant agreement is not executed very soon." According to Harris, the contract to begin construction of the project expires next month, on June 30. So she asked Chao about the status of the federal money.
Chao said "there's a lot of money going to California," pointing to a federal program known as New Starts. She added, "Caltrain is not the only project that's waiting" for federal funds.
In last year's presidential election, Trump won about 9 percent of the vote in San Francisco County and roughly 21 percent of the vote in Santa Clara County, where San Jose is located.
The $100 million in the 2017 "omnibus" spending legislation for the rail electrification project could "go out," Chao said. But when it comes to meeting the terms of the full funding grant agreement, she explained, "I'm about a hundred and five million short."
So Harris asked: "How do you recommend we address the deadline that we have of June 30?"
"It's a tough problem," Chao responded. "I understand the deadline. But there's no funding. And, so, that's a problem."
"How do you suggest we resolve the problem," Harris inquired.
"I wish I knew," Chao replied.
As for the full-funding grant agreement, she said: "I cannot issue it if the funding is not there."