Feds to Sign-Off on Funding Agreement That Had Been in Doubt for California Rail Project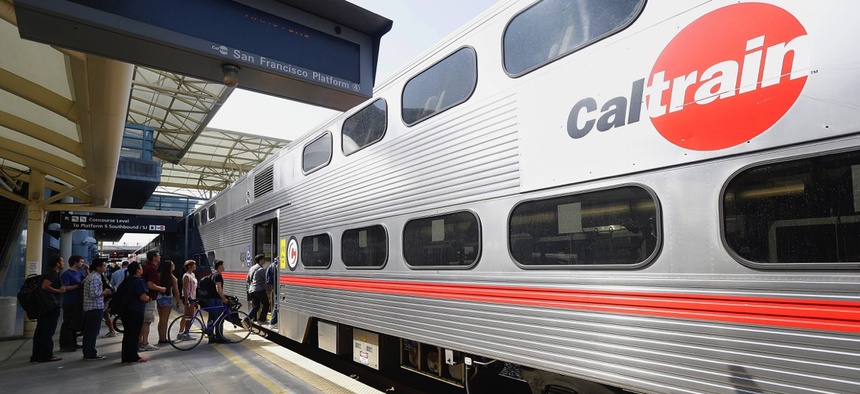 U.S. Transportation Secretary Elaine Chao had voiced uncertainty about the agreement in recent days.
WASHINGTON — Federal officials plan to approve an agreement that will clear the way for nearly $650 million to go toward a commuter rail electrification project in California.
U.S. Transportation Secretary Elaine Chao indicated in congressional testimony last week that federal funding for the rail line upgrade was uncertain and that it was unclear whether the so-called "full-funding grant agreement" would be signed. But the Federal Transit Administration announced Monday that it intends to approve the agreement, easing doubts about the project's finances.
"Almost two decades of planning for this $1.98 billion project hinged upon this grant agreement," U.S. Sen. Dianne Feinstein, a California Democrat, said in a statement on Monday. "For the past three months we've waited to hear the status of the grant."
"With this agreement, the project can finally begin," she added.
The San Carlos Peninsula Corridor Electrification Project involves a Caltrain commuter rail line, which connects San Francisco and San Jose, California. Feinstein noted that the agreement marked a commitment from the federal government to provide $647 million over the next five years.
An "omnibus" budget package enacted earlier this month for the current federal fiscal year included an appropriation of $100 million for Caltrain. The Federal Transit Administration said it would go ahead and allocate this money for the electrification project.
But the FTA also pointed out that, as with all signed full-funding grant agreements, further allotments of money specified in the pact are contingent on the congressional appropriations process in future years. In other words, the agreement is not an ironclad guarantee the federal government will fork over an additional $547 million.
Caltrain currently runs diesel powered locomotives along the line. The agency says electrifying the corridor would allow faster and more frequent service, improve air quality and cut down on noise from trains while leading to other beneficial outcomes as well.
But California Republicans in the U.S. House urged the Trump administration earlier this year to block the grant funding on the grounds that the electrified railway would eventually become part of the state's planned high-speed rail network—a mega-project that has drawn GOP scorn.
The Republican delegation said in a letter to Chao that they wanted an audit of the high-speed rail project and its finances before grant funds for the Caltrain electrification were released.
"This is yet another bait and switch to deceive state taxpayers and take imaginary dollars from one project to pay for another, putting at risk California's transportation future," U.S. Rep. Jeff Denham, a California Republican who chairs a railroad subcommittee in the House, said in a statement on Monday.
"Providing this grant without first conducting an audit is irresponsible," he added.
Caltrain maintains that it has been considering the electrification for decades, before voters approved a ballot measure that enabled the high-speed rail project to move forward.