Glimmers of Optimism on Capitol Hill About Chances for an Infrastructure Package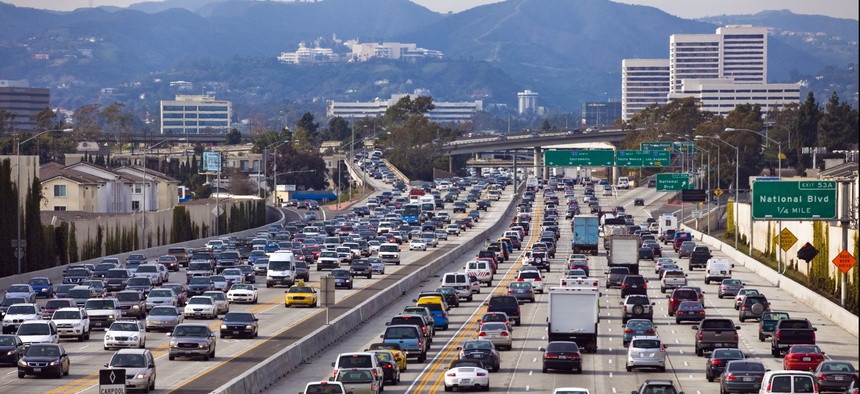 But there are competing items on Congress' legislative to-do list and the White House continues to grapple with controversies.
WASHINGTON — Some U.S. Senate lawmakers struck a hopeful tone Tuesday about the prospects for the sort of infrastructure investment program President Trump is pushing for.
Asked about the chances a new infrastructure spending bill would take shape before the end of the year, U.S. Sen. Jim Inhofe, an Oklahoma Republican, replied: "I'm pretty optimistic." He made that comment to reporters following a hearing held by the Senate Environment and Public Works Subcommittee on Transportation and Infrastructure. Inhofe chairs the subcommittee.
U.S. Sen. Ben Cardin, of Maryland, who is the the subcommittee's top Democrat, offered a similarly rosy outlook. "We've never had a problem with bipartisan infrastructure," he said during the meeting. "This is an area we should be able to get done," he added later.
But the Trump administration and Republicans in Congress have significant priorities outside of infrastructure, such as repealing and replacing the health care law known as the Affordable Care Act, or Obamacare, and making changes to the federal tax code.
Lawmakers will also need to pass budget legislation to keep the federal government running into the 2018 fiscal year, which begins Oct. 1.
Each of these items on the legislative agenda promises to consume time and attention.
And the relatively tranquil conversations about infrastructure investment during Tuesday's subcommittee hearing were set against the backdrop of controversies swirling around the White House—including Trump's firing last week of former FBI director James Comey and the president's apparent disclosure of classified information during a meeting with Russian officials.
U.S. Transportation Secretary Elaine Chao is scheduled to testify Wednesday morning before the full Environment and Public Works Committee.
Chao said Monday the White House would release information in the coming weeks about its "vision" for an infrastructure investment proposal. The plan, she said, will call for $200 billion in direct federal funding that could be used to "leverage" $1 trillion in investment over a decade.
U.S. Sen. Tammy Duckworth, an Illinois Democrat, took a skeptical view of how the president's infrastructure efforts have played out so far.
She said details about Trump's proposal remain unavailable to anyone outside of the administration and pointed to deep cuts to existing infrastructure programs tucked into a fiscal year 2018 budget blueprint, which the president sent to Congress in March.
"What little we know," she said, "suggests that there is actually no trillion dollar investment, rather he would rely on financing gimmicks that have limited applicability in most of the country."
Discussions in recent weeks in both House and Senate committees and subcommittees have focused on how the mix of money going towards any new infrastructure investment program can be balanced between federal, state, local and private sector sources.
Kevin DeGood, director of infrastructure policy for the Center for American Progress, a liberal advocacy group, called into question during his testimony on Tuesday how much public-private partnership deals, or P3s, could do to advance public works projects in the U.S.
"The binding constraint facing state and local governments is insufficient tax revenue," he said. "Public-private partnerships and investor tax credits do not solve this problem."
But Geoffrey Yarema, a partner with the law firm Nossaman LLP, in Los Angeles, suggested to the subcommittee that there was frequently too narrow an understanding of P3s. He highlighted two types of the deals: those that require revenue streams, such as toll roads, and those involving "availability payments" or "performance contracts."
With an availability payment model, a government entity could contract with a private firm that would build, operate and maintain an infrastructure asset. In return, the contractor would receive payments from the government over a fixed time span that are linked to how the asset performs.
Chao, as she discussed the administration's forthcoming infrastructure plan Monday, noted availability payments as a way to spread out risks and costs for projects.
Los Angeles Mayor Eric Garcetti also offered testimony to the Senate subcommittee. He's leading a new task force for the U.S. Conference of Mayors that will seek to work with Congress and the White House to help inform any new infrastructure spending package that emerges.
"I will work my tail off to help you get Republican and Democratic mayors from every single town and city in this nation," Garcetti told the subcommittee, "to help get this passed."
PREVIOUSLY on Route Fifty: