Trump Administration Is Still Talking About the TIGER Grant Program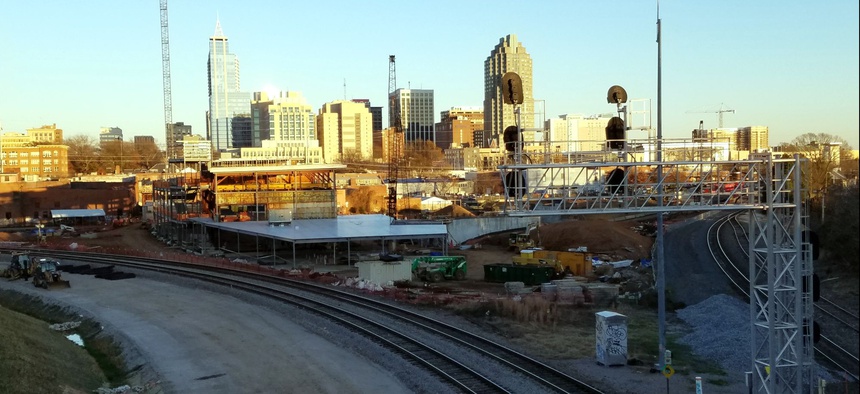 The White House proposed nixing funding for the transportation grants entirely in a budget blueprint sent to Congress earlier this year.
WASHINGTON — The Trump administration continues to have conversations about a popular transportation grant program, which the president proposed axing in a budget blueprint for the upcoming fiscal year that he recently sent to Congress.
But whether or not funding for the so-called TIGER grant program, or some incarnation of it, will survive the budget-making process is unclear. U.S. Transportation Secretary Elaine Chao took questions about the grants, which have gone to road and transit projects around the nation, as she testified Wednesday before the U.S. Senate Committee on Environment and Public Works.
"This particular issue about the TIGER grants is something that we are discussing," Chao said.
She explained that in the administration's view, "the thought was that there'd be, going forward, that there'd be a more holistic approach to infrastructure and perhaps these TIGER grants would be recast in some way." Chao added: "That's what we're still talking about."
"I'm glad to hear that," said U.S. Sen. Mike Rounds, a South Dakota Republican, who had asked Chao about TIGER, and said the grants had helped support highway projects in his state.
The Trump administration is working on an infrastructure package that is expected to call for $200 billion of direct federal funding that could be used to "leverage" $1 trillion in investment. Chao said the White House is planning to release information about principles for the program in May and would look to move ahead with legislation in the third quarter of the year.
TIGER is a competitive grant program open to state and local governments and other public entities like transit agencies and port authorities.
Republicans and Democrats in Congress have voiced support for the program, which dates back to 2009 and is formally known as Transportation Investment Generating Economic Recovery.
Spending legislation for the current fiscal year that passed earlier this month allotted $500 million for TIGER, the same as the program's enacted fiscal 2016 funding level.
A "skinny budget" plan for fiscal year 2018 that Trump sent to Congress in March called for eliminating all of the program's funding.
The White House is expected to release Trump's full budget proposal early next week.
Asked after the hearing whether he wanted to see funding for the TIGER program preserved, U.S. Sen. John Barrasso, a Wyoming Republican who chairs the Committee on Environment and Public Works, didn't give a clear answer.
"We're going to continue to work with the administration on all of these things," he said.
Pressed on whether that meant he was or was not supportive of the program, he repeated: "We're going to continue to work with the administration."