Comey Testimony Overshadows Trump's Infrastructure Remarks in Ohio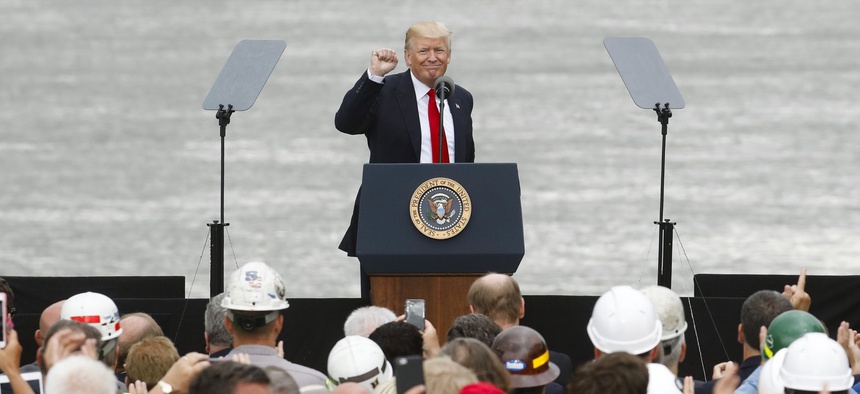 Congressional Democrats, meanwhile, continue to criticize the president's proposals.
WASHINGTON — President Trump was in Cincinnati on Wednesday stumping for his still-emerging infrastructure investment program.
But pending testimony by former FBI director James Comey upstaged Trump's remarks, and Democrats in the U.S. House took swipes at the president's plan. Some experts tracking the infrastructure initiative remain skeptical it will advance in Congress before year-end.
"It is time to recapture our legacy as a nation of builders," Trump told about 400 people at a marina on the Ohio River.
He added: "We will work directly with state and local governments to give them the freedom and flexibility they need to revitalize our nation's infrastructure."
Around the time Trump spoke, written testimony from Comey, who Trump fired last month, was posted online ahead of his scheduled appearance before the Senate Intelligence Committee on Thursday.
Comey's testimony is one of the latest episodes involving Russia, and inquiries into possible links between the country and Trump's associates, that have cast a shadow over the White House during Trump's time in office, distracting from his legislative agenda.
In his written remarks, Comey describes how Trump pressured him to say publicly the president was not under investigation as part of an inquiry into Russian interference in last year's election.
Meanwhile, several House Democrats, during a call with reporters on Wednesday afternoon, voiced opposition to Trump's infrastructure plan. They specifically took aim at the extent to which the White House initiative would incorporate private investment.
U.S. Rep. Mark Pocan, of Wisconsin, suggested Trump's program would shortchange needed federal investment in infrastructure, while "selling off" public assets to the private sector.
"In places like Wisconsin, for the vast majority of our state," he said, "we're not going to see a dime, because it's not going to be a profitable enterprise."
The Congressional Progressive Caucus, which Pocan co-chairs, unveiled a House resolution last month outlining 10 principles they believe should be included in infrastructure legislation.
U.S. Rep. Jared Polis, a Colorado Democrat, is also part of the progressive caucus and was on Wednesday's call.
"The president's proposal talks way too much about helping his golfing buddies," he said, "charging the rest of us through these so-called public-private partnerships."
Trump promised during his speech in Cincinnati that his infrastructure plan would benefit "every part of our country, especially rural America."
The pushback from Democrats comes despite previous optimism that infrastructure was an area where bipartisan cooperation with the Trump administration might be possible.
Senate Minority Leader Charles Schumer, of New York, on Tuesday urged Republican lawmakers to work with Democrats on infrastructure legislation.
The White House last month outlined some of the principles and ideas that it would roll into its infrastructure package.
Trump is supportive of a plan that would feature $200 billion in federal spending over a decade, while "leveraging" money from other sources, including the private sector, to reach a target of $1 trillion in infrastructure investment.
Some of the administration's specific proposals include: loosening restrictions on interstate tolling; expanding the Transportation Infrastructure Finance and Innovation Act, which helps finance transportation projects through direct loans, loan guarantees and lines of credit; and lifting a $15 billion cap on private activity bonds, tax-exempt bonds that can be issued on behalf of private entities constructing highways and other projects.
Trump has also stressed that he wants to see regulations slashed that slow down permitting and approval processes for projects.
The municipal research division of Wells Fargo Securities issued a brief Tuesday that said analysts there did not "expect any material legislation in 2017 around increased federal infrastructure spending."
Referring to public-private partnerships the brief goes on to note that "realistically there are only so many P3 projects that will get done over the next 24 months."
"Each state's P3 legislation controls whether it can use P3's and each state controls which projects it seeks to construct under the P3 model," the brief also points out.
Along with factoring in the $200 billion in federal investment that's part of Trump's infrastructure initiative, the president's fiscal year 2018 budget proposal assumes a $95 billion reduction in Highway Trust Fund spending between 2021 and 2027, compared to current funding levels. The trust fund supports road and mass transit projects and traditionally it has largely been fed by fuel tax revenues. But these revenues have lagged in recent years, threatening the fund's health.
The White House budget calls for cutting a number of other existing infrastructure loan and grant programs as well.