With Trump's Pending Infrastructure Plan, Broadband Is 'Like a Passenger on a Ship'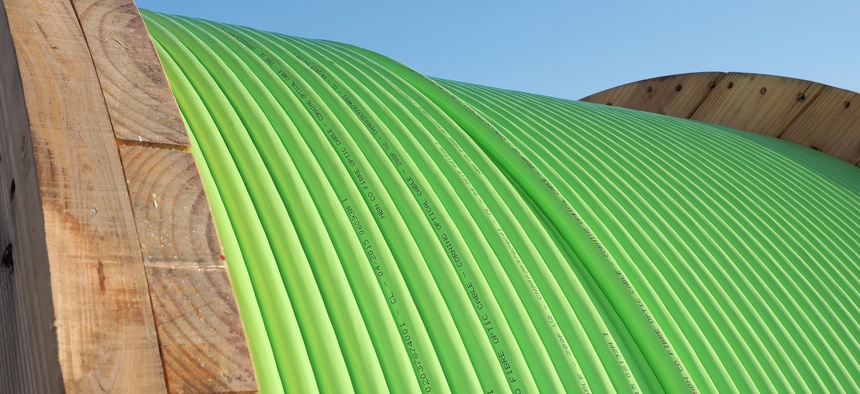 When that ship might sail is an open question.
WASHINGTON — A congressional lawmaker and an industry representative expressed some optimism Monday that any infrastructure plan the White House eventually unveils will help to bolster the nation's broadband network and high-speed internet connectivity in rural America.
But with other legislative priorities like health care, the federal budget and tax reform occupying the legislative agenda on Capitol Hill, it remains far from clear whether Congress will have a chance to turn its attention toward infrastructure before the year is over.
The Trump administration has previously indicated that it will release an infrastructure proposal in late summer or early fall.
"We're like a passenger on a ship, and if something moves it's going to have broadband in it," Jonathan Adelstein, president and CEO of the Wireless Infrastructure Association, said of the possible infrastructure package during a discussion at the Brookings Institution on Monday.
"It's going to have regulatory relief," he added. "The shape of that is something that we're discussing right now. And I talked to the people at the White house who are working on it today."
Adelstein said that for his industry eliminating regulatory hurdles, as opposed to securing federal funding, is a key concern. "The streamlining is much more important than the dollars," he said.
Questions about how to improve high-speed internet access in rural areas have been central to recent broadband discussions in Congress.
U.S. Rep. Marsha Blackburn, the Republican chair of the House Energy and Commerce Subcommittee on Communications and Technology, also spoke at Monday's event. She said 16 of the 19 counties in her Tennessee congressional district are rural.
"The number one thing I hear about, the number one infrastructure issue, is broadband," she said. Blackburn stressed that improving rural connectivity was important for businesses, schools and hospitals.
The congresswoman said Trump and his cabinet "know that this is what is going to drive jobs, it is going to drive access to better health care and it's going to drive educational opportunity."
Simplifying permitting and siting procedures for broadband infrastructure were ways that Blackburn said the federal government could reduce regulatory burdens for industry.
In terms of funding, she emphasized that public-private partnerships and state and local investment would be important.
"You come to the federal government to finish that money out," she said. "As we look at the funding," Blackburn added, "rural America, the unserved areas, is going to be the first focus."
Brad Gillen, executive vice president of CTIA, The Wireless Association, said the wireless industry is ready to spend hundreds of billions of dollars upgrading networks, and would welcome streamlined siting regulations for equipment and infrastructure.
But while private investment in broadband networks flows to densely populated areas, Gillen suggested that it's more likely that upgrading connections in sparsely populated areas will take government aid.
"These are uneconomic areas that we need help to serve," he said.
David Goldman, chief telecommunications counsel in the office of U.S. Rep. Frank Pallone, the New Jersey Democrat who is the ranking member on the House Energy and Commerce Committee, described a number of Democratic bills that have to do with broadband.
One piece of legislation yet to be released, which he said U.S. Rep Ben Lujan of New Mexico is working on, would aim to help cities and other local governments build their own fiber networks and then partner with companies that can operate the systems.
Bill Lucia is a Senior Reporter for Government Executive's Route Fifty and is based in Washington, D.C.