To Help Fund Infrastructure, Chicago Mayor Backs Taxes on Unrepatriated Foreign Earnings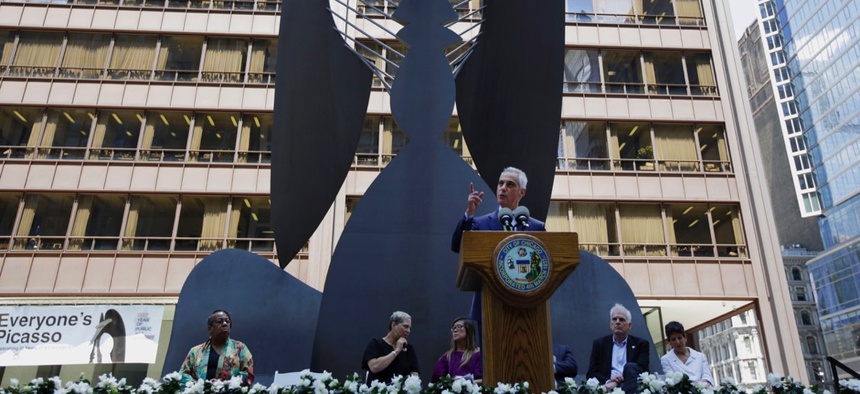 Rahm Emanuel made his case at the U.S. Conference of Mayors summer leadership meeting, while encouraging colleagues to get creative with investment.
Chicago Mayor Rahm Emanuel, like many mayors, isn't convinced a federal infrastructure package predicated on public-private partnerships will generate the investment cities need to complete capital projects on time and on budget.
"I am a big believer in P3 public-private partnerships," Emanuel, a Democrat, told the U.S. Conference of Mayors last week during the organization's summer leadership meeting in New Orleans. "I don't think it's the panacea that's sold."
Funding water, school, road, public transportation, and aviation infrastructure projects isn't cheap, and population growth continues to strain existing systems after decades of disinvestment. Look no further than New Orleans' struggling water and sewer infrastructure.
Mayors at the meeting agreed that whatever infrastructure package President Trump ultimately proposes, continued federal involvement in financing local projects is a must.
"What we're here to focus on really is how do we make sure, as there's conversation nationally about a trillion-dollar infrastructure effort, that we're not simply put in a system that's a tax incentive-based system," Atlanta Mayor Kasim Reed said. "And I think that we need to work together right now to make sure that however it's funded, whether it's from repatriating $2 trillion and using a quarter of a billion dollars of those to fund infrastructure efforts, that the bottom line is that it is dollars going to cities and states for specific projects."
Atlanta has $12 billion worth of capital projects in the works, $6 billion for improvements at Hartsfield-Jackson International Airport alone.
With the American Recovery and Reinvestment Act of 2009, about 10 percent of $784 billion was invested in municipal infrastructure projects—through Transportation Investment Generating Economic Recovery grants and Transportation Infrastructure Finance and Infrastructure Act loans among other mechanisms—accounting for 35 percent of all verifiable jobs. Chicago has used TIFIA loans on aviation and public transportation projects, including the purchase of new Chicago Transit Authority rail cars.
"Whether it's local revenue, whether it's a central office, whether it was infrastructure bank, whether it was the TIFIA loan program, and whether it was just being up front raising taxes or fees, we have to find different revenue sources for different efforts," Emanuel said.
Over the last five years, Emanuel said that his city's economy has grown faster than New York City or Washington, D.C. In the previous four years, Chicago created 42,000 jobs, according to the mayor.
In recent years, the city has replaced 900 miles of water pipes, 670 miles of sewer pipes, a catch basin and other water infrastructure projects, including improvements to the world's highest capacity filtration plant. When the work was done, more than 100 miles of roadway had been replaced in the process.
The Chicago Infrastructure Trust's CTA 4G initiative is aiming to help leverage private-sector finance to install 4G internet connectivity throughout the underground portions of the city's rail network.
A major expansion at Midway International Airport, which is run by the city, has boosted employment by 750 employees. That work included improving access to the CTA Orange Line's airport rail station and boosting retail and concessions through the Midway Partnership.
In recent years, Chicago has pursed major transit improvement projects, including reconstructing the southern portion of the CTA's Red Line, plus rebuilding stations and signal infrastructure on that heavily traveled north-south rail line and elsewhere across the system.
Economic development in the city relies on that transit backbone, Emanuel said, noting that about $24 billion's worth of ongoing mega-real estate deals in the city are tied to five transit and rail access projects across the city.
But how will Emanuel and his other mayoral colleagues pay for infrastructure priorities going forward?
Emanuel, a former congressman and White House chief of staff, said he isn't holding his breath for Republicans on Capitol Hill to increase the federal gas tax.
During the meeting, Emanuel encouraged his fellow mayors to back a proposal to tax unrepatriated foreign earnings—allowing multinationals to bring overseas profits to the U.S. with the federal government taking a percentage off the top—in order to close the $100 billion hole in transportation funding.
"Some people have good working relationships with their governors. Some do not," the mayor said, referring to his often acrimonious relationship with Illinois Gov. Bruce Rauner, a Republican. "And so if we want public dollars for public transportation or any kind of capital investment, I think we should be singularly focused about the repatriation issue…"
The mayors also seek to maintain the deductibility of state and local taxes to raise revenue, as well as the tax exemption for municipal bonds.
"Don't mess with our bonds," Reed said, quoting Columbia, South Carolina, Mayor Steve Benjamin. "I think that's a message that our president could understand."