The High Costs of Atlanta's Massive Airport Power Outage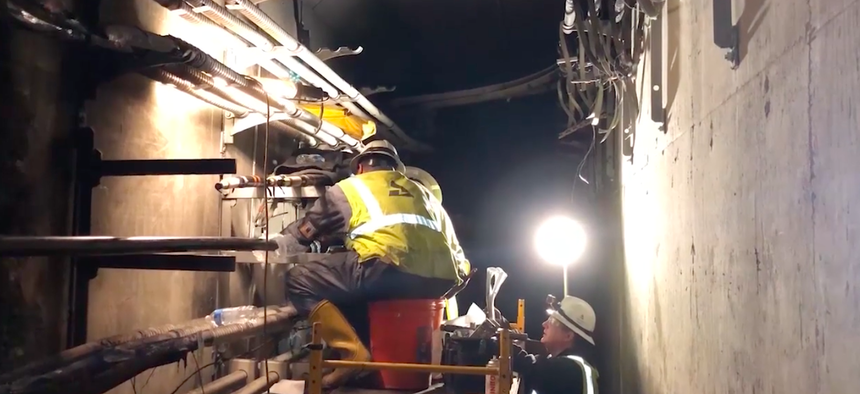 As the general manager of the world's busiest air hub vows to fix redundancy and communication problems, Delta Airlines plans to seek tens of millions in compensation.
As Sunday's 11-hour long power outage at Hartsfield-Jackson Atlanta International Airport demonstrated, when the electricity goes out at the world's busiest airport and authorities can't restore it quickly, the picture isn't pretty.
The power outage, blamed on a hard-to-fight underground fire that damaged Georgia Power's primary and backup power systems that supply electricity to the airport, impacted thousands of travelers stuck at ATL or caught up elsewhere in the cascade of delays and cancellations.
Delta Airlines, which uses Hartsfield-Jackson as a global hub, had to cancel 1,400 flights, find accomodations for stranded passengers and compensate others travelers for the delays and disruption.
Delta, according to the Atlanta Journal Constitution, estimates that the airport power outage cost the airline up to $50 million in revenue and that it plans to seek compensation from either Georgia Power and / or the airport, which is owned by the city of Atlanta, depending on the official determination of responsibility for the power failure.
In a video statement released Wednesday, the airport's general manager, Roosevelt Council Jr. apologized for the disruption and poor communication during a time of crisis at the airport.
"Thousands of passengers—our guests—were left literally in the dark as we worked with our partners to fix the situation. As repairs were ongoing we did not communicate essential information to our guest as well as we should have and I'm sorry," Council said.
The airport's general manager identified two main issues that need improvement:
"How can we improve and assure continued redundancy in our utility infrastructure? And how we can make sure our guests receive the information they need in time of crisis? Those issues will be fixed."
Among those displeased with the situation was former Transportation Secretary Anthony Foxx, who was stuck at Hartsfield-Jackson with thousands of other air travelers. Foxx fumed on Twitter how it was unacceptable that the airport didn't have a redundant power supply.
The exact cause of the fire remains under investigation, but attention has turned to Georgia Power switching equipment that failed in the tunnel. The FBI released a statement on Tuesday that "[a]lthough it has not been ruled out, at this point there is no information to suggest there was any insider threat or nexus to terrorism."