'Waiting on an Opportunity to Work With the Administration' on Infrastructure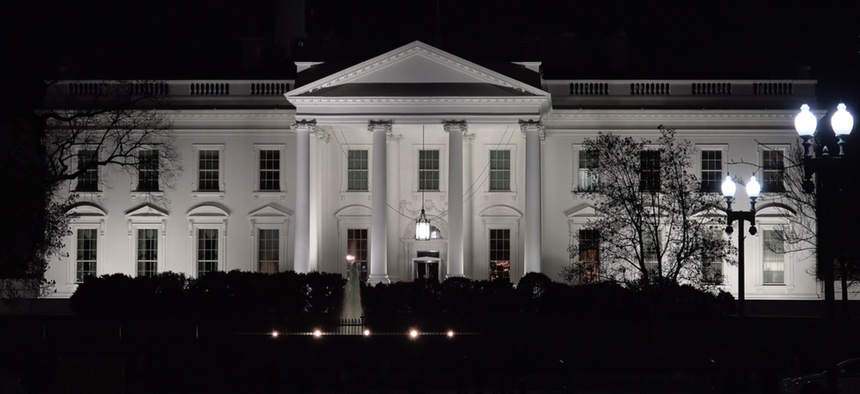 State and local groups start 2018 awaiting the White House's long-promised public works package.
WASHINGTON — Heading into the new year, state and local government groups remain eager to work with the Trump administration and Congress on infrastructure legislation.
"For the National League of Cities, 2018 is the year of infrastructure," Clarence Anthony, the group's executive director said during an interview late last month. "It's been promised," he added. "And we're waiting on an opportunity to work with the administration on that."
The Trump administration has indicated that one if its priorities is an investment package for the nation's infrastructure—such as roads, water systems and broadband networks. But, nearly a year into the president's term, the White House has yet to release a detailed public works plan. Administration officials have signaled in recent weeks that the proposal will be unveiled sometime this month.
They've previously described a package that would include about $200 billion of direct federal investment, with the hope of raising around $800 billion in additional money from state, local and private sources. And they've suggested that the plan will be designed to encourage states and local governments to raise their own money for projects before turning to the feds for cash.
Trump is slated to meet this weekend at Camp David with House Speaker Paul Ryan and Senate Majority Leader Mitch McConnell to discuss this year's legislative agenda.
Apart from infrastructure, a number of complicated debates are looming in Congress over issues like federal budget caps, immigration, disaster funding and health care. A stopgap spending measure to keep federal agencies running expires on Jan. 19.
On Tuesday, Rep. Bill Shuster, the Pennsylvania Republican who chairs the House Transportation and Infrastructure Committee, announced he would not seek reelection in November and that in the months ahead he wants to concentrate on the anticipated infrastructure bill.
"I thought it was the best decision for me to focus 100 percent on my final year as the chairman of the Transportation Committee, working with the president and other Democrats and Republicans to pass an infrastructure bill, which is much needed to rebuild America," Shuster told the Washington Examiner, as he discussed his decision not to run.
Tom Cochran, executive director of the U.S. Conference of Mayors, said during a recent interview that he met with Shuster in late December to talk about the percolating infrastructure legislation.
Passing an infrastructure bill would require 60 votes in the Senate, meaning it would need Democratic and Republican support. This in an election year, when Democrats could be reluctant to afford the GOP big legislative wins, and as Republicans bracing for primary challenges from the right may be hesitant to back substantial new spending.
Trump, however, voiced optimism last month that an infrastructure bill could gain bipartisan momentum.
"We're going to have tremendous Democrat support on infrastructure," he said. The president added: "I could have started with infrastructure. I actually wanted to save the easy one for the one down the road. So we'll be having that done pretty quickly."
But there are thorny questions about where lawmakers will find the money to pay for a public works package, especially in the wake of passing tax legislation that estimates show will add upwards of $1 trillion to federal budget deficits in the coming decade.
White House officials have floated the idea of a gas tax increase. But some lawmakers have been deeply skeptical that the tax hike could win approval. Congress has not acted to raise the gas tax in over two decades. It remains 18.4 cents per gallon, on par with its level in 1993.
In the backdrop are questions about the long-term viability of the tax in an era when electric, autonomous and shared vehicles are on the rise.
"I'm optimistic that something will happen, but I'm cautious," Scott Pattison, executive director of the National Governors Association, told Route Fifty last month, as he discussed the possibility of an infrastructure package materializing this year.
"I don't think it's going to be as significant as might be necessary," he added.
Pattison stressed that he did not want his remarks to be construed as ideological or partisan, and said that he was only trying to highlight that it would take a large infusion of federal money to make a sizable dent upgrading the nation's public works.
He pointed out that many states have raised their gas taxes in recent years. Between 2013 and July of last year, 26 states enacted legislation to increase, or possibly increase, overall state gas taxes, according to the National Conference of State Legislatures.
In general, according to Pattison, state and local governments are not shying away from paying for infrastructure.
"You're just not going to magically have bridges get fixed," he added. "We can only issue so many bonds before it's untenable. We only have so much in terms of resources and cash."
One of the Trump administration's final infrastructure-related moves in 2017 focused on the so-called Gateway project.
A multi-billion dollar undertaking, Gateway involves building a new rail tunnel under the Hudson River between New York City and New Jersey, along one of the nation's busiest passenger rail corridors.
Amtrak and New Jersey Transit trains going in and out of Pennsylvania Station in Manhattan currently travel through tunnels constructed in 1910 and damaged during Hurricane Sandy in 2012.
In 2015, federal and state officials reached a deal that called for the U.S. Department of Transportation and Amtrak to cover no less than 50 percent of the cost for Gateway.
But, last week, a top Federal Transit Administration official sent a letter to Gov. Andrew Cuomo of New York, a Democrat, and Gov. Chris Christie of New Jersey, a Republican, describing the cost-sharing arrangement as "non-existent," Crain's New York Business reported. (New Jersey's governor-elect, Phil Murphy, a Democrat, is set to be sworn in later this month.)
"There is no such agreement," FTA Deputy Administrator K. Jane Williams wrote. "We consider it unhelpful to reference a non-existent 'agreement' rather than directly address the responsibility for funding a local project where nine out of 10 passengers are local transit riders."