City Leaders Prepare for an Infrastructure Lobbying Push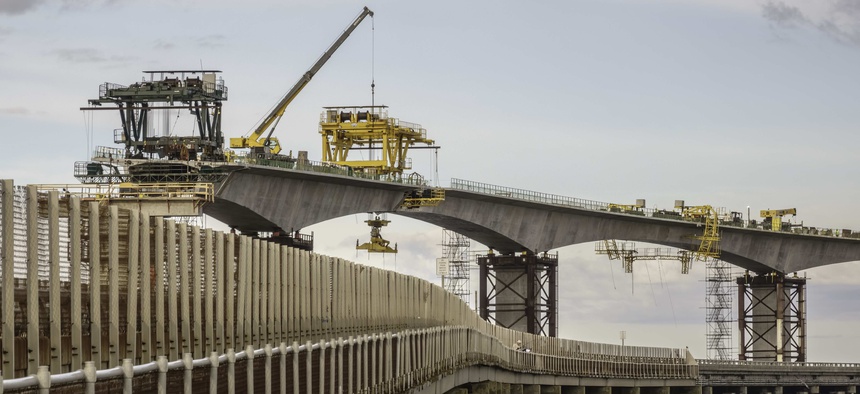 The effort will take place this week as part of the National League of Cities 2018 Congressional City Conference.
WASHINGTON — City leaders from across the U.S. vowed Monday to keep pressure on Congress to advance infrastructure legislation.
Infrastructure is the marquee issue at the National League of Cities 2018 Congressional City Conference taking place here this week. Over 2,000 city officials are attending the event and more than 200 NLC delegates have about 150 meetings planned on Capitol Hill.
"It's no secret," Little Rock, Arkansas Mayor Mark Stodola, the current president of the National League of Cities, said at a press conference Monday, "America has an infrastructure problem."
Stodola cited congested transit systems, worn out roads and failing waterworks to make his point.
"Our needs must be a shared national priority, it cannot just be done by local government and state government alone," he added.
NLC's lobbying push comes as the Trump administration continues to pitch a White House public works proposal released last month. The plan calls for $200 billion of federal spending, largely for new grant programs. It is also aimed at speeding-up project approval times.
Unclear for now is to what extent Congress plans to incorporate President Trump's blueprint into any forthcoming legislation.
Local government advocacy groups have generally welcomed the infrastructure discussions President Trump's plan has sparked in Congress. But there's also concern in the local government arena that current grant programs could be cut to pay for new initiatives.
"An infrastructure package should add to the already existing programs," Karen Freeman-Wilson, mayor of Gary, Indiana, and NLC's first vice president, stressed on Monday.
Examples she pointed to included Community Development Block Grants and the Transportation Investment Generating Economic Recovery, or TIGER, grant program. The Trump administration has called for slashing these programs in its budget proposals.
"Personally, I think the existing programs have been working well," Mayor Wade Troxell, of Fort Collins, Colorado, told Route Fifty. "All of them still involve cost-sharing, partnerships."
Irma Esparza Diggs, senior executive and director of federal advocacy for the League of Cities, said the group isn't against the sorts of grant initiatives the White House proposed, but it would be a "nonstarter" to pay for them by siphoning dollars from programs now in use.
Another point of friction is that the biggest grant program in the White House proposal, totaling $100 billion, would favor states and localities that can bring greater shares of non-federal money to the table, and would cap awards at 20 percent of new project revenue.
Freeman-Wilson noted that cities across the U.S. have populations ranging from under 5,000 to over 250,000 and that the "size of your city certainly determines your ability to pay for the infrastructure you need," but "your ability to pay doesn't change the need."
NLC leaders also highlighted difficulties cities can have with state laws that preempt local governments' powers to raise taxes and other revenues. Stodola said cities in 47 states run into preemption roadblocks when it comes to generating public works money.
"Cities need to have the opportunity locally to help fund infrastructure," he said.
The city officials are visiting Washington after House Speaker Paul Ryan, last week, spoke out against raising the federal gas tax, and said Republicans would advance about a half-dozen infrastructure bills in the coming weeks and months—as opposed to one sweeping package.
Stodola pointed out that NLC supports raising the federal gas tax to help pay for infrastructure. Congress has not raised the tax in over two decades and it's not indexed to rise with inflation.
He also said that, when it comes to an infrastructure package, the National League of Cities would like to see "a comprehensive plan, not a piecemeal plan," that addresses water, transportation and broadband internet infrastructure, as well as workforce development.
DJ Gribbin, special assistant to the president for infrastructure policy, told an audience at the National League of Cities event on Monday "the administration is hopeful that we will be able to get infrastructure passed this year before the elections." (The elections are in November.)
Some lawmakers are less than bullish on this front.
Sen. John Cornyn, of Texas, the No. 2 Republican in the Senate, said earlier this month that time constraints could make it challenging to pass an infrastructure bill this year. But he didn't rule out the possibility of moving ahead with legislation.
In the near-term, Congress is working on belated spending legislation for fiscal year 2018 ahead of a March 23 deadline. The spending measure is set to include half of a $20 billion infrastructure boost that was part of a two-year budget deal reached last month.
Thomas Donohue, president and CEO of the U.S. Chamber of Commerce, told attendees at the NLC conference they shouldn't be timid when they meet with lawmakers on Capitol Hill.
The Chamber has voiced strong support for a major infrastructure package and a 25-cent fuel tax hike to help pay for it.
"When you go up there tomorrow, don't sit around and say 'please,'" Donohue said in his remarks. "Don't take maybe."
Donohue conceded that "this is a political year" and "we know Congress tends to get extra stubborn when elections are coming up." But he added: "I'm optimistic we can get some of this done."