Paul Ryan Says House Infrastructure Action Will Happen in 'Stages'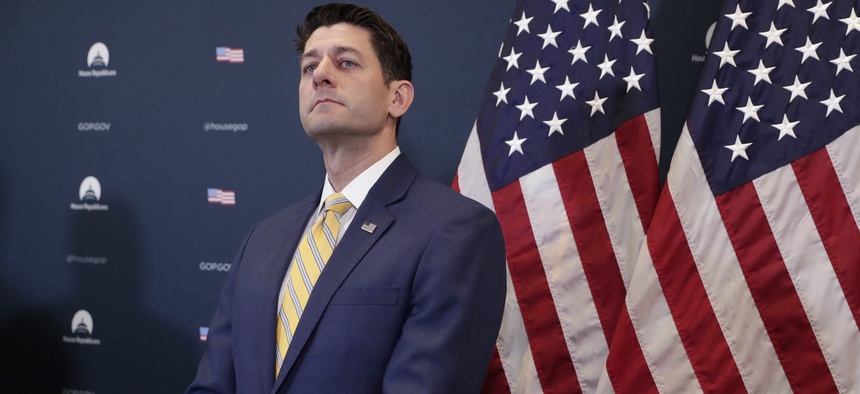 The House speaker's remarks come one day after he ruled out the idea of raising the gas tax.
House Republicans will move ahead with a series of infrastructure bills in the coming months, Speaker Paul Ryan said Thursday.
The Wisconsin Republican's comments came a day after he ruled out the possibility of hiking the federal gas tax, and as the Trump administration is promoting a public works plan that calls for $200 billion of federal spending, mostly for new grant programs.
Until legislation starts to emerge, it will be unclear how closely the efforts Ryan described will hew toward the plan Trump has proposed. Some of the bills the speaker referenced were due to arise in Congress even without any extra prodding by the president.
"The plan is to do this in about five or six different bills," Ryan told an audience at a Home Depot facility in Atlanta. He added: "We're going to start in about a week-and-a-half with our infrastructure bills and move into the summer passing these bills."
First up, he said, would be a Federal Aviation Administration reauthorization measure. After that, according to the speaker, would come measures to address more "traditional infrastructure," such as highways, bridges, canals, harbors and the electrical grid.
"We're going to do that in different stages," Ryan said.
Infrastructure like harbors and locks falls within the bounds of the Water Resources Development Act, or WRDA. WRDA bills have been traditionally authorized every two years. One was last enacted in 2016.
Congressional action on a new WRDA bill has been anticipated this year. The Senate Environment and Public Works Committee held two hearings in January focused on the legislation.
Ryan also referred to a spending package lawmakers are now working on for the current 2018 fiscal year as a "downpayment on the infrastructure plan." 
A two-year budget deal lawmakers reached last month included a $20 billion plus-up for infrastructure, split between fiscal 2018 and 2019. How lawmakers will divide that money between programs remains to be seen. Legislation is due by a March 23 deadline.
The speaker stressed that private investment and speeding up project permitting and approvals would be key elements as the GOP proceeds with its infrastructure agenda. Attracting private dollars to projects and keeping permitting and approval times to two-years or less are two central tenets in Trump's infrastructure plan.
Absent from the president's public works blueprint are ideas for where to get new federal revenue for added infrastructure spending.
Trump reportedly voiced support for a gas tax increase last month. Rep. Bill Shuster, a Pennsylvania Republican who chairs the House Transportation and Infrastructure committee has also backed the idea.
Ryan not so much. "We're not going to raise gas taxes," he said during a "tele-town hall" on Wednesday held by the conservative group Americans for Prosperity, according to a transcript of the call.
"We're just not going to do that here," he added.