Senator Casts Doubt on Chances for New Infrastructure Grant Programs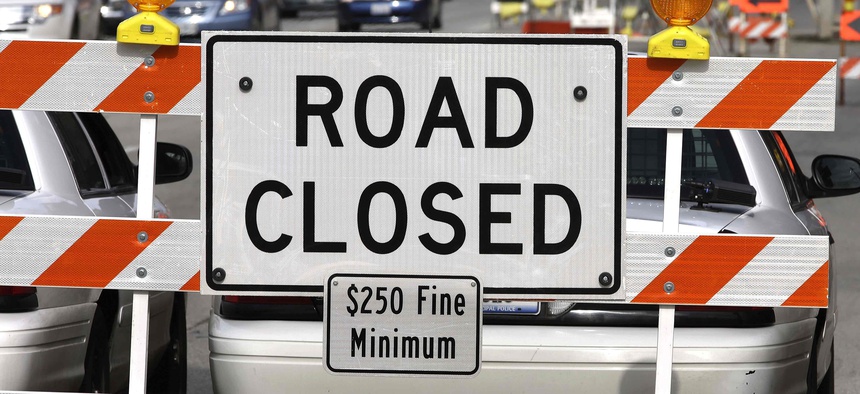 Nebraska's Deb Fischer, who chairs a Senate transportation subcommittee, made her remarks as the Trump administration is stumping for three new, major public works grant initiatives.
WASHINGTON — Nebraska Sen. Deb Fischer, the Republican chair of a Senate Commerce subcommittee that oversees transportation issues, cast doubt Tuesday on whether Congress will act this year to create any new infrastructure grant programs.
Her assessment comes as the Trump administration is pushing an infrastructure proposal that calls for a trio of substantial new grant initiatives. And as five cabinet secretaries prepare to testify about the White House plan before the full Commerce Committee on Wednesday.
"I don't know if we'll see new grant programs," Fischer told Route Fifty after a subcommittee hearing. 
She added: "In my discussion with the administration, beginning last summer, there was talk about how grant programs, loan programs could possibly be expanded or changed. Not necessarily forming new ones. You know, we have a structure in place now. And if they need to be changed in any way, I would support that approach."
There's been a series of infrastructure hearings in recent weeks on Capitol Hill. But there are also signs, with the November elections approaching, that GOP enthusiasm is limited for major infrastructure legislation in the months ahead that will involve heaps of new cash.
Lawmakers are in the process of finalizing a spending bill for the current 2018 fiscal year that is expected to plus-up infrastructure programs by about $10 billion. But, beyond that, it's unclear where added public works money might come from. House Speaker Paul Ryan last week came out strongly against increasing the gas tax.
He also said House Republicans would tackle infrastructure with a series of about a half-dozen bills, some that were expected to come up this year anyway, rather than a single sweeping package.
Fischer, who is up for reelection this fall, said she hadn't spoken with Ryan since he made his remarks about the gas tax.
Taxes on gas and diesel are the primary federal revenues that support that Highway Trust Fund, a main account for roads and transit.
Fischer introduced a bill last February that would divert roughly $21 billion each year to the Highway Trust Fund, from revenues U.S. Customs and Border Protection collects on freight and passengers. The bill is currently parked in the Homeland Security and Governmental Affairs Committee. It has zero cosponsors.
The Nebraska senator is upbeat about the potential for overhauling and speeding up environmental permitting and project approvals. This is another priority in Trump's infrastructure plan.
"I think it's important to focus on regulations, on the permitting process," she said. Fischer added: "It stretches tax dollars."
Sen. John Barrasso, a Wyoming Republican who chairs the Environment and Public Works Committee, has expressed similar views about permitting.
Kyle Schneweis, director of the Nebraska Department of Transportation, offered testimony before Fischer's subcommittee on Tuesday, at a hearing titled: "Rebuilding Infrastructure in America: State and Local Transportation Needs."
He discussed an effort by Nebraska's transportation department to assume more authority, through an existing federal framework, over the National Environmental Policy Act, or NEPA, one of the nation's bedrock environmental statutes.
"We have the experts that do this work at the DOT. And so, to ask them to do the work and then hand it over for review on the federal side, and do that again and again, throughout the life of a project, it adds time that we don't feel is necessary," Schneweis said. 
"We think we're going to be able to shave off a lot of time and therefore save money on our projects," he added.
Schneweis suggested opening the door for states to take on more control of other federal permitting responsibilities.
Also providing testimony was Dan Gilmartin, executive director and CEO of the Michigan Municipal League and a member of the National League of Cities, a group in town lobbying Congress this week.
Gilmartin didn't pull puches describing Michigan's infrastructure to the Senate panel.
"Our transportation infrastructure in Michigan is as bad as it's ever been," he said.
"In some cases in our state, plywood is the only thing that stands between you and concrete falling down on your car," he added. "That's in our metropolitan areas as well as our small towns."
Why don't local governments raise more money to fix roads and bridges on their own? Many are bumping up against tax cap limits, according to Gilmartin. "We're tapped out," he said. "This effort requires all three levels of government, federal, state and local."
Trump's infrastructure plan calls for three, sizable new grant initiatives.
One totaling $100 billion would cover a wide range of infrastructure and would favor applicants who can bring greater shares of non-federal money to the table for projects. Another, funded at a proposed $50 billion level, would support rural infrastructure and a third $20 billion program would go to to "transformative projects."
Sen. Amy Klobuchar, a Minnesota Democrat, remarked during Tuesday's hearing that she saw opportunities to raise revenues for infrastructure during last year's Republican-led tax overhaul, which lowered corporate and personal tax rates. But she added: "I'm not going to cry over spilled milk, or spilled taxes."
The five cabinet secretaries testifying before Senate Commerce on Wednesday include: Energy Secretary Rick Perry, Labor Secretary Alexander Acosta, Agriculture Secretary Sonny Perdue, Transportation Secretary Elaine Chao and Commerce Secretary Wilbur Ross.
The White House says it's the first time in over a decade this many cabinet officials have testified at once before a committee
"I think that's going to be fascinating," Fischer said of the upcoming hearing.