Has Trump Intervened to Kill Gateway Funding? Chao: 'Yes!'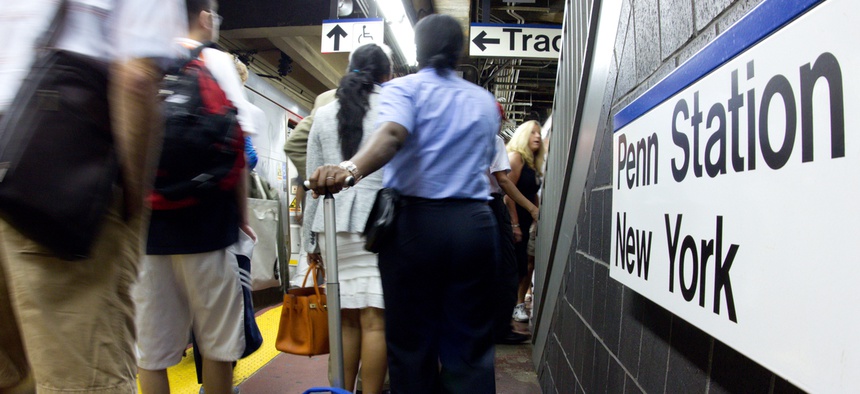 The multi-billion dollar project features a rail tunnel in and out of Manhattan and is a priority in the New York City region. It's getting fresh attention as Congress works on a major spending bill.
WASHINGTON — President Trump has urged House Speaker Paul Ryan to block funding for a major project involving a rail tunnel in the New York City metro region, Transportation Secretary Elaine Chao indicated on Tuesday.
But she later suggested lawmakers should confirm Trump's position with the White House. And a spokesperson for the secretary sought to downplay Chao's comments. Chao was pressed about the so-called Gateway project, which is actually a cluster of nine projects, during a House Transportation and Infrastructure Committee hearing on Trump's recently unveiled infrastructure proposal.
U.S. Rep. Sean Patrick Maloney, a New York Democrat, questioned the secretary about a recent report in The Washington Post that the president had appealed to Ryan to kibosh funding for Gateway, which has a total estimated cost of about $30 billion.
Last year, House appropriators passed legislation for fiscal year 2018 that included a roughly $900 million carveout for the project. The Republican chairman of the House Appropriations Committee, Rodney Frelinghuysen, hails from New Jersey.
So far during the 2018 budget cycle, which began last Oct. 1, the federal government has operated under stopgap funding measures.Lawmakers are now negotiating a long-term funding package ahead of a March 23 deadline, bringing the Gateway funding issue to the fore.
"Is the president of the United States personally intervening with the speaker to kill this project?" Maloney asked Chao.
"Yes! The president is concerned about the viability of this project and the fact that New York and New Jersey have no skin in the game," she replied. "They need to step up and bear their fair share."
"They are two of the richest states in the country," she said.
But Chao later added: "If you want the president's stance, please go to the White House."
When Maloney asked Chao earlier in their exchange specifically if the report in The Post was true that Trump called on Ryan to block funding for Gateway in the forthcoming government spending package, she said in her response: "It probably is."
Marianne McInerney, an assistant to the secretary and director of public affairs at the Transportation Department, told reporters after the hearing that the secretary is not in a position to independently verify conversations that took place between the president and Ryan.
"No one has said this is a program that should be killed. This is not a project that should be killed," McInerney added. "What we simply are stating is that it needs to have a funding equation."
Chao fielded a barrage of questions about Gateway from Maloney and New Jersey Democrats during the hearing. She said the project threatens to absorb an outsized amount of federal funds that would otherwise to go to projects elsewhere in the U.S.
There's ongoing controversy over the extent to which an agreement was reached under then-President Barack Obama's tenure for New York and New Jersey to share the mega-project's cost with the feds.
In December, the deputy administrator of the Federal Transit Administration, K. Jane Williams, sent a letter to the governors of New York and New Jersey, declaring they'd referenced a "nonexistent '50-50' agreement" for the project between the U.S. Department of Transportation and their two states.
Chao made a similar case on Tuesday.
"There has never been an agreement," she said as she parried with Democratic lawmakers. "There's no documentation, there's no paperwork and, in fact, there's no pending application."
Another point of contention is how much money New York and New Jersey are offering to bring to the table, and whether dollars obtained through certain federal programs can be counted in that sum.
Part of the Gateway program involves building a new rail tunnel under the Hudson River between New York and New Jersey. Amtrak and New Jersey Transit commuter trains traveling along the busy corridor provide service to Pennsylvania Station in midtown Manhattan. Just the tunnel component of Gateway is expected to be about $11 billion.
The rail tunnels now in service were built in 1910 and were damaged during Hurricane Sandy in 2012.
Along with the tunnel, there's a tunnel portal bridge within Gateway for which New York and New Jersey have been looking to Washington for federal aid.
Press offices for Govs. Andrew Cuomo of New York and Phil Murphy of New Jersey, both Democrats, did not immediately respond Tuesday to requests for comment about Gateway, or the episode in the committee hearing. Neither did a White House press staffer. The wrangling over Gateway predates Murphy's term, which began in January.
On Tuesday afternoon, following the House hearing, the Transportation Department arranged a conference call with reporters and a senior administration official who discussed the project.
The official said the main sticking points DOT has with Gateway have to do with funding, not the project itself.
They characterized the roughly $900 million in the House appropriations legislation as "fundamentally," though not technically, an "earmark." The official described as problematic the funding approach for Gateway, saying the Hudson tunnel plan relies on 50 percent federal grants and 50 percent federal loans.
Gateway proposals to date, they said, do "not involve a substantial state, local or private contribution."
And the official said that New York and New Jersey had not submitted applications for two federal loan program that they've suggested using as state matching funds on the project. These loans fall under the Transportation Infrastructure Finance and Innovation Act and the Railroad Rehabilitation and Improvement Financing program.
Federal grant funds the states are hoping to secure for the project would flow through part of the Capital Investment Grants program, known as "New Starts." As they are currently ranked, the Hudson tunnel and portal bridge projects are approximately in the bottom five of the 55 projects in DOT's Capital Investment Grants pipeline.
These ratings could change, the senior administration official said, if the funding plan for Gateway is revised.
"This is going to be a heated discussion," Chao said at one point Tuesday. "New York and New Jersey have got to up their local share."
Correction: A version of this story posted briefly on Tuesday incorrectly stated the amount of the Gateway funds in FY 2018 House appropriations legislation as roughly $900 billion. The correct amount is roughly $900 million.