Chicago OKs Punitive Strategy to Curb Double-Parking Drivers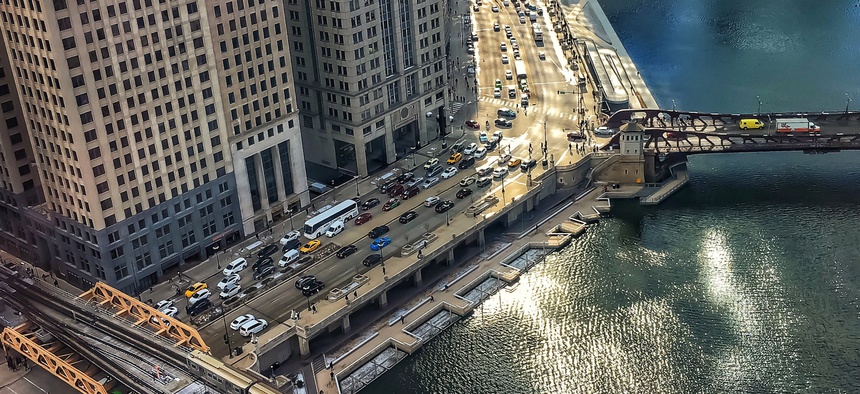 STATE AND LOCAL ROUNDUP | More subpoenas expected at Atlanta City Hall … Michigan lawmaker perplexed by teacher shortage … Colorado River dispute … and beachfront property owners don't like the idea of "managed retreat."
Here are state and local government news stories that caught our attention …
TRAFFIC MANAGEMENT | In a city where space on the streets is a precious commodity, Chicago is cracking down on drivers who double park in the central business district, even if they're idling with their flashers on. On Wednesday, the Chicago City Council approved a measure that boosts the double-parking fine from $100 to $300. That includes drivers of delivery trucks. Alderman Brendan Reilly pushed the plan. According to the Chicago Tribune:
The 42nd Ward alderman said he's hiking downtown fines because commercial delivery drivers aren't deterred by the prospect of a $100 ticket, which he said many companies see as "the cost of doing business."

By charging more, Reilly said he hopes to get the truck drivers to instead use metered commercial loading zones the city has introduced around downtown in the past year. "This is not about revenue, it's about trying to drive compliance," he said.
The local politics of delivery trucks can be quite complex. During last month's Delaware Valley Regional Planning Commission annual conference in Philadelphia, DVRPC Senior Transportation Planner Mike Ruane noted the importance of having adequate zones for delivery drivers in congested central business districts. "Without providing enough capacity for loading zones, it becomes a major challenge to accommodate [deliveries], and that's why we see delivery trucks parked on sidewalks [and] taking lanes," said Ruane, according to PlanPhilly. "They're not doing it because they want to —very often, they are doing it because they have to, in order to meet their schedule and serve their customer, who in turn is serving us." [WMAQ-TV / NBC Chicago; Chicago Tribune]
INVESTIGATIONS | Storm clouds continue to gather over Atlanta City Hall, where Mayor Keisha Lance Bottoms indicated, according to WSB-TV, that "city officials do not know where the massive federal corruption investigation is heading" but the mayor "definitely expects more subpoenas." Investigators are apparently interested in the use of city purchasing cards plus credit card and reimbursement records from former Mayor Kasim Reed. [WSB-TV; The Atlanta Journal-Constitution]
RESILIENCY | As more of its coastline is threatened by rising sea levels and erosion, the city of Del Mar, California—will have plenty of tough planning decisions to make in the years to come. And "managed retreat" needs to be one option, according to the California Coastal Commission. But in a city known for its multi-million dollar beachfront homes, that's an unpopular idea. According to The San Diego Union-Tribune:
Residents, backed by the city's Sea-level Rise Stakeholder Technical Advisory Committee and the Planning Commission, had said that under no circumstances should managed retreat be considered for Del Mar.
In California, rising sea levels aren't just a concern for millionaires in San Diego County who have low-lying ocean-facing property. About 500 miles to the north in San Francisco, the ocean continues to threaten a 14-foot-wide pipe that carries sewage and stormwater to a treatment plant, requiring an ongoing effort to replenish sand along Ocean Beach. Wired asked earlier this month: "So will San Francisco spend the rest of its days shoveling sand in a quixotic battle against inevitability?" The same question could be asked of Del Mar. [The San Diego Union Tribune; Wired]
ELSEWHERE ...
Austin, Texas: The Texas Department of Transportation is giving drivers who haven't paid their toll bills a bit of a reprieve, at least when it comes to late fees. The department is waiving $1.3 billion of unpaid toll fees for transactions made before March 1. The unpaid tolls still have to be paid. But there's a new $4 late fee after 30 days. [KPRC-TV / Click2Houston]
Bangor, Maine: According to the American Medical Association, the number of opioid prescriptions written by Maine doctors dropped by 13.3 percent in 2017, the fifth-biggest decrease among the 50 states. [Maine Public]
Tallahassee, Florida: Weeks after external hard drives containing taxpayer information disappeared from the Florida Department of Revenue, the state's Department of Law Enforcement has an answer about what happened to them: A man cleaning Department of Revenue offices allegedly stole the hard drives—not knowing what was on them—so he could have more storage for Xbox games. [Boing Boing]
Lansing, Michigan: A Michigan state senator has expressed surprise about why his state is facing a shortage of certified teachers. "Why hasn't this been addressed?" state Sen. Marty Knollenberg, a Republican from Oakland County, recently asked. "Who is responsible? It certainly isn't coming from lawmakers." In a Michigan Radio commentary, Jack Lessenberry, points out that state lawmakers actually have played a major role in making teaching an undesirable profession in Michigan by "attacking teachers and cutting their salaries and benefits and pensions." So, it "isn't shocking that more than 100,000 Michiganders with a valid teaching certificate are no longer working in the profession." [Michigan Radio]
Phoenix, Arizona: After water officials in the upper Colorado River basin alleged that the Central Arizona Project—the canal that supplies water to Phoenix and Tucson—has been drawing too much water from the Colorado, CAP's general manager asked to meet with the entirety of the Upper Colorado Basin Commission to discuss the dispute. [The Republic / AZCentral.com]
St. Paul, Minnesota: At the Minnesota State Capitol this week, lawmakers were talking about the possibility of a state government shutdown and considered bills that would keep certain state government programs funded in case budget talks break down. [MinnPost]