Dangerous Gases in Dayton's Sewers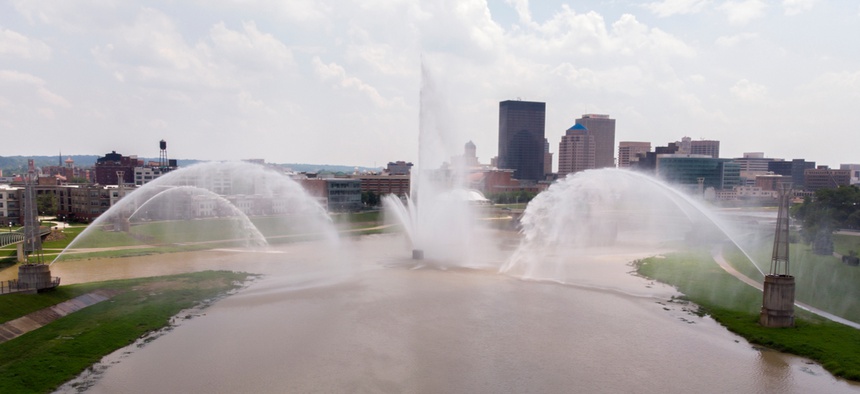 STATE AND LOCAL ROUNDUP | Arizona's wrong-way driver detection system … what lurks in Delaware's warming coastal waters … and fare enforcement reform in Seattle.
Good morning, it's Friday, Aug. 3, 2018. Infrastructure news from Dayton, Norfolk and Phoenix leads Route Fifty's state and local government news roundup, but scroll down for more stories from across the U.S., including places like Boston; Bourbon County, Kentucky; and Minot, North Dakota. Have a good weekend ...
INFRASTRUCTURE | Although the public is not in danger, water officials in Dayton, Ohio are trying to reduce dangerous levels of hydrogen sulfide that's been building up in parts of the wastewater system. Levels at one sewer interceptor have "surpassed 2,000 parts per million (ppm), which is far higher than the level at which the gas is toxic and can be lethal," according to the city. There are concerns that the hydrogen sulfide gas could erode sewers. [Dayton Daily News; Waters & Wastes Digest]
WORKFORCE | In a new report, the Idaho Center for Fiscal Policy found that when compensation for the state's teachers is compared to other states, it is "close to the pay in several other states where teachers have gone on strike." Idaho teacher pay ranks 43rd in the nation. [Idaho State Journal]
HOUSING & DEVELOPMENT | In state with a coastline extremely vulnerable to sea-level rise, the Tampa City Council on Thursday approved a temporary ban on developing submerged pieces of land, part of a local effort to curb dredging and filling of land prone to flooding for residential development. [Tampa Bay Times]
PUBLIC HEALTH | As Delaware's coastal waters warm, the risk of deadly bacteria rises. That includes the Vibrio vulnificus bacteria, something that people "tend to forget they exist until someone loses a limb. Or worse." [Delaware News Journal]
LAW ENFORCEMENT | The Chicago Police Department closed a portion of busy Lake Shore Drive during Thursday's afternoon rush hour to accommodate around 150 protesters who pledged to snarl traffic to send a message to authorities about gun violence in the city and call for the resignation of Mayor Rahm Emanuel and police chief. The protest's timing was designed to snarl traffic in the city ahead of Thursday evening's Cubs-San Diego Padres game at Wrigley Field. [Chicago Tribune; Block Club Chicago]
ELSEWHERE | Outdoor recreation generates $7.1 billion in consumer spending in Montana [Missoulian] … A state audit finds that Baltimore Circuit Court's faulty fine collection system failed to collect $11 million. [Baltimore Sun] … El Portal, Florida's financial future rides on its high-stakes gamble on a FEMA reimbursement. [Miami Herald] … Will a disease killing backyard chickens in Southern California head into the Central Valley? [Fresno Bee] … "Seeing six black bears together in Anchorage is certainly not common, according to wildlife biologists," but that's what happened last week. [Anchorage Daily News] …
ALSO on Route Fifty: