A N.C. City's Last-Ditch Effort to Fill 5,000 Sand Bags in 5 Hours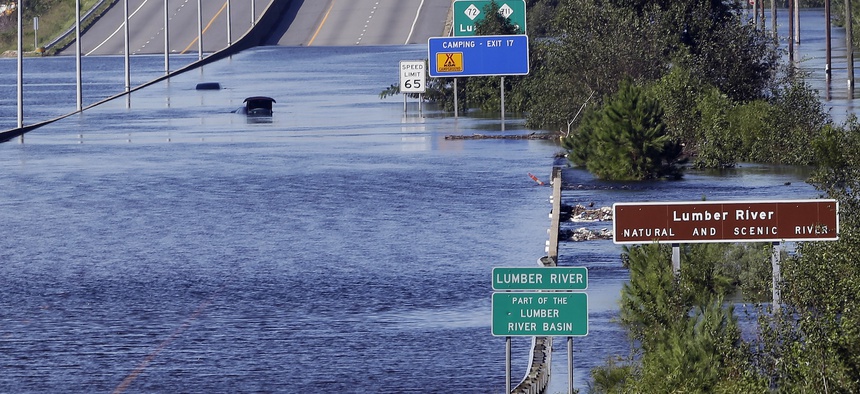 STATE AND LOCAL ROUNDUP | Michigan mayor wants state of emergency for traffic … Bay Area workers living in RVs get designated parking … and a Texas mayor kills alligator with one shot.
Good morning, it's Thursday, Sept. 20, 2018. Florence's floodwaters lead Route Fifty's state and local government news roundup but scroll down for more stories from places like St. Louis County, Missouri; East Palo Alto, California; and the Bronx, New York.
FLORENCE FLOODING | With tropical storm force winds approaching their city last week as Hurricane Florence approached the coast, about 100 volunteers turned out to help National Guardsmen and city employees in Lumberton, North Carolina to fill 5,000 sandbags in five hours to plug a vulnerable gap in a local levee. But the situation could have been avoided if a floodgate had been in place, something that's been planned for but has been held up due to, officials say, delays on the part of CSX railroad, which also did not consent to the sandbagging effort until an intervention from Gov. Roy Cooper. [Charlotte Observer]
Havelock, North Carolina: President Trump joined Gov. Cooper at Marine Corps Air Station at Cherry Point on Wednesday for a tour of damage in and around New Bern. [@NCCapitol / WRAL; The News & Observer]
Duplin County, North Carolina: According to data released by the North Carolina Department of Environmental Quality on Wednesday, at least 110 hog waste lagoons "have either released pig waste into the environment or are at imminent risk of doing so." Hurricane Florence floodwaters have killed 5,500 of the state's 8.9 million pigs and hogs. [The New York Times; The Wall Street Journal]
Wilmington, North Carolina: Major flooding will continue in Wilmington, which sits along the Cape Fear River, where several major tributaries meet upriver from downtown before emptying into the Atlantic Ocean. "It's all coming toward us," said Reid Hawkins, a science officer for the National Weather Service office in Wilmington of floodwaters upstream in southeastern North Carolina. [Star News]
STATE GOVERNMENT | Arizona Gov. Doug Ducey on Wednesday welcomed TuSimple, a Chinese-American artificial intelligence company to Tucson. "This company could have chosen anywhere to invest," Ducey said. "And they chose Tucson." TuSimple is testing autonomous trucks in Arizona, including on Interstate 10 between Tucson and Phoenix. [Tucson Local Media]
Baton Rouge, Louisiana: State budget news in Louisiana is often gloomy, but there's some good news from Baton Rouge: A surplus. "The economy performed better than the Revenue Estimating Conference predicted," Gov. John Bel Edwards said in a monthly call-in radio show. [The Advocate]
Bronx, New York: Gov. Andrew Cuomo's office announced Wednesday that New York state has received federal approval to decommission the Sheridan Expressway in the Bronx as an interstate highway, allowing the short highway to be "transformed into a new boulevard that will give residents and visitors a direct connection to the Bronx River waterfront and Starlight Park." [Gov. Andrew Cuomo's Office]
Jackson, Mississippi: After six Mississippi Department of Transportation workers were injured in work zone crashes in the past two days, officials are urging the public to drive safely. "I urge the traveling public to remember to slow down & move over when you see crews on the road," MDOT Executive Director Melinda McGrath tweeted. "Their safety depends on it." [Clarion Ledger; @McGrathMDOT]
Warren, Michigan: Mayor Jim Fouts is asking Michigan Gov. Rick Snyder to declare a state of emergency due to increased traffic on surface streets in his city generated by a massive reconstruction of Interstate 696, calling the situation a public safety hazard. While drivers continue to be diverted, the work to rebuild I-696 has been stalled for about two weeks due to a labor dispute between the Michigan Infrastructure and Transportation Association and Operating Engineers Local 324. There are fears that the completion of the project could be delayed if concrete is not poured before colder weather. [Detroit Free Press]
LOCAL GOVERNMENT | Planners in Minneapolis are planning to scale back some of their long-term proposals that "would have further diversified zoning options for housing and allowed for taller buildings in more parts of the city." A revised version of the Minneapolis 2040 plan is expected next week. Although details are few and far between, "[n]either pro- nor anti-density folks are happy with the changes" that have been anticipated. [MinnPost]
Montgomery County, Maryland: Members of the Montgomery County Council on Tuesday approved a bill that will create a new staff position in the county government, climate change director, who "will serve as a liaison between the council, the county executive and county environmental agencies." [Bethesda Magazine]
St. Louis County, Missouri: The St. Louis County Council plans to withhold security funding for Metro until "police and the transit system can show progress on fixing safety problems that are keeping riders away." [St. Louis Post-Dispatch]
Chicago, Illinois: O'Hare International Airport has been ranked the best "connected" airport in the U.S. and the second-best connected airport in the world after London's Heathrow. Lame-duck Mayor Rahm Emanuel hopes that his successor at City Hall will continue to champion the $8.7 billion expansion of O'Hare—including a Terminal 2 for United and American airlines—that's currently underway. $4 billion in borrowing has already been OK'd by the Chicago City Council. [City of Chicago; Chicago Sun-Times]
East Palo Alto, California: This Silicon Valley city will be one of the first in the Bay Area to officially designate safe parking areas for people who live in RVs, a move that "marks a significant step toward addressing the increasingly visible population of workers priced out of Bay Area apartments and living in vehicles along city streets." [Bay Area News Group]
Livingston, Texas: The mayor of this small city northeast of Houston, Judy B. Cochran, "managed to kill a 12-foot, 580-pound alligator with just one shot" on Sunday at her ranch. The mayor used the headline-grabbing gator incident to note that she followed alligator-hunting rules. "We're one of 12 counties that has a hunting season for alligators, between Sept. 10 and 30. You have to have a permit and tags from a wildlife biologist, and you have to catch it on a hook first. We don't just go to the ranch and hunt a gator." [Houston Chronicle; @abc13houston]