Michigan Has a Growing Salt-Water Problem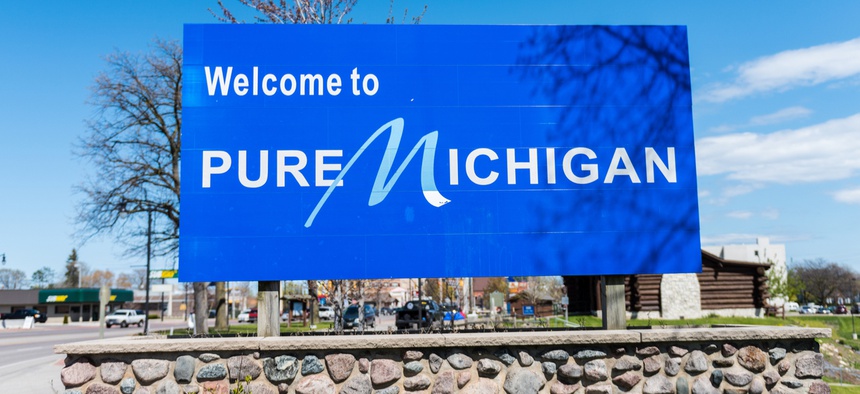 STATE AND LOCAL ROUNDUP | Lime squeezed out of a Nevada city … more Valley fever cases in California … and a judge says Louisville must release its Amazon HQ2 proposal.
Good morning, it's Wednesday, Sept. 25, 2018. Groundwater problems in three dozen Michigan counties leads Route Fifty's state and local government news roundup but scroll down for more from places like Pierce County, North Dakota; Sparks, Nevada; and Charleston, West Virginia.
LOCAL GOVERNMENT | Some counties in Michigan, a state bordered by some of the largest bodies of freshwater on the planet, have a salt-water problem. That includes Ottawa County, where "intensive groundwater pumping" has caused "saltier water to invade from below" thanks to geology that makes drilling wells challenging for farmers or developers of new housing developments. "Essentially, if you go too shallow you have the nitrate problem, and if you go too deep you have the chloride issue," said Shu-Guang Li, a Michigan State University researcher who found similar problems in three dozen other counties. "That's the dilemma." [Circle of Blue]
Louisville, Kentucky: A judge on Tuesday ruled that the Louisville Metro Government must release its proposal for Amazon's second headquarters campus that Mayor Greg Fischer had sought to keep under wraps. Fischer's administration has 10 days to turn the proposal over to the Louisville Courier Journal, which sought its release. [Courier Journal]
Pierce County, North Dakota: Local governments in North Dakota, led by Pierce County, are "pushing for state legislation ensuring local governments have a say in proposed high-level hazardous waste disposal." [Minot Daily News]
Juneau, Alaska: A needle exchange program regularly used by more than 100 people in Alaska's capital city could cease by the end of the year due to a lack of funding. [Juneau Empire]
Sparks, Nevada: City Council members voted Monday to notify Lime that the city won't be renewing a franchise agreement for dockless bikeshare. [KOLO]
Long Beach, California: The U.S. Army Corps of Engineers and the city of Long Beach released a handful of proposals that would remove portions of the offshore breakwater that was built nearly 70 years ago to give the ships protected water. That breakwater not only hurt local ecosystems, but eliminated large waves that made Long Beach a famous seaside destination in the early 20th century. "We want Long Beach and our coast to be as active and as full and as used as any other beach up and down the State of California," according to Mayor Robert Garcia. [LAist / KPCC]
STATE GOVERNMENT | As the number of cases of Valley fever—a disease caused by an airborne soil fungus—continues to increase in California, this year could be the worst on record after jumping by more than a third from 2016 to 2017. "We're seeing a huge increase in new cases in the past two-and-a-half years. It's striking," said Ian McHardy, co-director of the Center for Valley Fever at the University of California at Davis. "We're seeing double and triple the cases. It's a catastrophic change, and it's getting worse." Climate change is believed to be linked to the uptick in Valley fever. [CALmatters]
Charleston, West Virginia: A study released Tuesday by Georgetown University's Center for Children and Families and the University of North Carolina's NC Rural Health Project shows that when it comes to low-income adults who lack health insurance, "West Virginia's uninsured rate in that demographic fell from 35 percent to 14 percent with help from the Medicaid expansion—a 21 percent decline." [WV Metro News]
Columbus, Ohio: A performance audit from the office of the Ohio State Auditor Dave Yost found that Ohio State University could be saving "more than $6.4 million each year by optimizing printer and copier use, adopting consistent and efficient hiring and financial transaction processes and moving computer servers to data centers." [Columbus Dispatch]
Trenton, New Jersey: Former Gov. Jim McGreevey, "a prominent figure in the state urging the public sector to address the overdose crisis," released a 35-page report at the New Jersey Statehouse on Tuesday that calls on the state to overhaul its response to the opioid epidemic. [WCAU / NBC10]
Des Moines, Iowa: Finance officials in the Hawkeye State announced Tuesday that "Iowa ended its spending year with $95.6 million more than initially projected." That news was welcomed by Gov. Kim Reynolds, a Republican. But Democratic leaders noted that the rosy fiscal news "comes after mid-year budget cuts." [The Des Moines Register]