Lyft's New Investment Will Expand NYC's Citi Bike Service Area in a Big Way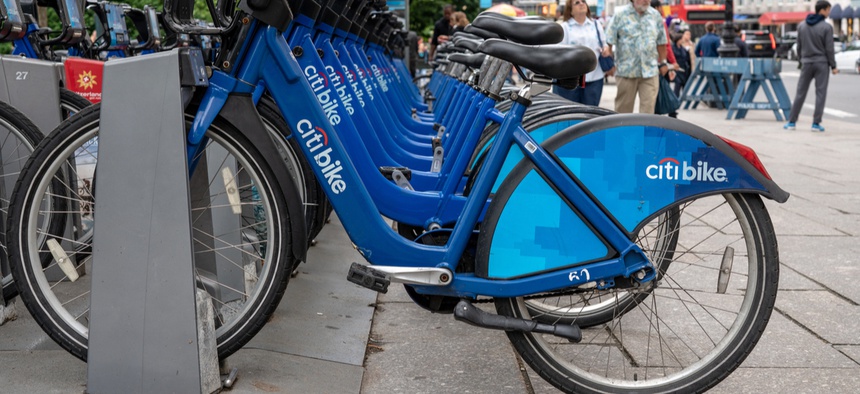 STATE AND LOCAL ROUNDUP | PG&E to face major safety scrutiny from state regulators … Kansas gas tax hike … Ore. may legalize psychedelic mushrooms.
Good morning, it's Friday, Nov. 30, 2018. Leading Route Fifty's state and local government news roundup is some mobility news but scroll down for more from places like St. Augustine, Florida; Boise, Idaho; and Topeka, Kansas. ALSO ON ROUTE FIFTY … U.S. cities retrofit U.N. sustainability goals ... A new report on uninsured children shows a distressing trend … Illinois county commissioner's claim that her firing was political retaliation fails in federal court … an interview with Vermont's chief information officer … and the last in a series of 10 spotlights on Route Fifty's 2018 Navigator Award winners.
INFRASTRUCTURE | New York City's Citi Bike network will be growing in a big way in the next five years through a newly announced $100 million investment by Lyft that will double the bikeshare service area in the nation's largest city and triple the number of bikes. "We are thrilled to announce that the nation's largest and most successful bike share system will be growing to reach even more New Yorkers," NYC Department of Transportation Commissioner Polly Trottenberg said in a statement. Lyft's investment will includes $5 monthly bike share memberships available to all SNAP recipients and NYC Housing Authority residents. [Citi Bike] … A state task force in Kansas working on long-range transportation planning is recommending an increase in the gas tax to help fund infrastructure improvements plus a fee for owners of electric vehicles. [The Kansas City Star] … The long-planned and eternally controversial extension of the 710 Freeway in the Los Angeles area is essentially dead after six decades. [Los Angeles Times]
CALIFORNIA WILDFIRES | Three weeks after the Camp Fire started in Northern California, the California Public Utilities Commission on Thursday ordered Pacific Gas & Electric to improve its safety culture, questioning the safety qualifications of top executives. CPUC President Michael Picker said in a statement: "Although there are a few bright spots, PG&E appears not to have a clear vision for safety programs and instead pursues many programs without thought to how they fit together, despite eight years passing since the explosion in San Bruno," referring to the deadly September 2010 gas pipeline blast near San Francisco. [KCRA; Reuters via Insurance Journal; @PickerCPUC] … Meanwhile in Butte County, officials have ended their search efforts for human remains just as heavy rainfall moved through Northern California and caused flooding Thursday, prompting evacuations in some areas recovering from the fire. The Camp Fire's death toll stands at 88 fatalities. [San Francisco Chronicle / SFGate; @ButteSheriff]
ECONOMIC DEVELOPMENT | While Idaho has a significant gender pay gap, the Gem State ranks second highest in the nation when it comes to the percentage of women-owned businesses. The No. 1 state is New Mexico. [Boise State Public Radio]
LIBRARIES | A snafu earlier this month involving the "inadvertent" and "premature" release of new hours for the St. Johns County, Florida libraries has prompted discussion about the ability of the library system to deal with the growth in patrons. "The growth in the library is such that we can't continue to provide everything that we've provided in the same manner," County Administrator Michael Wanchick told the county commission recently. "We have to look at balancing those services. You can only stretch every dollar so far. And that's what we're trying to do." [St. Augustine Record]
DRUG POLICY | Oregon Attorney General Ellen Rosenblum has OK'd language for a state ballot initiative that would, if approved by voters in 2020, would legalize psychedelic mushrooms. [Oregon Public Broadcasting]