'Dead Pool' Water Scenario for Colorado River Prompts Big Spending in Vegas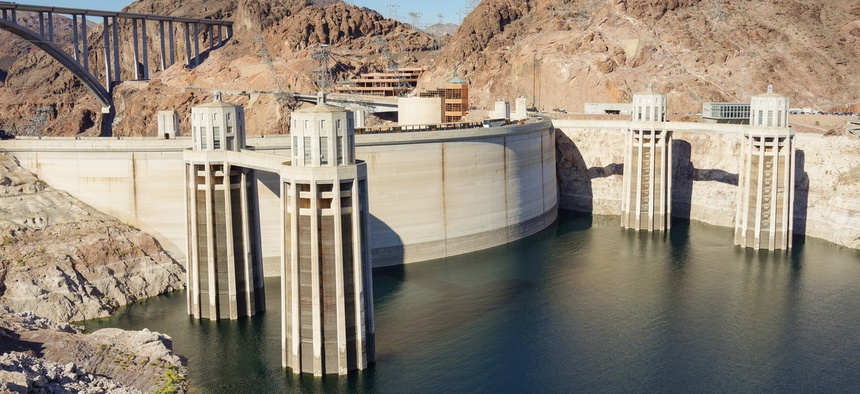 STATE AND LOCAL ROUNDUP | Mo. police chief responds to CNN rape-kit investigation … Texas AG sues San Antonio … and Vt. irked by N.H. inaction.
Good morning, it's Monday, Dec. 3, 2018. Water leads Route Fifty's state and local government news roundup but scroll down for more from places like Houston, Texas; Duluth, Minnesota; and Rockingham, Vermont. ALSO IN ROUTE FIFTY … When rehiring retired public workers, guidelines are important … South Bend Mayor Pete Buttigeig discusses what cities can learn from Estonia … Anchorage counts its blessings following Friday's 7.0 magnitude quake ... and Arizona launches a campaign to combat a deadly syphilis outbreak. 
Let's get to it ...
WATER | A worst-case scenario for the Colorado River called "dead pool"—a term used to describe when water levels in Lake Mead are so low that they're below "the point at which it would be physically impossible to release water from [Hoover] dam to the river" below—may prove to be an "improbable" prospect, but Las Vegas, which relies on the lake for local water supplies, "has been spending big money to hedge its bets" in case it someday becomes reality and the city needs to draw water from below the "dead pool" level. [The Nevada Independent]
DISASTER RECOVERY | The number of missing people from California's deadliest and most destructive wildfire has dropped to 25. According to an update from the Butte County Sheriff's Department on Saturday, "3,141 individuals have been located by officials since the [Camp] fire. Of the 88 people who have been killed, 41 have been positively identified with another 42 tentatively identified." [The Sacramento Bee] … Following Friday's 7.0 magnitude earthquake near Anchorage, local officials reported that the city's water-delivery system escaped significant damage. But if a similar or even larger quake would strike the Seattle area, the situation would be far different. A 13-page summary of Seattle Public Utilities assessment of its water infrastructure made public paints a bleak picture for future quake recovery: Within 24 hours of a catastrophic quake—like the dreaded future megaquake expected to come some day from the Cascadia Subduction Zone—all of Seattle and suburbs served by the city's water system would lose pressure due to broken infrastructure, including "breaks in the large transmission pipes" that bring water from mountain reservoirs to the city. [The Seattle Times]
LAW ENFORCEMENT | The Springfield, Missouri police chief responded to a CNN investigation that his department has destroyed rape kits before they were tested, saying parts of the report were correct while others were misleading. But the bottom line, according to Chief Paul Williams: "We should never have destroyed rape kits. We should never have not had them all tested. ...That was wrong. And I wish it hadn't happened. We can't go back and re-create those ... We're sorry that happened." [CNN; Springfield News-Leader] … Texas Attorney General Ken Paxton is suing the city of San Antonio, alleging the city violated state law requiring local governments and agencies to cooperate with federal authorities on immigration enforcement actions. [Texas Tribune] … In New York City, a recently introduced City Council bill would make "cyber flashing," where lewd photos are sent to unsuspecting people who leave their AirDrop feature open on their phones, illegal and subject to jail time and a $1,000 fine. [The New York Times]
GOVERNORS | As Tennessee Gov.-elect Bill Lee prepares to assume office in the new year, there's something that's still left unresolved: How he'll exactly step back from the Lee Company, an electrical and plumbing business founded by his grandfather in 1944. [Tennessean] … When California Gov.-elect Gavin Newsom takes office in the new year, his administration will be dealing with the aftermath of the Camp Fire and questions about the safety record of Pacific Gas & Electric. During his political career, Newsom has "sometimes backed company" and "sometimes challenged it." [Bloomberg] … During a gathering of three former Ohio governors last week, former Gov. Richard Celeste said the state faces major challenges keeping talent in the state. "We export talent every year. That's the tragedy. I live in Colorado, and I meet Ohioans all the time." [The Columbus Dispatch]
CITY HALLS | On Monday evening, Houston Mayor Sylvester Turner will be hosting a public memorial service for former President George H.W. Bush, who died on Friday. [@HoustonTX] … Among the rules for short-term rentals under consideration by city officials in Raleigh, North Carolina: "[O]nly two bedrooms or guest rooms could be rented out and a resident would have to live at the house during the rental" and "[p]eople who want to rent out their homes would pay a $208 fee and neighbors within 100 feet of the property would be notified, at the would-be operator's expense." [The News & Observer] … Despite a disruptive protest during a Duluth, Minnesota City Council meeting in October, a review of policies found "sufficient rules already were on the books to head off future disruptions." [Duluth News Tribune]
TRANSPORTATION | Local officials in Rockingham, Vermont have been pressing their congressional delegation "in a last-ditch effort to get New Hampshire to repair and reopen Vilas Bridge," an aging span that crosses the Connecticut River that's been closed since 2009. [The Keene Sentinel] … MoGo, the non-profit bikeshare system in Detroit, has logged 237,000 rides in its first 16 months of operation [The Detroit News] … Transit officials in Honolulu are rolling out a new electronic fare card for riders of The Bus system and the future Honolulu Authority for Rapid Transportation rail line that's under construction and scheduled to open in 2020. [HawaiiNewsNow]
PARKS & RECREATION | Because Baltimore city officials couldn't procure a donated Christmas tree before Monday's planned tree-lighting ceremony, a city work crew cut down a 30-foot-tall Norway spruce from Druid Hill Park. [Baltimore Brew]