What Truckers Want in Exchange for Interstate Tolls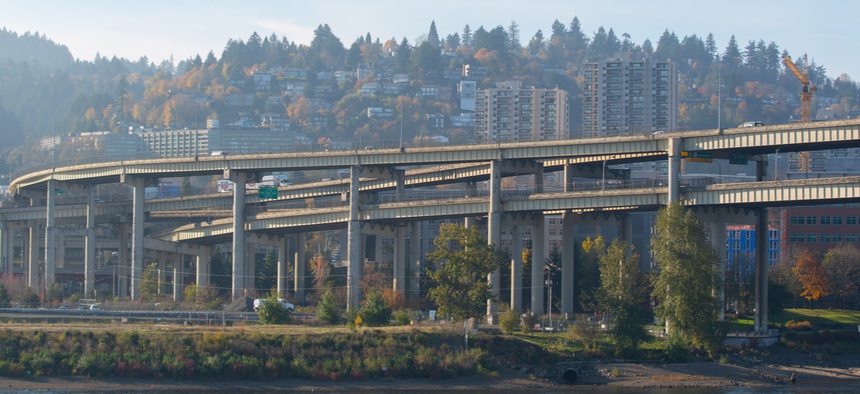 STATE AND LOCAL ROUNDUP | Sheltering the homeless amid bitter cold … Helena mayor's journey to city hall from Liberia … and N.Y. governor cuts municipal aid.
Good morning, it's Tuesday, Jan. 22, 2019. Infrastructure finance leads our state and local government news roundup but scroll down for more from places like Bensalem, Pennsylvania; Ball, Louisiana; and Topeka, Kansas … ALSO IN ROUTE FIFTY … A State Pension Proposal That Promises Near-Term Savings, But Higher Future Costs … Where Public Sector Union Membership Is Shrinking and Growing … and Colorado Joins States Seeking to Boost Electric Vehicle Sales.
Let's get to it ...
TRANSPORTATION & MOBILITY | As Oregon transportation officials look to move forward on a plan to introduce tolls to congested sections of Interstates 5 and 205 in the Portland area, trucking associations in the Pacific Northwest aren't necessarily against the idea. Jana Jarvis, who leads the Oregon Trucking Associations, said that if tolls are introduced, "we want additional lanes, additional road capacity." Although the Federal Highway Administration hasn't given the official green light for Oregon to introduce tolls, the state's requests are "likely eligible" under the federal government's Value Pricing Pilot Program. [Freight Waves; Portland Tribune / Pamplin Media] … The Los Angeles County Board of Supervisors approved a measure last week that essentially a voluntary ban on e-scooters in unincorporated areas of the county as local leaders develop rules and regulations. [Los Angeles Times]
HOMELESSNESS | Bitter cold weather in parts of the Midwest, Northeast and South has prompted state and local officials to take action to ensure homeless individuals are in shelters and not fighting to survive in the life-threatening elements. In Albany, New York, Liz Hitt, the executive director of the Homeless and Travelers Aid Society, which runs the  city's Code Blue program, said: "If you see somebody, please say something. Call us, call the police. Those temps we are going to be experiencing tonight, people could die. Don't keep walking. Do the right thing." One of the challenges in Winston-Salem, North Carolina: "Homeless shelters often require people to leave by 8 a.m., and in the winter, it's still cold outside."   [Times Union; News & Record] … In Washington state, "$100 can make the difference between having a roof over your head or being evicted," according to a University of Washington postdoctoral researcher studying evictions and homelessness in the state. "A large number of people evicted in Washington last year owed only a hundred dollars in late rent," said Tim Thomas. "About 80 to 90 percent of evictions are because someone fell behind on rent." [The News Tribune]
GOVERNORS | New York Gov. Andrew Cuomo's budget proposals would cut the state's municipal aid funding from $714.7 million in 2019 to $655.5 million in 2020. "It's as if he's taking a dagger and aiming it at the heart of municipalities on Long Island," said Brookhaven Town Supervisor Edward Romaine.[Watertown Daily News; Newsday] … Among the top priorities for Kansas Gov. Laura Kelly: Fix the state's foster care system and fix it fast. [KCUR] … A bipartisan proposal for a joint-state family leave plan as pitched by New Hampshire Gov. Chris Sununu and Vermont Gov. Phil Scott faces "a number of hurdles, from political to contractual," including getting unions, health insurers and state lawmakers to support the plan. [Concord Monitor]
CITY HALLS | Helena Mayor Wilmot Collins, Montana's first African-American mayor since statehood, recently shared stories about his journey as a refugee from Liberia to a municipal leader. One lesson he's taken from growing up in Liberia that's applicable in his current position: "My mom always says you have two ears to listen and one mouth to talk. So you listen more and talk less." [NBC Montana] … A recently approved Louisiana state ballot initiative that prohibits convicted felons from seeking elective office until five years after their sentence concludes has "inadvertently ensnared the small town of Ball in a new mayoral feud." [The Associated Press via The Advocate] … Chicago Mayor Rahm Emanuel is preparing to open two new branch libraries in housing developments on the city's north and south sides. [Sun-Times]
LAW ENFORCEMENT | In 2017, the police department in Bensalem, Pennsylvania became the first in the United States to use a Rapid DNA machine, often called the "magic box," for "speedy, nearly automated processing of DNA." Now, more departments around the nation are using them. "If we can do it, any department in the country can do it," Det. Glenn Vandegrift said.  [The New York Times] … A comprehensive examination of use of force by local law enforcement in New Jersey showed that Maplewood and South Orange were "significant outliers" when it comes to use of force "particularly along racial lines." The reaction from Maplewood Mayor Vic DeLuca: "When the Force Report came out, we were, I guess, [feeling] a range of emotions from surprise to shock to embarrassed but most importantly we were committed to continuing the conversation and continuing our work to build a bridge between the police and the community." [The Force Report / Star-Ledger via NJ.com; The Village Green] … Two people who were lying on a darkened roadway and struck by a West Palm Beach, Florida police officer may have been watching Sunday's lunar eclipse. [Palm Beach Post]