Whoopi Goldberg Tells N.Y. Mayor Her Big Complaint With the City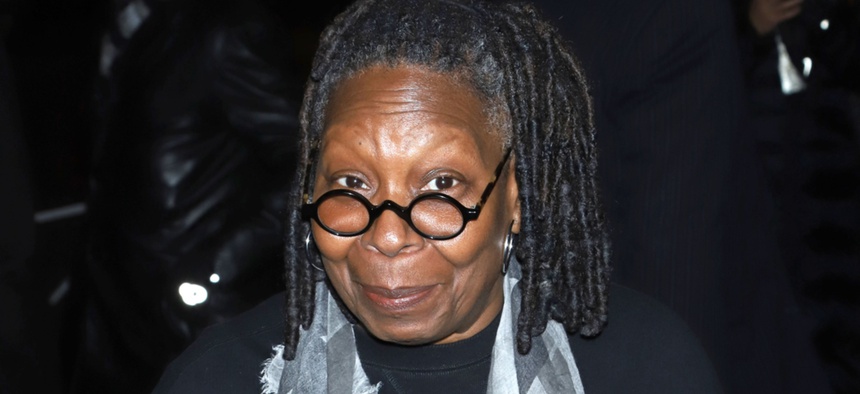 STATE AND LOCAL ROUNDUP | Rapid DNA testing … D.C. mayor vetoes bill to decriminalize fare evasion … and rural Minnesota broadband.
Good morning, it's Thursday, Jan. 17, 2019. Whoopi Goldberg leads our state and local government news roundup but scroll down for more news from places like Columbia, South Carolina; Bellaire, Ohio; Del Rio, Texas and Matanuska-Susitna Borough, Alaska. … ALSO ON ROUTE FIFTY … Signs of Rising Support From Governors For Legal Pot, As AG Nominee Vows Not to Crack Down … One City's Solution for Airport Employees Working Without Pay ...
Let's get to it ...
TRANSPORTATION & MOBILITY | During an interview on ABC's "The View" on Wednesday, Whoopi Goldberg made it known to New York City Mayor Bill de Blasio that she is not a fan of bike lanes. The mayor responded by pointing out that pedestrian fatalities are at their lowest level since 1910 since the expansion of bicycle infrastructure, which slows down motorists. [New York Daily News] … A MARTA train that derailed near Hartsfield-Jackson Atlanta International Airport will remain on the tracks until at least Thursday, when a crane will be brought in to remove the derailed train cars. [Atlanta Journal-Constitution] … Uber is rolling out its Jump e-assist bicycles in Dallas. [Dallas Morning News] … Meanwhile in Columbia, South Carolina, local officials have banned e-scooters for one year. [The State]
EMERGENCY MANAGEMENT | The emergency services director for the Matanuska-Susitna Borough in Alaska has resigned, "accusing borough employees and assembly members of undermining his actions" following the 7.0 magnitude earthquake on Nov. 30 in south central Alaska. [Anchorage Daily News] … Significant rainfall in California brought flooding to the Civic Center Muni and BART station near San Francisco City Hall on Wednesday afternoon. [Curbed SF]
LAW ENFORCEMENT | … In Bellaire, Ohio, located just downriver of Wheeling, West Virginia, Police Chief Dick Flanagan has a message for drug dealers: "The police department doesn't want you here. The citizens don't want you here. Pack your things and get the Hell out." [WTRF] ... District of Columbia Mayor Muriel Bowser vetoed legislation approved by the D.C. Council that would decriminalize fare evasion on buses and trains in the nation's capital. [DCist / WAMU] … In the Bay Area, the Contra Costa County Sheriff's Department is introducing a rapid turnaround DNA testing tool to its crime-fighting arsenal. [East Bay Times]
GOVERNORS | Florida Gov. Ron DeSantis is threatening to bar state employees from using Airbnb for official business due to the company's decision to remove 200 short-term rentals listed in the Israeli settlements on the West Bank. [The Hill] ... Illinois Gov. JB Pritzker paid a visit to Belleville, his first visit to southern Illinois as governor. He signed an executive order on job training at Southwestern Illinois College. [Belleville News-Democrat] … Kansas Gov. Laura Kelly delivered her first State of the State address on Wednesday night. [KWCH] … Michigan Gov. Gretchen Whitmer has "pledged her assistance" in the U.S. House Oversight and Government Reform Committee's ongoing investigation into the Flint water crisis. The congressional committee didn't get all the documents it had requested from then-Gov. Rick Snyder's administration. [The Flint Journal / MLive]
BROADBAND | Rural Minnesotans wanting high-speed internet shouldn't hold their breath for improved connectivity. While $70 million state legislators OK'd for grants to encourage the expansion of broadband is good, "the state has a long and expensive road ahead to reach a more ambitious pledge—to bring much faster universal internet to the state by 2026." [MinnPost]
CYBERSECURITY | The city of Del Rio, Texas was hit by a ransomware attack which has locked down its IT systems. [ZDNet] … Israel-based Check Point Software Technologies has partnered with Louisiana State University's applied research center. "We look forward to a rewarding relationship that will build Louisiana's strength and leadership in cybersecurity," Gov. John Bel Edwards said in a statement. [The Advocate]