Fewer People Using Transit in the D.C. Area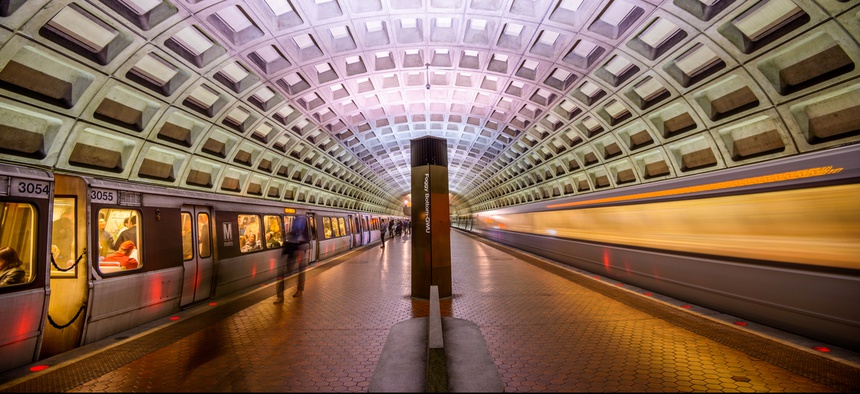 STATE AND LOCAL ROUNDUP | A proposal to allow teens to get vaccinated ... Plans for a property tax reduction in Baltimore ... Chicago tunnel plans on the rocks.
Greetings. A decrease in transit riders in Washington, D.C. leads Route Fifty's state and local government news roundup but scroll down for more from places like Chicago, Baltimore and East Baton Rouge Parish, Louisiana. … ALSO ON ROUTE FIFTY … Aging Infrastructure Might Be Raising Water Bills ... Trump's Budget Calls for Lower Medicaid Spending, New Infrastructure Money ... State AGs Call Out Congress on Robocalls ... Confronting Mental Illness, Officers Preferred Remote Clinicians Over A Human Presence. 
Transit ridership in the Washington, D.C. area last year shrunk to a level not seen in almost twenty years, the agency that runs the Metro reported. Metro officials emphasized to WAMU on Monday that the decline to a weekday average of 595,000 riders during the last half of 2018 came during a period when work was being done on major lines. But the radio station noted that more work is scheduled for this summer, which will bring further disruption. Stephen Fuller, a professor at George Mason University, said the Metro could eventually get a boost out of Amazon's new campus in northern Virginia, which is expected to bring at least 25,000 new workers to the area. While transit officials have proposed new initiatives to bring back riders, one Metro board member told The Washington Post that officials in Maryland and Virginia have been resistant to efforts to boost service, saying the cost is prohibitive. In other transit news, the Boston transit agency on Monday voted to raise fares 6 percent to help raise money for repairs, while pledging they would not hike rates again for another three years. The MBTA also agreed not to raise the fares for riding buses, as well as keeping them the same for seniors and people with disabilities. [WAMU; Washington Post; Boston Globe]
VACCINES | With new measles cases across the country making news across the country, New York lawmakers plan to put forward a new proposal to allow unvaccinated teenagers get vaccines without their parents permission. [The Times-Union]
PROPERTY TAXES | Baltimore Mayor Catherine Pugh announced a plan to drop property taxes, saying the city needs to be competitive with neighboring communities. New York Gov. Andrew Cuomo wants the state legislature to make permanent a cap on local property taxes that has been in place for six years. [Baltimore Sun; Bloomberg]
NEW CITY | Louisiana Gov. John Bel Edwards could set an October election date for a ballot initiative to create a new city in East Baton Rouge Parish, the location of the state capitol. Proponents of the so-called city of St. George say it would allow better local control and see it as a springboard to starting a separate school system. Opponents have said it would divide a parish where deep disparities already exist between communities. A spokeswoman for Edwards said the governor will review the petition to see if it complies with state law before making a final decision on calling the election. [The Advocate]
AIRPORT TUNNEL | Elon Musk's plan to dig tunnels under Chicago to create high-speed transit between the city downtown and O'Hare International Airport looks troubled, as the two candidates in a mayoral runoff, Lori Lightfoot and Toni Preckwinkle, aren't enthusiastic about the proposal. [The Verge]