More Governors and Mayors Ban Official Travel to Indiana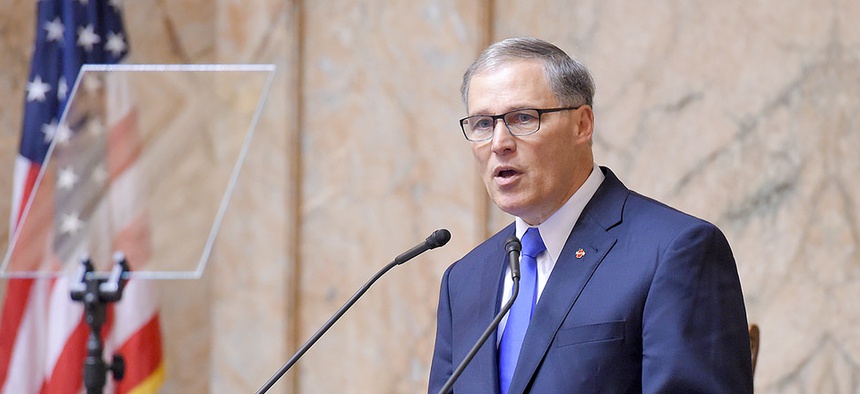 The list of governors and mayors who have banned or restricted official government travel to the state of Indiana keeps growing.
Issuing statements condemning the Hoosier State's recently approved Religious Freedom Restoration Act, which many believe opens the door for business owners to discriminate based on religious objections, the mayors of Denver, the District of Columbia, New York City, San Diego and Portland, Oregon and the governors of New York and Washington state have taken steps in recent days to ban or restrict taxpayer-funded travel to Indiana.  
San Francisco Mayor Ed Lee was the first mayor to prohibit his city government's employees from official travel to Indiana. Seattle soon followed suit. Connecticut's governor then took similar action.
In a statement released on Tuesday, Denver, Mayor Michael Hancock called Indiana's law "just wrong, plain and simple, and we will not tacitly condone discrimination through the use of taxpayer dollars."
He also had an economic development message for any company that might feel that Indiana isn't a good environment for business.
"Should the state of Indiana persist down the path of discrimination, we would like the Indiana businesses to know that they are welcome here in Denver, Colorado, and embraced by our forward thinking community and workforce."
Washington state Gov. Jay Inslee sounded a similar message.
"We in Washington stand for equality. I applaud those companies and organizations that have spoken out against the law and said they would not locate or expand operations in Indiana," he said. "I want to invite all those organizations, and anyone interested in a state that promotes equality and opportunity, to come visit Washington. We are open for business, and open to all people."
Back in Indiana, many local leaders have been expressing their dismay over the state's religious exemption law and negative impacts it's already having on the state's perceived business climate.
Though Gov. Mike Pence and state lawmakers have pledged to clarify the law, some feel that the damage to the Indiana's national reputation has already been done though the long-term economic impacts are unknown.
Citing how they are "distressed and very concerned by the fallout from the enactment of the Religious Freedom Restoration Act" in Indiana, the five living mayors of Indianapolis—Richard Lugar, William Hudnut III, Greg Ballard, Stephen Goldsmith, Bart Peterson and Greg Ballard—penned a jointly written op-ed in The Indianapolis Star:
We ask that national associations and corporations that do business, or would do business, in our city recognize that Indianapolis has a history of ordinances and executive orders protecting tolerance and preventing discrimination whether in terms of prayer, employment, provision of goods and services, or public accommodation, and explicitly extending to sexual orientation and gender identity.
Ballard, who has called on Pence and state lawmakers to fix the law and for the extension of civil rights protections to include sexual orientation and gender identity.
The Indianapolis Star reported on Wednesday that Republican leaders have been "vetting a deal" to fix the religious-exemptions law in consultation with the business community:
The measure goes much further than a "preamble" that was proposed earlier in the week, explaining exactly what the RFRA law does. But it doesn't go as far as establishing gays and lesbians as a protected class of citizens or repealing the law outright, both things that Republican leaders have said they could not support.

The clarification would say that the new "religious freedom" law does not authorize a provider – including businesses or individuals – to refuse to offer or provide its services, facilities, goods, or public accommodation to any member of the public based on sexual orientation or gender identity, in addition to race, color, religion, ancestry, age, national origin, disability, sex, or military service.
With the national spotlight still shining bright on Indiana—the NCAA Final Four men's basketball championship games are coming up in Indianapolis, too—the Hoosier State is reeling from the ongoing controversy
"I guess the one thing I will say is a lot of people are heartsick about this," Mitch Daniels, a former Indiana governor and current Purdue University president, told the Lafayette Journal-Courier. "For those of us who feel like we spent years building up a great business climate and reputation for the state, you hate to see anything damage it in the way, at least for the moment, it has."