A Big Data Tussle Over Phoenix 'Brain Drain' Rankings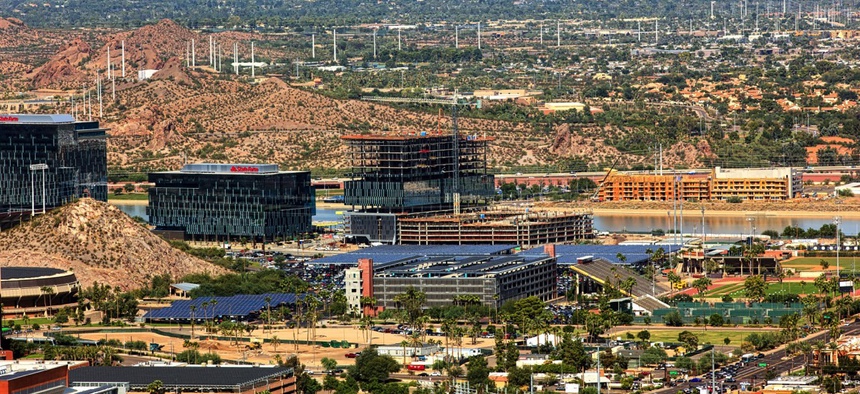 Officials in Arizona challenge rankings on college grad retention rates for the state's largest metro area.
A small moment of drama occurred Friday as I was interviewing the technical genius behind one of the best urban big-data analytical operations in the country.
Anubhav Bagley was walking me through an hour-long demonstration of the extensive data site maintained by the Maricopa County Association of Governments in Arizona when he asked to take a break. "It's a busy day," he said. "We are about to issue a press release challenging a new report that reflected quite negatively on the Phoenix metro area's economy."
The report, it turned out, had been issued on March 15 by Richard Florida, who co-founded CityLab, the highly regarded urban affairs website that, as it happens, is part of Atlantic Media, which also employs me and owns the Government Executive Media Group's Route Fifty.
Florida is now editor-at-large of CityLab and a senior editor at The Atlantic. He is the director of the Martin Prosperity Institute at the University of Toronto and a professor of global research at New York University. He is best known for his concept of the "creative class," which can kick-start economic grown in urban regions. He is the author of "The Rise of the Creative Class," "Who's Your City?," and "The Great Reset." And he is the founder of the Creative Class Group.
So it counts when Florida lends his name to any ranking of metropolitan areas, perhaps especially so when the ranking bears on the qualifications, or lack thereof, of the workforce. After all, manufacturing, technology and other companies put a lot of emphasis on availability of talent when they're deciding where to locate new facilities. And metro areas are seeking to become talent destinations.
It came as a rude surprise to Bagley and his boss Dennis Smith, MAG's executive director, when CityLab's March 15 release rated the Phoenix-Mesa-Glendale area of Arizona the worst of 20 major metropolitan areas in its record of retaining people who graduate from local colleges. The release put the Phoenix area's retention record at 36.3 percent—suggesting that nearly two-thirds of college grads move away to find work.
MAG quickly enlisted Arizona State University and the Arizona Commerce Authority to help with data to refute Florida's report. In a March 18 release titled "No Brain Drain in Phoenix," the three groups said they were "strongly disputing [the report showing] Arizona at the bottom of the list when it comes to retaining college graduates."
The press release continued:
"We recently mapped and analyzed extensive alumni databases for both ASU and the University of Arizona. Our findings show that since 2000, nearly 70 percent of ASU graduates and just over 56 percent of U of A graduates reside in our state," said MAG Chair W.J. "Jim" Lane, mayor of Scottsdale. "In reality, Arizona has a great story to tell when it comes to keeping our talent close to home."
So here we have a big-data tussle that must reveal flaws among the analysts on one side or the other.
And it seems that the Arizona authorities have the upper hand, since the CityLab study did not adjust for the fact that a great majority of the thousands of students earning their degrees online at two large Phoenix-based universities don't reside in the state to begin with. One is the University of Phoenix, which enrolled some 187,000 students in 2014, of whom only about 8,000 resided in the state, according to the release. Arizona State University has also developed a robust online system, which now enrolls more than 15,000 students, many of whom may also live in other states.
Florida quickly acknowledged the anomaly in data he'd assembled with Jonathan Rothwell of the Brookings Institution's Metropolitan Policy Program. When adjusted for the online students,
"Phoenix's retention rates improved to 56 percent for two- and four-year institutions and 41 percent for four-year institutions," he wrote in an update posted at the end of the CityLab story.
Those numbers place the Phoenix region comfortably outside of the CityLab's "Worst Metro Areas" list.
The CityLab report remains an important look at how well major metro areas are doing in retaining their college graduates and thus nurturing a thriving knowledge economy. A color-coded map shows particular strength along the Boston-New York-Washington Corridor, in Northern and Southern California, in the Pacific Northwest, and in parts of the South and Midwest.
The map, and rankings of 20 major metro areas are all part of the report, which resides on the CityLab website at this location.