Washington State Is Running IT Workforce Experiments to Understand Millennials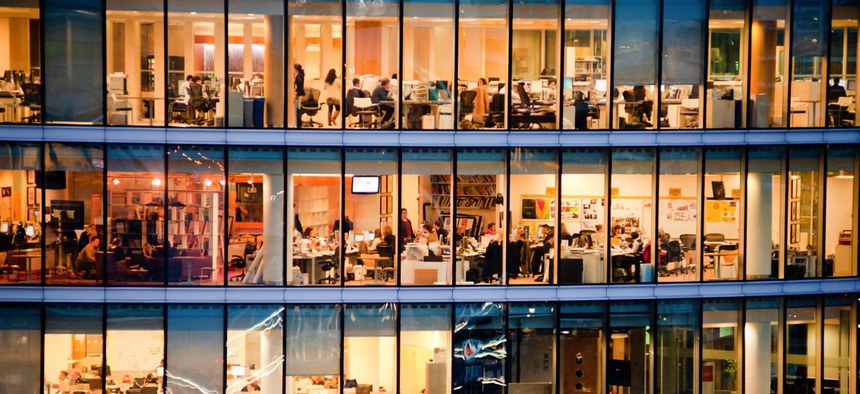 They include hiring by prioritizing values and improving office environments.
BALTIMORE — Because millennials are known for switching jobs regularly instead of sticking around for the long haul, Washington Technology Solutions, the consolidated technology services agency in the Evergreen State, has been experimenting with greater self-management as a way to attract them to government work.
The agency was created as part of Washington state's 2015-17 budget to streamline IT across all departments, and part of that entails hiring the next generation of workers needed for state government technology positions.
Some millennials are in their 30s now, and 97 percent of them plan to stay at the job they're in for two to three years maximum, Washington state's deputy chief information officer, Michael DeAngleo, said on Thursday during the CIO Top 10 Priorities session at the National Association of State Chief Information Officers' 2016 midyear conference, being held this week in Baltimore.
The one thing government owns as an employer is the "sense of purpose" employees feel working for it, he added, but millennials also want greater autonomy, work flexibility and professional growth.
Governments are not strangers to offering IT training. But, DeAngelo said: "We just need to get better at marketing it."
As much as losing a millennial worker who has received professional development stings, he added, the alternative is not training an employee who might end up hanging around.
WaTech, as the agency is commonly called, is also looking to improve workplace environment across departments. The agency partnered with the employees' union and Harvard University to run an experiment in which job candidates were hired for their values over their skills.
Alignment of candidate values with organizational values was 75 percent of their hiring score and ability only 25 percent.
Another experiment WaTech ran was removing cubicles from an office and replacing them with a variety of open workspaces. Space efficiency increased 25 percent, DeAngleo said, and office emails decreased 30 percent—indicating more face-to-face communication between workers.
Through exit interviews with candidates who didn't take jobs the state government offered them, WaTech learned most would've accepted the position if the pay had been $28,000 less than the one the went with.
Most considered government jobs a "backup to their backup" desired position, DeAngleo said.
ALSO on Route Fifty: More Coverage of the NASCIO 2016 Mid-Year Conference in Baltimore