N.J. State Takeover of Atlantic City; Wildfires in Southeast States Cause Hazy Conditions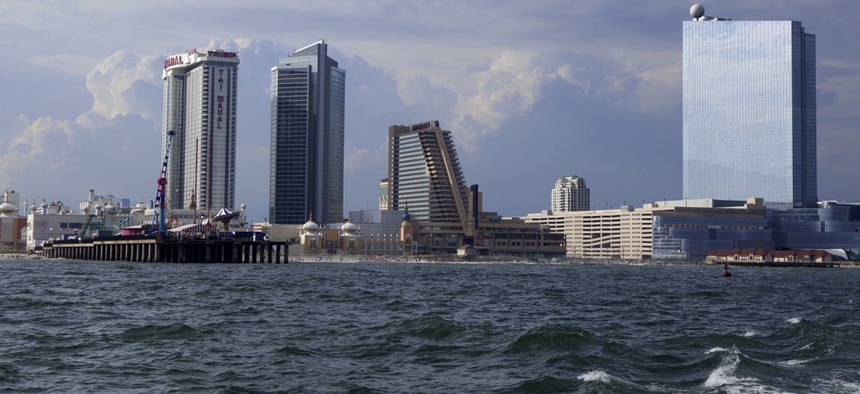 Also in our State and Local Daily Digest: EPA Consent Agreement With City in Texas Florida; Keys Mosquito study divides voters; Baltimore's progressive city council.
PUBLIC FINANCE | Republican Gov. Chris Christie's administration moved to take state control of Atlantic City's assets and major decisionmaking on Wednesday. The city is about $500 million in debt and has seen its fortunes crumble amid a downturn in the once-thriving local casino industry. Mayor Don Guardian said the city might challenge the state takeover in court, but would wait to learn more about it before doing so. [Associated Press via ABC News]
WILDFIRES | Smoke from wildfires in Alabama, Georgia, North Carolina and Tennessee has been causing hazy conditions across the region, including in Atlanta. Parts of the Southeast have dealing drought conditions and gusty winds have helped fuel blazes and prompt some health advisories. [Atlanta Journal Constitution; ABC News]
WASTEWATER | The city of Tyler, Texas ended seven years of negotiations with the Environmental Protection Agency by approving a consent decree ensuring the city will pay for past wastewater overflows and better evaluate and maintain its system. [Tyler Morning Telegraph]
MOSQUITOES | Florida voters in Monroe County and the Lower Keys neighborhood of Key Haven offered mixed support Tuesday for a plan to release genetically modified mosquitoes to combat mosquitoes that can carry Zika and other viruses. The release would take place as a test in Key Haven. Voters were asked whether they supported it in a nonbinding referendum. Countywide 58 percent of the electorate backed the plan. But, in Key Haven, 65 percent opposed it. [FLKeysNews]
MINIMUM WAGE | Voters in Baltimore elected eight new City Council members Tuesday, more than half its number, and the newcomers are promising a more liberal agenda that includes increasing the minimum wage to $15 an hour. [The Baltimore Sun]
NEW CITIES | Just outside of Salt Lake City, new city Millcreek, Utah elected its first mayor, Jeff Silvestrini, a lawyer who will have the task of transitioning the county township to an independent municipality.
RECOUNT? | A recount could be coming for Tigard, Oregon's measure to bring MAX light rail to the city. [Portland Tribune]
ROAD FUNDING | Now that a proposed 0.15 percent income tax hike failed 60 to 40 percent, Delaware, Ohio officials are exploring new ways to fund road repairs. [The Columbus Dispatch]
ALASKA | Former North Slope Borough mayor and Inupiaq whaler Edward Itta died peacefully on Sunday in Barrow, Alaska after fighting cancer. He was 71. Itta was an instrumental voice for people living in the U.S. Arctic and played a key role in discussions that paved the way for Shell to explore for oil offshore in the region. [Alaska Dispatch News]