Pence: Trump Will Work With Both Parties' Mayors on 'Equal Footing'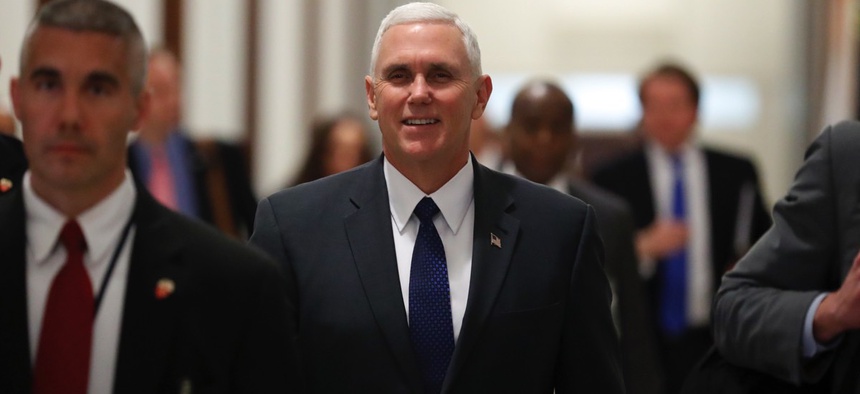 "No politics, just results," the vice president-elect promised at the U.S. Conference of Mayors' 85th Winter Meeting.
WASHINGTON — Vice President-elect Mike Pence sought to reassure the nation's mayors on Tuesday that they have a friend in the incoming Trump administration, regardless of their politics.
Speaking at the U.S. Conference of Mayors annual winter meeting in the nation's capital, Pence's message was one of conciliation and American exceptionalism.
Vowing strong partnerships between the federal and local governments, he broadly touched on his and President-elect Donald Trump's dedication to improving infrastructure, education reform, law enforcement and job creation.
"I promise you this administration is going to be committed to work with Republican and Democrat mayors across America on an equal footing—no politics, just results," Pence said.
It's a promise that's hard to believe given the makeup of Trump's proposed cabinet—a who's who of Republicans who backed him during the election—and the pettiness of his Twitter missives. Trump recently tweeted that civil rights leader John Lewis was "All talk, talk, talk—no action or results," after the Democratic U.S. representative from Georgia said he wouldn't attend the presidential inauguration.
Despite losing the popular vote by nearly 2.9 million people, Trump continues to act as if he has nothing but an overwhelming mandate to lead.
So instead of touting Trump's record, Pence pointed to his own as governor of Indiana, for the last four years, working "hand in glove" with Republican and Democratic mayors.
Pence praised the mayors in attendance for improving the quality of life for tens of millions of residents and alluded to a largely hands-off approach to assisting cities, when stressing he and Trump "believe that government that governs least governs best."
But Pence also came bearing tidings from Trump.
"In addition to sending along greeting, he said, 'Tell them we're going to do an infrastructure bill, and it's gonna be big," Pence said smiling.
Without elaborating, Pence said the infrastructure package will have the funding communities and states need to promote growth. He presented Trump as keenly aware of cities' struggles.
"Remember, after all, that he's a New Yorker through and through, and he's seen some of the country's biggest urban challenges and seen some of the country's biggest urban renewals up close and personal," Pence said.
This being the first time a vice president had spoken at the USCM winter meeting prior to an inauguration, Pence encouraged mayors to stay the week and witness "the peaceful transition of power," calling the event "a celebration of the American people and our extraordinary democracy, which continues to make us the envy of the world."
"This administration is going to be a friend to America's mayors," Pence said in closing. "We may not agree on everything, and our doors will be open to hear the issues upon which we might differ, and we'll listen respectfully. But we all agree, the success of our country depends on the success of our cities."