Booted From City Hall, a Pro-Slavery Icon Finds New Home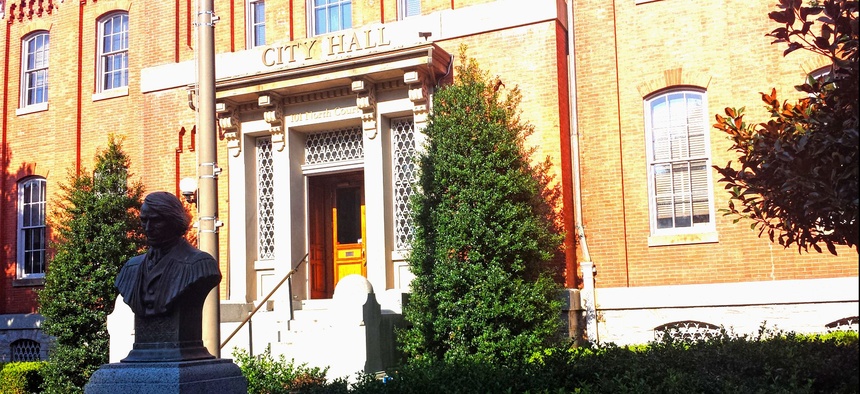 A Maryland city's multi-year journey to part ways with its historic "embarrassment" was greeted with applause.
The bust of a controversial 19th century U.S. Supreme Court chief justice was removed from the grounds of City Hall in Frederick, Maryland, on Saturday, bringing a long and, at times, controversial effort to a conclusion.
Frederick's elected municipal leaders had previously voted to have the bust of former Chief Justice Roger B. Taney—the author of the infamous 1857 Dred Scott v. Sandford decision that ruled African men in the United States, whether they were free or slaves, were not citizens and couldn't sue in federal court—removed from a spot just outside the front of City Hall.
As The Baltimore Sun reported this weekend, a small group had gathered to watch the removal of Taney's bust and greeted its extrication with applause. "To me, this was an embarrassment," Democratic Alderman Donna Kuzemchak, who has supported the bust's removal since she was first elected 20 years ago, told The Sun.
Taney's bust, first installed in 1931, is being relocated to a local cemetery.
In 2009, an interpretive plaque was installed in a spot adjacent Taney's bust to detail the history and impacts of the Dred Scott decision, which is considered by legal scholars today to be among the worst rulings ever handed down from the U.S. Supreme Court.
In 2015, the Board of Aldermen affirmed a plan to remove the busts of Taney and former Gov. Thomas Johnson. The bust-removal plan was made official in a vote last year. Taney, who lived and practiced law in Frederick and Johnson, who lived in the area, both owned slaves.
Frederick's Historic Preservation Commission OK'd the removal and relocation of the busts along with the interpretive plaque. Their new home is Mount Olivet Cemetery where Johnson is buried.
A legal petition opposing the removal of the busts was dismissed in February.
The Frederick News Post reported this weekend that John Kinnaird, the mayor of the nearby town of Thurmont who also owns a stone-cutting business, was on hand for the removal of the two busts.
"I'm honored to help out with it because I'm a history buff, and this is certainly part of American history," Kinnaird told the News Post. "I'm glad they'll still be somewhere people can see them. It's an important part of history—not one we're proud of, but a part of history nonetheless."
PREVIOUSLY on Route Fifty: