Mayors Celebrate Immigrants While Facing ICE's New 'Non-Cooperative' City List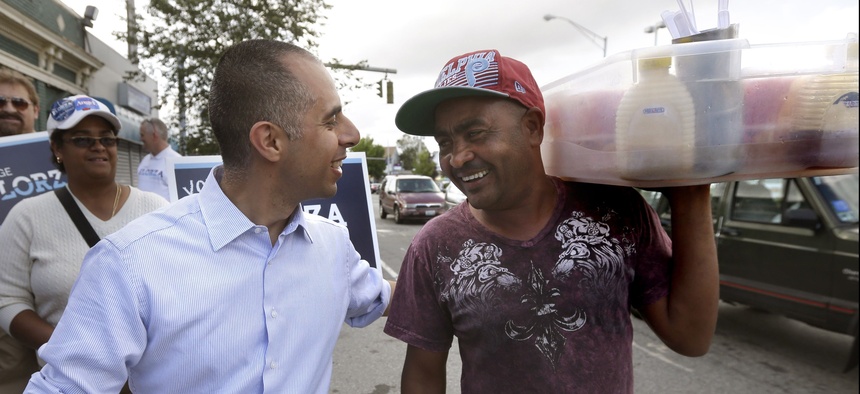 "We're all trying to figure out what is accomplished by this list and how it is going to be used," according to Providence Mayor Jorge Elorza.
A bipartisan group of mayors continued their push for comprehensive, federal immigration reform on Tuesday and couldn't go an entire Cities' Day of Immigration Action without addressing U.S. Customs and Immigration Enforcement's newly released report publicizing "non-cooperative jurisdictions."
At issue is the federal government's shaming of cities that decline to detain suspects in local custody on ICE's behalf because they might be undocumented immigrants and, thus, deportable.
The U.S. Conference of Mayors contested ICE's first, weekly Declined Detainer Outcome Report on the grounds compliant cities like New Orleans were included, detainers aren't warrants needed to constitutionally hold suspects longer than the legal requirement, and in most cases those in custody had been charged but not convicted of the crimes listed.
"We want a collaborative relationship with our government at all levels," Los Angeles Mayor Eric Garcetti, who chairs USCM's Latino Alliance, said on a conference call. "And I think that this 'scarlet letter' is destructive to that cooperation."
L.A.'s police chief has joked that ICE's list of uncooperative jurisdictions includes every city with "two-story buildings and running water," the Democratic mayor said.
USCM CEO and Executive Director Tom Cochran called the current immigration situation a "crisis we have been in for several months."
"ICE states that by not cooperating with ICE detainers or requests for notification, jurisdictions are 'potentially endangering Americans,'" Cochran said in his response to the report on Monday.  "This promotes the false narrative that immigrants are criminals when studies have shown that the incidence of criminality is less among immigrants than among the native-born population, and recent research has shown that communities with so-called 'sanctuary' policies are safer than those without them."
As of noon Tuesday, 65 cities and counties across 31 states had signed on to the day of action defending immigrants' contributions to their communities and economies by holding hundreds of events under the #MayorsStand4All umbrella.
L.A. kicked things off with a Know Your Rights phone bank and workshop connecting immigrant families with the resources they need to integrate into American life.
Anaheim, California Mayor Tom Tait, a Republican who co-chairs USCM's Immigration Reform Task Force, authored an op-ed in The Orange County Register urging the federal government to fix the "broken system we have to work around."
"This is not a Democratic or Republican issue. This is not an East Coast or West Coast issue," Tait said. "This is a bipartisan, universal values issue."
A number of mayors invoked former President Ronald Reagan, whose bipartisan amnesty bill in 1986 enabled the family of Robert Garcia, a Peruvian immigrant who is currently the mayor of Long Beach, California, to become citizens. The message being: The Trump administration's hard line on immigration and refugees, with its attempted "Muslim ban" on travel and executive order targeting sanctuary cities, is a far cry from previous Republican administrations.
"It is not acceptable for jurisdictions to refuse to cooperate with federal law enforcement by releasing criminal aliens back into our communities when our law required them to be deported," said U.S. Attorney General Jeff Sessions, in a statement on ICE's report. "The Department of Justice will use all lawful authority to ensure that criminals who are illegally in this country are detained and removed swiftly and to hold accountable jurisdictions that willfully violate federal law."
Mayors who participated in Tuesday's conference call made clear that they aren't opposing the deportation of violent criminals but instead are opposed to federal attempts to turn local police into immigration agents. Among their complaints: immigration enforcement takes time away from police work, damages law enforcement trust in the community, deters people from seeking medical attention and stops victims of crime from coming forward.
In Austin, Texas, Mayor Steve Adler recently learned a victim of domestic violence declined to cooperate with the local district attorney for fear of deportation.
"For me this is a public safety issue," the Democratic mayor said. "Austin enjoys being one of the safest cities in the county."
Local police partnering with federal enforcement agencies to combat West Coast cartels is different than going to a person's place of work or school and pulling out a student who isn't a citizen, said Seattle Mayor Ed Murray, who chairs the USCM Mayors and Police Chiefs Task Force.
Seattle's municipal government led an employee training on immigrant rights and cooperating with ICE on Tuesday. The city has increased the budget for its Office of Immigrant and Refugee Affairs and is challenging President Trump's "Muslim ban" executive order—forcing the administration to defend its policy and outline its reasonings in court.
Murray, a Democrat, points to the strong economies of sanctuary cities like Seattle and Austin as further evidence immigration is a boon for business.
About 20 percent of Gresham, Oregon's residents are Hispanic or Latino, and 17 percent were born outside the U.S. Since 2000, 30 percent of the city's population growth has come from people born outside the country including refugees from Somalia, the Democratic Republic of the Congo, Myanmar, Iraq and Sudan.
Of late, Gresham's Republican mayor, Shane Bemis, said his residents have had a uniting experience: "that is the powerful fear that they're not welcome in this country."
It falls on cities to keep immigrants on the path to integration, ensure they're not tangled in "legal webs" and to keep up formal legal challenges to federal policies that have so far been found unconstitutional, Garcetti said.
Initial efforts to punish sanctuary jurisdictions through the proposed federal budget, such as ceasing reimbursement of county jails for housing undocumented immigrants, would make others collateral damage. And mayors aren't certain of a timeline for further efforts to defund those cities that don't comply with ICE detainers.
"We're all trying to figure out what is accomplished by this list and how it is going to be used," said Providence Mayor Jorge Elorza, a Democrat who co-chairs the USCM Immigration Reform Task Force. "If the Trump administration does look to hold cities accountable, that's certainly something we'll fight in court."
Garcetti rebuffed the notion that early ICE raids under the Trump administration, though "cavalier" at times, were retaliatory against sanctuary cities—saying L.A. had no evidence they were anything other than the "same sorts of actions done the same sorts of ways as the previous administration."
In Southern California, ICE has about 400 officers overseeing around 18 million people—2 million of whom are undocumented—across six different counties. With limited resources on both ends, collegial cooperation between ICE and local law enforcement is key for all agencies to accomplish their missions.
"What we want is good enforcement," Garcetti said. "I think all of our mayors are agreed we want serious, dangerous criminals out of our country."