San Bernardino County Enlisted Its Transportation Authority's Help to Improve Health Outcomes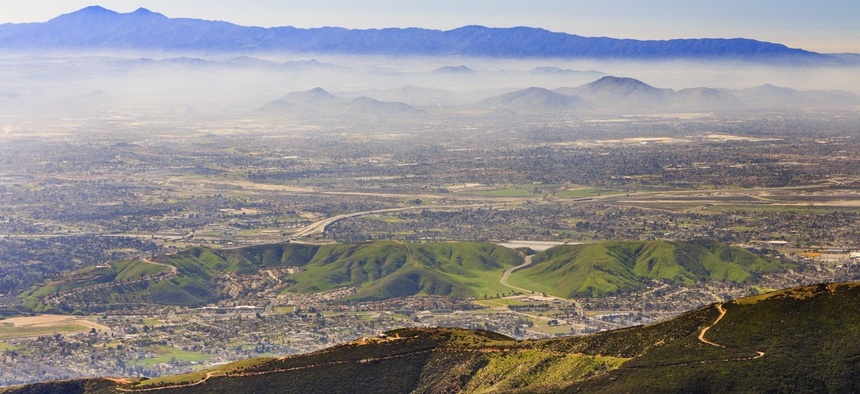 Breaking out of agency silos has helped combat obesity and traffic fatalities in sprawling, car-centric Southern California jurisdiction.
OXON HILL, Md. — The public health department and transportation authority in San Bernardino County, California, are working together and combining data to tackle a unique set of challenges, among them obesity and traffic fatalities.
With 2.15 million residents—2.75 million by 2039—across a 20,000-square-mile expanse, 80 percent of which is undeveloped, the expansive county which stretches east of Los Angeles all the way to Arizona is naturally a "car-centric environment," Trudy Raymundo, the county's public health director, said Monday during a Socrata Connect session at the Gaylord National Resort and Convention Center near the nation's capital.
Almost 30 percent of residents over the age of 12 are considered overweight or obese, and at one point the county was the worst in California in terms of grocery stores per capita. Only in the last few years has the San Bernardino County Department of Public Health tied outcomes like these to goals in education, homelessness, job stability and public safety and begun collaborating with other agencies—thanks in large part to open performance.
"I just don't think we were really looking at our data," Raymundo said. "We were also looking at our data in isolation."
By bringing secondary data to the community and starting conversations with residents, she said, a "sense of urgency" developed around the stories county workers were hearing.
High school graduation rate data takes on fresh importance when citizens are telling you they never graduated high school, landed a job without health benefits and now can't see a doctor. When new bike paths and walkways are underused, it could be because crime has people scared to go outside.
So in 2015, the Department of Public Health drafted an interactive Community Transformation Plan, a health improvement schema needed for accreditation, that focused on creating health and wellness opportunities for residents—rather than telling them to eat better and exercise. By cooperating on transportation plans, increasing access to farmers markets, securing safer routes to schools, and providing healthier menus the county can better handle the influx of residents it's seen from state prison realignment.
The county's open performance platform holds government accountable to internal priorities like boosting high school and college graduation, which comes with an increased life expectancy of five years. A Cradle to Career Roadmap laid out by the county aims to keep students well as the age to improve both health and education outcomes.
"Kids don't learn very well when they just don't feel good," Raymundo said.
Resident health is also threatened by an uptick in bicycle and pedestrian collisions with injuries and fatalities, which increased from 744 in 2013 to 982 in 2014. Out of 58 counties in California, San Bernardino County ranks in the bottom half.
Back when it was still called SanBAG last year, the San Bernardino County Transportation Authority conducted a data-driven analysis—the Points of Interest Pedestrian Plan—to identify high-priority streets in need of improvement in the 25 jurisdictions the county oversees.
"Something changed in the last few decades," said Josh Lee, the Transportation Authority's chief of planning, referring to the decrease in people walking, biking, carpooling and using public transit to get to school or work.
Modeling land use and transportation changes has helped the county anticipate impacts on water and air quality, as well as infrastructure, which is expensive to replace. Those kind of changes subsequently alter resident behaviors when it comes to things like walking and biking, and by reducing agency silos through open performance the Transportation Authority has a better handle on what those behaviors might be.
Creating its own dashboard and performance monitoring tools while housing data in one location to more easily track outcomes helps filter out the noise.
"Sometimes it's just not the relevant data," Raymundo said.