Why Foreign Worker Visa Reform Is a Top Priority in Colorado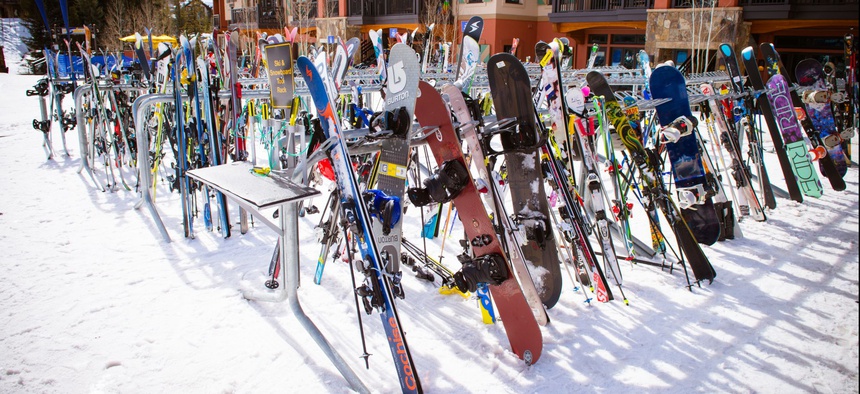 In times of low unemployment, "it's a real challenge to hire as many people as we need and keep them through the whole [ski] season." And Colorado's growing tech sector faces similar challenges.
VAIL, Colo. — The Centennial State's record low unemployment rate has increased calls from a diverse spectrum of industries for Congress to reform and expand visa programs for foreign guest workers, even as the Trump administration wages war on immigrant labor and non-immigrant work visas.
"Non-immigrant visa issues, both J-1s and H-2Bs, are a big deal in Colorado, where the unemployment rate is so low," said Melanie Mills, president and CEO of Colorado Ski Country USA, a trade group that represents 22 of Colorado's ski areas. "It's a real challenge to hire as many people as we need and keep them through the whole season, and these programs have historically been really important to the industry, especially in times of low unemployment."
The J-1 visa is for cultural exchange and typically used by foreign students, while the H-2B visa is for seasonal, nonagricultural workers. The number of H-2B visas is capped at 66,000 a year and has not been increased in decades, while around 300,000 J-1 visas are issued each year.
Both types of visas were much more prevalent in Colorado's $5 billion-a-year ski industry prior to the Great Recession and subsequent restrictions imposed by the Obama administration that increased costs for companies seeking seasonal workers.
Echoing the state's outdoor recreation and tourism industries, representatives of Colorado's tech, health care and agriculture sectors have also expressed concerns about possible changes to the H-1B (high-skilled) and H-2A (seasonal agriculture) visa programs.
President Trump has directed the U.S. Department of Labor to "investigate all abuses of visa programs that undercut American workers," firing a broad salvo at all types of guest-worker programs. Mills is hopeful Trump's business background, especially in the hospitality sector, will lead to some common-sense reforms.
"One reason that I think there's some optimism is Mr. Trump is a hotelier and has used seasonal work visas in his businesses and has some idea of what role they play when you're unable to fill out your staff with American workers—when you just don't have enough people who apply for these jobs despite all efforts to recruit American workers," Mills said.
The Colorado Department of Labor and Employment last week announced the state's unemployment rate dropped to 2.6 percent—the lowest rate in the nation and the lowest in Colorado since statistics were first collected in 1976.
Colorado's ski season lasts from November to April, making it tough for companies to find workers who will relocate to expensive resort areas for five months of the year. Summer resorts like Trump's Mar-a-Lago, where H-2B workers are reportedly employed, face similar labor-shortage challenges across the nation.
"The issue of immigration and visas, particularly work visas, is such a ridiculous hot-potato issue," said Dave Byrd, director of risk and regulatory affairs for the National Ski Areas Association. Byrd said a recent study by NSAA found unemployment rates in some ski-town counties across the country hovering below 2 percent, with anything below 4 percent considered full employment.
He points out that highly-skilled ski instructors and other hospitality workers from Europe and Latin America often speak foreign languages key to serving overseas guests at American resorts. Byrd discounts arguments from both the right and the left that these types of foreign guest workers take jobs away from U.S. residents.
"None of it's true," Byrd said. "They're seasonal jobs that no [Americans] want; they're hard jobs; and they're no-benefit jobs. Even J-1 visas are becoming too political. Trump has said he wants to get rid of the J-1 program and use inner-city college students, but they don't want these jobs and they can't do the jobs in the winter because they're in college."
J-1 visa holders often leave ski resort jobs by mid-March, which is during the height of spring break, and ski season typically lasts through Easter and well into mid-April.
"The irony about all of this is Trump uses H-2Bs and J-1s at his casinos and resort properties," Byrd added.
The Tech Effect
Colorado's booming tech industry also is experiencing a severe labor crunch, with a recent New American Economy report showing that in 2015 there were 15.3 unfilled STEM (science, technology, engineering and mathematics) jobs for every unemployed worker in one of those fields.
Trump has been sharply critical of the H-1B visa program that brings 85,000 high-skilled workers (20,000 of them with master's degrees) into the country to work primarily in STEM jobs, but also in the health care industry. Nearly 200,000 people applied this year, and the quota was filled within a week. Trump wants to end any fraud in the system and eliminate the randomness of the lottery, and to some degree the tech sector supports those reforms.
Andrew Moriarty, regional spokesman for the tech industry lobbying group FWD.us, says meaningful H-1B reform in Congress would be welcomed by the industry, particularly if it leads to more U.S.-educated foreign STEM workers staying in the country and starting companies that generate American jobs.
"We have that [labor] gap in [Colorado] for sure, and part of why that visa is important is that it's a pathway for international students, for students who come and study, particularly in STEM," Moriarty said, adding that whether it's Colorado State University or the University of Colorado system, international students are critical, paying higher tuition, subsidizing American students and contributing important research.
"Seeing the H1-B visa restricted, seeing that cap get hit in under a week when that's supposed to be available throughout the year—that's going to create serious challenges to the best and brightest being able to stay and work here," Moriarty said, adding the tech sector isn't the only one being impacted.
In Colorado's rural resort areas, a lack of qualified doctors is one of the many reasons health care costs have spiraled out of control.
"One of the unique uses for the H-1B is it helps place doctors in rural areas who come from abroad, and so those doctors are not being able to go out and be specialists in these places where they're really needed," Moriarty said.
Chilling Effect
While non-immigrant seasonal labor has become increasingly difficult and expensive to obtain in Colorado, immigrant labor has become more and more critical to certain industries – from agriculture to construction to tourism.
"In Colorado, our governor and the majority in the House and some of our friends on the other side of the aisle know very well how important immigrants are in our state," said Diane Mitsch Bush, a Steamboat Springs Democrat who represents the resort counties of Routt and Eagle in the state House. "Our top three industries in Colorado are tourism, energy and agriculture. Two of those three rely on immigrants. Our state would fall apart, quite literally [without them]."
At a recent town hall meeting she decried Trump's anti-immigrant policies and called on the business community to continue to speak out against federal policies such as Trump's travel ban, stepped-up Immigration and Customs Enforcement deportations and the proposed border wall.
Mexico is Colorado's second largest trading partner, with $1 billion of goods headed south of the border every year, and the state is a top destination for Mexican and Latin American tourists.
Prior to last November's election there was concern in the ski industry, including from Vail's mayor, that Trump's rhetoric could negatively impact business. Now the concern is about impacts to the state's immigrant and non-immigrant labor pool.
"It looks like from reading the administration's priorities that pretty much anyone who's here undocumented is a priority for deportation," said FWD's Moriarty. "That's definitely going to cause fear, and it's creating challenges in communities where people want to know that we're using very limited resources to go after real threats and that we're not treating a working mom or a Dreamer going to college the same as a murderer or a drug trafficker."
Colorado Ski Country's Mills said it's too early to conclude that Trump's election and subsequent anti-immigrant policies have negatively impacted Latin American tourism. But she agrees that the administration's rhetoric needs to be toned down.
"I think the rhetoric is a big deal, and it's speaks to how welcoming a place our country is for visitors," Mills said. "We certainly are for vetting people who come to our country. If there are tweaks that need to be made to that system, great, let's make them, but the rhetoric is not welcoming to this giant travel and tourism economy that powers out state and our country."
In Vail and surrounding Eagle County, law enforcement officials are concerned that even rumors of an ICE crackdown will have a chilling effect on the immigrant community, keeping people from reporting crimes and coming forward as witnesses. One court official confirmed to local media that ICE agents have been arresting undocumented residents for deportation even after just misdemeanor convictions.
"Police are only as effective as the people they're there to serve allow them to be, and if they're terrified of us, we're not doing them any good," Eagle County Sheriff James Van Beek said. "But the lowest priority on our list of concerns is what they're legal status is. For most people, it really comes down to if you don't get arrested, nobody's going to get notified that you're here in the county."