When Disaster Strikes, Governments Put All Hands on Deck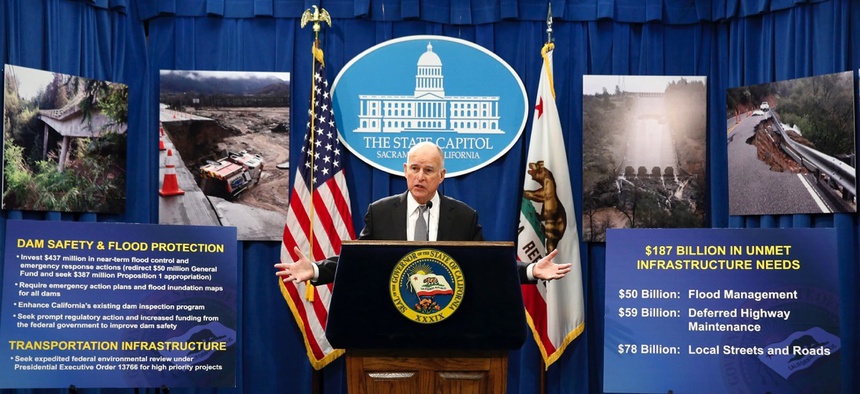 Diverse needs necessitate a coordinated federal and state approach.
This article was originally published by the Fiscal Federalism Initiative of The Pew Charitable Trusts and was written by Anne Stauffer and Colin Foard.
On Oct. 8, 2016, Hurricane Matthew made landfall on the U.S. Atlantic coast, damaging communities from Florida to Virginia. Federal officials declared major disasters in five states, setting in motion an intergovernmental response that would eventually involve 23 federal agencies while states activated their own efforts to deal with the aftermath. (See Table 1.) As North Carolina Emergency Management Agency Director Mike Sprayberry described it: "Responding to and recovering from disasters is a team sport; no agency or community can handle it alone. Successful response requires local, state, and federal agencies working closely together to help residents, business, and communities recover and rebuild." 
The Federal Emergency Management Agency (FEMA) is the primary U.S. government agency responsible for supporting state and local authorities in a disaster and providing longer-term shelter, food, and water for residents. The National Guard also assists affected jurisdictions by delivering a range of services, from search and rescue to clearing roads. 
However, in a major disaster, many other federal agencies also provide direct, specialized assistance to affected communities. After Matthew, for example, U.S. Army Corps of Engineers personnel delivered temporary electrical power and inspected coastal infrastructure and dams; the Federal Communications Commission worked with private and public stakeholders to restore damaged networks; and the Small Business Administration offered low-interest loans to business owners and individuals. Further, the Federal Aviation Administration coordinated necessary changes to air traffic after airports closed, and the Internal Revenue Service adjusted tax filing deadlines for citizens who needed time to recover and replace documents. In addition, the Federal Motor Carrier Safety Administration waived some regulations regarding commercial vehicles to ease the delivery of goods and supplies to affected areas. 
As the federal government mobilized, North Carolina's own all-hands effort was also underway, with more than a dozen state agencies collaborating to prepare for and recover from Matthew. The Department of Public Safety activated its Emergency Operations Center to coordinate state and federal activities and sent out the State Highway Patrol to monitor road conditions. The state's Department of Transportation managed road and highway closures and repairs throughout the response and recovery phases of the storm, and the Department of Environmental Quality's waste management division oversaw efforts to dispose of debris. 
Additional state entities worked to alleviate other problems caused by the storm. North Carolina's Division of Motor Vehicles and the Department of Health and Human Services' vital records division waived fees so residents could quickly and inexpensively replace documents lost in the flooding. And the legislature exempted public schools from requirements to provide additional days of instruction for those missed during Matthew-related closures. 
The severity of the damage caused by the hurricane also spurred Congress and the North Carolina General Assembly to provide additional resources for longer-term assistance. Congress passed a slate of provisions as part of an annual spending bill, providing additional funding for U.S. Housing and Urban Development Community Development Block Grants, the U.S. Department of Agriculture's emergency conservation and watershed protection programs, the U.S. Army Corps of Engineers, and the Federal Highway Administration. Similarly, the North Carolina legislature passed the Disaster Recovery Act of 2016, providing funding for the state's Housing Trust Fund, Division of Emergency Management, Department of Agriculture and Consumer Services, and Department of Environmental Quality, among others.
Disasters affect nearly all aspects of people's lives and require a complex and coordinated response. The efforts of more than two dozen federal and state agencies to get North Carolina residents back on their feet after Hurricane Matthew are just one example of the "all hands on deck" approach taken by both levels of government.