When Cities Fought the Feds Over Apartheid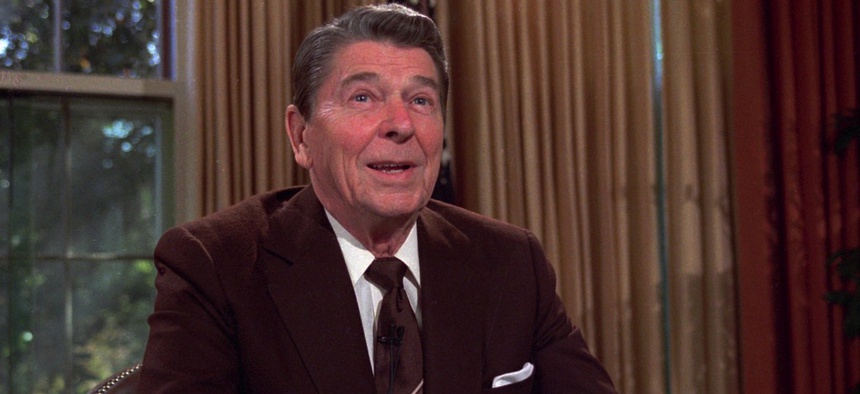 In 1986, the city of Baltimore battled the Reagan administration over its local anti-apartheid ordinances—and won. How they prevailed may have important lessons for cities trying to resist Trump today.
Earlier this week, Attorney General Jeff Sessions reiterated his threat to withhold federal funding from cities deemed as providing sanctuary for immigrants, this time bending language in the law to make it easier for him to penalize recalcitrant jurisdictions. In his May 22 memo to "All Department Grant-Making Components," Sessions wrote:
Consistent with the Executive Order [13768], statutory authority, and past practice, the Department of Justice will require jurisdictions applying for certain Department grants to certify their compliance with federal law, … as a condition for receiving an award. Any jurisdiction that fails to certify compliance with section 1373 will be ineligible to receive such awards.
And just to show that he's not playing around, Sessions emphasized in the memo that this threat applies to "any existing grant administered by the Office of Justice Programs and the Office of Community Oriented Policing Services…"—a possible ploy to wedge police departments against their own city governments by conditioning law enforcement grants on city compliance with Trump's immigration demands.  
Such warning shots sound alarming, but it's important to note that we've been here before. It's not the first time that the federal government has threatened to smack cities with both carrot and stick for not complying with its orders.
In the 1980s, as international pressure against South Africa ramped up, several U.S. cities passed sanctions on companies that did business with that country's apartheid regime. And, just as Donald Trump and Sessions are doing today to "sanctuary cities," the Reagan administration attempted to punish them.
"There's a lot for cities to learn about what happened in the 1980s and how it relates to now," says Madeline Janis, executive director of Jobs to Move America. The Los Angeles-based nonprofit has been researching the topic for a report on how Reagan tried to clamp down on cities that chose not to support South Africa's apartheid government. "Pretty much every aspect of the Reagan administration came down as hard as possible on cities, but the cities stood up, and really contributed, as Nelson Mandela once said, to the demise of apartheid. That's a really big lesson for today."
Jobs to Move America researchers combed through thousands of pages of documents—legal memos, policy guidances, court briefings, and correspondence between companies and the Reagan administration—to piece together the story of how cities rose up against the federal government in joining the worldwide fight against apartheid in South Africa. According to their research, which they shared exclusively with CityLab, nearly 100 cities and states passed ordinances or laws limiting contact with companies that did business with South Africa. They pulled government accounts from banks that operated in the country, or divested from portfolios that included companies doing business there. More than half of U.S. states participated in this movement, but cities made up the largest cluster of jurisdictions involved. Their sanctions punctuated a groundswell of college students and grassroots activists across the country who turned the divestment movement into a worldwide campaign.
The Reagan administration was livid about this, given its cozy financial and political relationship with South Africa. (In certain ways, Reagan's policy of "constructive engagement" with that country's apartheid government isn't so dissimilar to Trump's controversial relationship with Russia.) Teaming with Justice Department leaders, the Reagan administration sought out ways to thwart city action in the divestment movement. They claimed that the local anti-apartheid ordinances violated federal laws, and hence began threatening to yank these cities' federal funding. When the threats didn't work, the feds took the cities to court.
What followed was a saga with echoes of the conflicts that cities are currently having with the Trump administration on issues like immigration and climate change. The common themes: local self-determination vs. federal preemption, fairness vs. privilege, inclusivity vs. xenophobia, justice vs. inequity. But the results of this Reagan-era clash between city and federal powers were mixed.
The battle escalated in 1986, when the Reagan administration got involved with a lawsuit against Baltimore filed by city trustees over the anti-apartheid ordinance. The trustees, along with DOJ lawyers, argued that the ordinance violated commerce clause laws.  
Indeed, this ordinance was no trivial pursuit. It dealt specifically with the city's pension funds, which were to be divested from any portfolio that included companies with South African business ties. Anyone who understands the role of pensions in city financing knows that these are expenditures that can effectively break budgets and bankrupt cities. This is the money cities use to pay for the retirements of police, firefighters, teachers, and government administration officials—nothing to play with. But Baltimore's leaders—specifically, then-City Councilman Kweisi Mfume, who pushed the city's divestment effort—were courageous enough to place the pension funds squarely in a political battle with the White House over ending apartheid.
"If you read through all the briefs, it is clear at all levels of this case that the mayor and the city council of Baltimore articulated their moral outrage at South Africa as an extension of their ongoing feelings about the history of racism in the South and in the U.S. in general," says Janis.
Baltimore ultimately won its case to preserve its South Africa divestment ordinance when the U.S. Supreme Court deferred to the Maryland Court of Appeals ruling, which read:
The Trustees and Intervenors argue that by requiring the sale of hundreds of millions of dollars of investment portfolios, with the intended effect of forcing corporations to withdraw from business operations in and with South Africa, the Ordinances substantially burden interstate commerce. While we do not dispute that the Ordinances impose some burden on interstate commerce, in our opinion that burden is not excessive in relation to the benefits. The Ordinances embody the City's moral condemnation of racial discrimination. The use of pension funds arguably to support racial discrimination in South Africa is an issue of deep concern, not only to the pension systems' members and beneficiaries but also to all citizens of Baltimore who are sensitive to slavery's persistent legacy. In our judgment, the Ordinances' burden on the interstate sale of securities does not outweigh these unique and profound local concerns.
This was a landmark victory that sent the message to cities across the U.S. that the federal government couldn't just bully them into complying with policies that clash with their values.
This win was not a sweep, though. The Reagan administration also waged war against New York City for a 1984 ordinance that allowed the city to withhold contracts from companies that did business with South Africa. The Justice Department demanded that New York City change or withdraw this ordinance or else forfeit its Department of Transportation funding. Unlike Baltimore, New York City, then under Mayor Ed Koch, wasn't willing to go to court to preserve its anti-apartheid sanctions. The city caved and changed its law.
To block New York's ordinance, the Justice Department leaned on a bidding competition rule under the Federal Aid Highways Act that says all government contracts must abide by "full and open competition" and must not create an "undue burden" on the companies bidding for them. The Justice Department's Office of Legal Counsel (OLC) interpreted that statute as saying that cities can't limit the number of companies bidding for a piece of a federally funded project. Further, if the Department of Transportation gives a city a grant—to fix roads, for example—the city would have to farm out work under that grant to the lowest bidder, regardless of a bidding company's stances on apartheid or any other human rights or labor issues. If that rule is violated, the DOT can pull the grant.
It's disputable whether OLC's interpretation of this statute is what Congress intended, though, when it passed the federal highways legislation in 1956. Language in that act also made clear that jurisdictions should avoid corruption in administering federal funds, according to Jobs to Move America's researchers. Also, there were amendments added in 1968—a year when Congress was aggressively working to strengthen civil rights protections—stating:
Contracts for the construction of each project shall be awarded only on the basis of the lowest responsive bid submitted by a bidder meeting established criteria of responsibility. No requirement or obligation shall be imposed as a condition precedent to the award of a contract to such bidder for a project, or to the Secretary's concurrence in the award of a contract to such bidder, unless such requirement or obligation is otherwise lawful and is specifically set forth in the advertised specifications.
The Jobs to Move America researchers interpreted that as meaning that cities can include other criteria, so long as they are transparently advertised.
Still, Reagan's more free-market-friendly interpretation of the competition rule has prevailed ever since, effectively preventing cities from adding innovative criteria to procurement policies to fight injustice. That's why it's so difficult for cities to add local-hire provisions, consider certain climate change ramifications, or ensure LGBTQ protections when contracting out federally funded projects.
For example, when Cleveland tried to enforce an ordinance prioritizing jobs to local residents for a U.S. DOT-funded project in 2003, the Federal Highway Administration pulled the funds, saying this hindered competition.  A federal court upheld the agency's discretion to do so when the city sued to get the funds back. Cleveland is still fighting in court today to have that local-hire ordinance enforced.
In 2005, when New Jersey added language to bidding criteria that would stamp out corrupt pay-to-play practices, the FHWA again pulled the "hindering competition" card and blocked funding. That same year, when Los Angeles simply wanted bidding companies to disclose any information that it had historical ties to slavery, the federal government, again, thwarted enforcement by threatening to withhold funding.
Such past federal actions could complicate matters for cities today that want to open their municipal borders to immigrants regardless of orders from the Trump/Sessions regime. It's not an entirely apples-to-apples comparison to the anti-apartheid ordinance conflict of the 1980s—the sanctuary city issue is not about procurement or divestment. But the way the Reagan administration was willing to bend interpretations of law to force cities to do its bidding serves as a nasty precedent for what Sessions is trying to get away with today.
"While city actions and grassroots activism were powerful in obtaining short-term victories, the Reagan administration was able to impact how federal funding worked over the long term," says Abhilasha Bhola, lead researcher for Jobs to Move America. "We can't forget that even if we're fighting back, they are still laying the groundwork for longer-term impacts."
However, Baltimore's successful fight against the Reagan administration serves as a reminder that cities can find legal pathways to push back—and win—when federal policy conflicts with community values. Sanctuary cities that are weighing their legal options now might be able to learn from that experience. So might cities that are poised to clash with the Trump administration over other issues.
"It's about more than sanctuary cities," says Janis. "It's also cities considering laws to potentially require disclosure from companies that are bidding on [Trump's proposed] border wall, and other problems that are likely to come up. Regardless of what the technical legal issues are, the lesson learned here is to get in the weeds and don't assume that just because there is a threat that there is an actual strong law backing them up."
Jobs to Move America plans to release its full research on the fight for local anti-apartheid ordinances to the public in June.