What Do States Want With Possible Changes to the Endangered Species Act?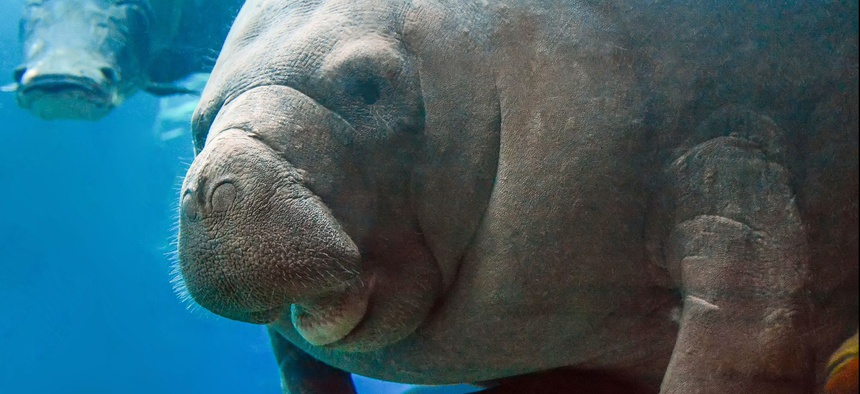 Congressional lawmakers are considering how the law might be revamped.
WASHINGTON — State wildlife officials told congressional lawmakers Wednesday that state agencies would like to take on a larger role in federal processes tied to the protection of imperilled species of plants and animals.
They made their remarks before the U.S. Senate Committee on Environment and Public Works. Republicans on the committee are leading an effort to explore possible changes to the Endangered Species Act, a federal law meant to protect plants and wildlife from going extinct.
"We're going to continue to work in a bipartisan way to get together a bill," the committee's chairman, John Barrasso, a Wyoming Republican, told Route Fifty after the hearing. Referring to the act as it is now, he added: "We know that there's too much sand in the gears."
Asked about when lawmakers might move ahead with legislation, Barrasso did not offer a specific timeline. The push for a bill to change the law comes as President Trump and others in his administration have shown an interest in easing regulatory burdens for businesses.
Defenders of Wildlife, a conservation group active since 1947, takes the position that legislative changes to the Endangered Species Act are unnecessary and could undermine the law.
"I think the risk is that it will be subverted and turned into something which will just reduce the amount of protection that we give to endangered species and largely to the benefit of oil and gas companies and development companies in the west," Bob Dreher, senior vice president of conservation programs for the organization, said during a phone interview on Wednesday.
"It's not that the act couldn't hypothetically be improved," he added. "It's really whether there's a need to change it in a highly charged political atmosphere."
Wednesday's committee hearing was meant to get feedback from the state level on how the Endangered Species Act might be updated.
By default, U.S. states are, for the most part, left to manage the wildlife within their boundaries as they see fit—although there are some exceptions for migratory birds and certain fish.
But when a species falls under the provisions of the Endangered Species Act, the federal government steps in to guide protection and recovery efforts. The Interior Department's U.S. Fish and Wildlife Service and the Commerce Department's National Marine Fisheries Service are the two federal agencies responsible for administering the law.
"The lack of a formal process for states to be at the table, and the decision process for listing,  leaves a hole," said Larry Voyles, director of the Arizona Game and Fish Department. The term "listing" refers to putting a plant or animal on the list of threatened or endangered species.
Nick Wiley, executive director of the Florida Fish and Wildlife Conservation Commission and president of the Association of Fish & Wildlife Agencies, echoed Voyles' view.
"States don't have enough of a formal role in the decision making process," he said.
Wiley made a case in his written testimony to the committee that state agencies should be given more of an opportunity to participate in not only listing decisions, but with other aspects of the law as well. For instance, the development of recovery plans for species and decisions about when a species is doing well enough that protections can be relaxed and it can be "delisted."
Voyles focused some of his comments on what's known as Section 6 of the Endangered Species Act, which calls on the federal government to cooperate "to the maximum extent practicable" with the states. He said federal agencies during the 44-year lifespan of the law had not come up with rules to clearly guide how provisions in this section should be administered.
Before joining Defenders of Wildlife last June, Dreher was associate director of the U.S. Fish and Wildlife Service for about two years under the Obama administration.
He said the agency has been working on reforms to rules, with the aim of giving states more of a voice in conversations regarding the Endangered Species Act. Dreher said there ought to be continued focus on how to improve state and federal cooperation. But he added: "Whether that requires changes in the way the law is written is, I think, completely unclear."
State agencies seeking a bigger part in activities related to the law could bump up against financial realities.
"While my department would relish the opportunity to engage further, that would require additional staff and funding," Janet Coit, director of the Rhode Island Department of Environmental Management, noted in her written testimony to Senate lawmakers.
Coit said a good approach for limiting restrictions imposed under the Endangered Species Act would be to invest in prevention efforts to keep wildlife and plants from getting listed in the first place. She suggested funnelling money toward so-called State Wildlife Action Plans, which are currently funded through the $62 million State and Tribal Wildlife Grants program.
Democrats on the Environment and Public Works Committee were largely absent from Wednesday's hearing. An emergency caucus meeting had been called for Democratic Senators around the time of the hearing to discuss issues surrounding Trump's firing of former FBI Director James Comey on Tuesday.
U.S. Sen. Thomas Carper, of Delaware, who is the committee's ranking member, did make a brief opening statement. He pointed to the fact that state spending on protecting imperilled species is a fraction of what the federal government spends.
"This likely means we need to invest more in our states," Carper said. "But it also means that states have some soul searching to do and if you need the ESA and the federal agencies to back you up because you will not or cannot carry this burden, then we need to know that."
Enacted in 1973, during President Richard Nixon's time in office, the Endangered Species Act has become a lightning rod of sorts over the decades. Common criticisms are that the law allows for excessive litigation and imposes onerous burdens on industry and landowners.
The Fish and Wildlife Service currently lists 1,276 domestic species as endangered and 377 as threatened. Endangered is the more severe of those two designations.
Species such as gray wolves, coho salmon off the central California coast, and the American alligator are among the animals that currently fall into the endangered category.
Bald eagles, American peregrine falcons and Louisiana black bears are some of the previously endangered animal species that have been delisted after their populations recovered.