Alaska Senator Asks Deputy A.G. the 'Bigger Question' About Legalized Marijuana in States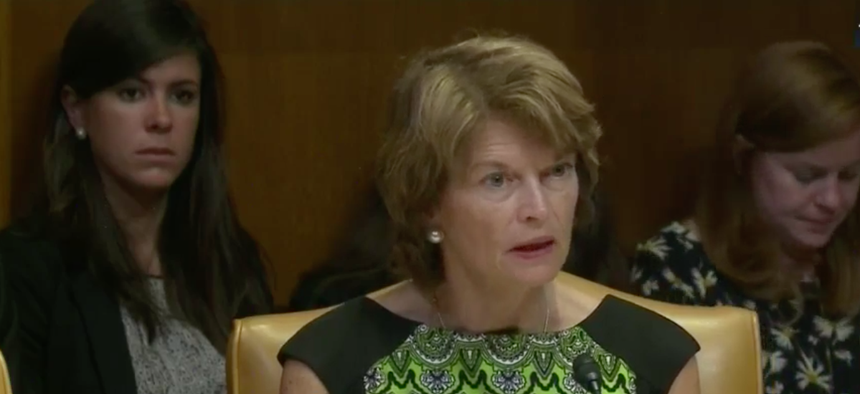 Rod Rosenstein said previous Justice Department policy remains in place—for now.
WASHINGTON — Deputy Attorney General Rod Rosenstein on Tuesday told a U.S. Senate panel that guidance the  Department of Justice offered under the Obama administration to states that had legalized recreational marijuana for now remains in effect.
But Rosenstein also left open the possibility that it could be changed and emphasized that the Justice Department continues to view marijuana as an outlawed drug.
Meanwhile, a letter surfaced earlier this week in which U.S. Attorney General Jeff Sessions voiced his opposition to congressional leaders about language in appropriations legislation that restricts the Justice Department's ability to interfere with state medical marijuana laws.
Rosenstein appeared before a Senate Appropriations subcommittee where he fielded questions about President Trump's budget proposal and other issues. U.S. Sen. Lisa Murkowski, an Alaska Republican, asked him about marijuana policy. Her state is one of eight, along with the District of Columbia, that allow for regulated, recreational marijuana use by adults.
The drug, however, remains classified among the most serious illegal narcotics under federal law.
"I'm concerned, and I'm speaking for a lot of people in my state who are worried, about the inconsistency between the state marijuana laws as well as the federal policy," Murkowski said.
"The bigger question is: where are we headed with marijuana?" the senator added.
She highlighted the so-called Cole Memorandum, which was authored by former Deputy Attorney General James M. Cole in 2013. The memo explains that if states set up strong regulatory systems for marijuana, which adhere to certain federal priorities, then law enforcement efforts related to the drug will be largely left to state and local authorities.
"We have this conflict," Rosenstein said. "Jim Cole tried to deal with it in that memorandum and, at the moment, that memorandum is still in effect."
"Maybe there will be changes to it in the future," he added. "But we're still operating under that policy, which is an effort to balance the conflicting interests with regard to marijuana."
Some priorities the Cole Memorandum outlines include keeping marijuana away from children, ensuring revenues do not go to criminals and preventing the flow of pot across state lines.
The memo warns that if states fail to meet these and other guidelines, the federal government may seek to challenge marijuana regulatory systems, or to take enforcement actions, including criminal prosecutions.
Murkowski said that Alaska considers its regulatory regime to be strong and consistent with the Cole Memorandum.
The letter Sessions sent to congressional leaders was first made public on Monday by Tom Angell of MassRoots.
It was dated May 1 and addressed to Senate Majority Leader Mitch McConnell, Senate Minority Leader Chuck Schumer, House Speaker Paul Ryan and House Minority Leader Nancy Pelosi.
The attorney general takes issue with what's known as the Rohrabacher-Farr amendment.
First enacted in 2014, the appropriations rider says funds made available to the Department of Justice cannot be used to prevent the District of Columbia and 32 states from implementing laws that authorize the use, distribution, possession, or cultivation of medical marijuana.
Controversy over the measure predates the Trump administration.
A federal judge in California issued a 2015 ruling at odds with the Justice Department's interpretation of the amendment. The department had taken the position that the provision only prevented it from taking action against states, and not individuals or private businesses.
But Judge Charles Breyer of the U.S. District Court for the Northern District of California rejected this reading of the statute. "It defies language and logic for the Government to argue that it does not 'prevent' California from 'implementing' its medical marijuana laws" by shutting down dispensaries, Breyer wrote in a court order, "whether it shuts down one, some, or all."
Last August, the 9th U.S. Circuit Court of Appeals also sided against the Department of Justice's take on the Rohrabacher-Farr amendment in a decision that involved 10 appeals brought by marijuana businesses in California and Washington state.
Sessions makes a case in his letter that "drug traffickers already cultivate and distribute marijuana inside the United States under the guise of state medical marijuana laws."
The attorney general cited an instance reported in March where eight people indicted on charges of shipping marijuana from Colorado had active or expired state licenses to work legally in the state's pot industry.
He added that smoking marijuana "has significant negative health effects."
Rosenstein said during his testimony that he'd spoken with Chuck Rosenberg, acting administrator of the Drug Enforcement Administration, about marijuana-related issues.
"We follow the law and the science," the deputy attorney general said. "From a legal and scientific perspective marijuana is an unlawful drug."
He added: "We're responsible for enforcing the law. It's illegal. And that is the federal policy with regard to marijuana."
"Confusing," Murkowski said in reply.