Southern Schools Are Resegregating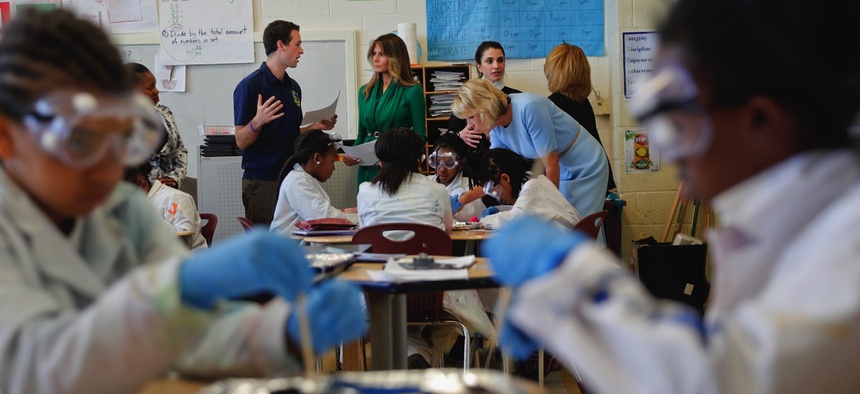 Splintered school districts and the rise of charter schools are among the forces separating black and Latino students from their white counterparts.
Last month, a federal judge in Birmingham, Alabama, ruled that the predominately white suburb of Gardendale will be allowed to form its own school district, splintering from the more diverse Jefferson County district. Gardendale's plan, Judge Madeline Haikala declared, was motivated by race: Indeed, it "assails the dignity of black schoolchildren." But she authorized the split. U.W. Clemon, who represented black plaintiffs in the case, told The Washington Post that the ruling damages more than 50 years of integration efforts.
The decision made national headlines, but it's part of a wider pattern of school resegregation throughout the South, which once boasted the most integrated schools in the country. Federal rulings and enforcement that began a decade after the Supreme Court's 1954 Brown v. Board of Education decision paved the way for this incredible advancement: By 1980, the share of Southern black students in "intensely segregated schools"—those in which students of color comprise 90 percent or more of the student body—had decreased from almost 80 percent to 23 percent.
But since then, several Supreme Court decisions have undermined integration, largely allowing suburbs to forego school desegregation and empowering lower courts to discontinue desegregation plans if they think school districts have accomplished as much integration as is possible.
Today, the percentage of black students in intensely segregated schools in the South is on the rise: More than one in three (35.8 percent) now attend such schools. Last week, the Civil Rights Project/Proyecto Derechos Civiles at UCLA and the Center for Education and Civil Rights at Penn State released a report examining the status of segregation in Southern schools that details this and other statistics mined from the most recent federal data. The states considered are Alabama, Arkansas, Florida, Georgia, Louisiana, Mississippi, North Carolina, South Carolina, Tennessee, Texas, and Virginia.
One finding emphasized by the report is that Southern school segregation is no longer solely about black and white students: Latino enrollment is at 27 percent, while black enrollment is at 24 percent. Whites comprise about two out of five students (42.6 percent), in contrast to 1970, when they were two out of three students.
Latino students are even more likely to experience segregation than black students, with almost 42 percent attending intensely segregated schools. This is largely because desegregation efforts focused on black students. "Some desegregation cases of the 1970s were developed and implemented before the federal courts officially recognized that Latinos had the right to desegregation, or Latinos simply weren't there in large numbers yet," says Erica Frankenberg, a co-author of the report and professor at Penn State.
Together, black and Latino students experience intense segregation by race as well as by poverty. "On average," the report notes, "black, Latino, and low-income students head to schools in which low-income students make up 70 percent of the enrollment." The typical white student goes to a school where fewer than 50 percent of students are low-income.
Research is clear that segregation by both race and poverty result in weaker opportunities and student outcomes. And the benefits just aren't for students of color: White students also gain from diversity in the classroom.
What's been driving this pronounced school resegregation? For one, the splintering of school districts, like in the Gardendale case. One main reason the South became less segregated than other regions was that it had countywide school districts, which were easier to integrate; students were simply assigned to different schools within the same district. But when a community within that district—typically a whiter, wealthier one—splits off and makes its own school district within a county, a practice that's become more common, the schools become more segregated because there is little mixing among school districts.
Another force of resegregation: charter schools. While only 4.4 percent of students in Southern states currently attend charter schools, enrollment has quadrupled in the last decade, outpacing these schools' growth in the rest of the country and deepening segregation. Black and Latino students comprise disproportionately higher shares of charter school enrollment. "Black and Latino students in charters in the South have relatively little contact with white students," says Frankenberg.
And though over the past decade the nation has seen a decline in private schools, which are overwhelmingly white, this decline is less pronounced in the South. The rise of more segregated charters, paired with the persistence of private schools, are contributing to a reversal of the gains in integration made in the 1960s and 1970s.
It's clear the feds aren't likely to enforce desegregation as they once did: Since the Clinton administration, the Department of Justice has declared hundreds of school districts "unitary," meaning that they are now free from federal oversight regarding integration. The report's authors thus focus on local control: They urge school choice programs to implement voluntary goals, policies, and practices to foster diversity, following in the footsteps of a city like Louisville, Kentucky, which came up with its own plan to continue integration after the Supreme Court ruled in 2007 that using race as a factor in student assignment is unconstitutional.
Charter schools, in their view, should operate more like magnet schools, which are also schools of choice but are generally created with the intent of producing a diverse school environment. This would mean implementing policies like free transportation for students. Frankenberg acknowledges such changes are tough for charters because they are usually independent from school districts. "These practices are costly without a district to help absorb some of the costs," she says.
The authors also recommend that state officials oppose the splintering of school districts that deepen segregation and create white enclaves. Frankenberg notes that North Carolina law, for instance, has historically incentivized school districts to consolidate, rather than secede. Further, housing policies should locate subsidized housing in good quality school districts. Montgomery County, Maryland—an affluent area with good schools—practices such inclusionary zoning, which requires developers to build a portion of homes to be rented or sold at below-market prices. Careful consideration of school district lines can also avoid massive school resegregation in the inner-ring suburbs of most cities.   
Finally, the authors advise that school staff be trained to handle the region's three-way diversity. "The South has become one of the country's most demographically complex areas," says Frankenberg. "Integration has to account for each of the three groups."