As Trump Exits Paris Agreement, State and Local Officials Vow to Fill Void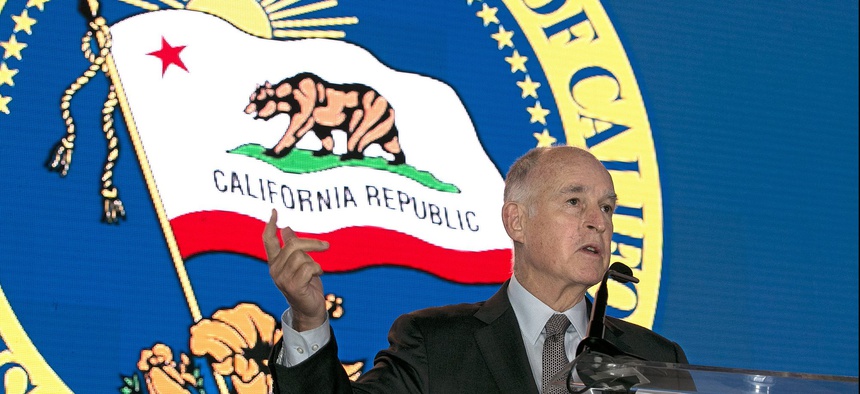 Governors announce a new multi-state U.S. Climate Alliance, as mayors reiterate support for the international agreement.
Governors and mayors scrambled to show they were filling the national leadership void after President Trump announced his decision to pull out of the Paris climate agreement on Thursday. With ample notice this decision was coming, press releases and teleconferences across the nation offered policies, proclamations and outrage.
Perhaps most notably, California Gov. Jerry Brown, New York Gov. Andrew Cuomo, and Washington Gov. Jay Inslee, all Democrats, announced a new United States Climate Alliance to coordinate state action against climate change. (Later on Friday, Republican Govs. Charlie Baker of Massachusetts and Phil Scott of Vermont announced that their states would join the alliance, as did Democratic Govs. Daniel Malloy of Connecticut and Kate Brown of Oregon.) 
"The U.S. Climate Alliance will also act as a forum to sustain and strengthen existing climate programs, promote the sharing of information and best practices, and implement new programs to reduce carbon emissions from all sectors of the economy," Inslee stated in a statement. "Together, New York, California and Washington represent approximately 68 million people—nearly one-in-five Americans—and the states account for at least 10 percent of greenhouse gas emissions in the United States."
On a Democratic Governors Association call with reporters, Inslee made clear that the governors see the alliance as a counterweight to the federal government that can reassure the world that many in the United States remain committed to climate change despite the position of the White House. Although many other governors had yet to join the alliance, Inslee said he was "confident" that they would join that effort.
On that same call, Gov. Dannel Malloy said he believed Connecticut would ultimately join the alliance, saying: "Connecticut will honor all of our commitments."  It didn't take long; on Friday, Malloy formally announced that Connecticut was officially joining.
"Here's the reaffirmation that the rest of the world needs to hear: we governors are going to step into the cockpit and fly this plane," Inslee said. "Even though we won't have the stars and bars behind us, we will have the flags of many states representing more than one-fifth of the whole entire [nation] or the fifth largest economy in the world."
White House officials framed the agreement as a win for the economy. "There's no question … it would undermine American competitiveness," one official said during a call with reporters following the speech. The Trump administration also played down the decision's long-term impact, with an official saying that the United States had "an environmental record second to none," and emphasized the president's "sincere" desire to "going back and seeing if there was a better deal that could be had for the American worker."
Gov. Terry McAuliffe of Virginia disagreed strongly with the characterization that the climate accord was bad for the American worker and economy, citing the strong growth in clean energy jobs in Virginia. "My solar jobs are up 65 percent," McAuliffe, a Democrat, said. "The president talked about job creation, well I'll tell you I have 75,000 energy efficiency jobs, 3,800 solar jobs created in the last year and a half. This is what President Trump ought to be focusing on, and his actions today did nothing but embarrass the United States of America."
Malloy also criticized the data Trump cited regarding jobs, and was aggressive in his response to the decision, accusing President Trump of "ceding our leadership to China on this issue" and calling the decision "a death sentence for some number of hundreds of thousands of individuals."
When questioned by a reporter on his rhetoric regarding the White House decision, Malloy did not back down:
"We know people in Connecticut currently are dying because of air pollution largely because we are at the end of the tailpipe. Our pollution largely comes from states that aren't on this phone call… The stuff that generates electricity in Illinois and Indiana, in other states whose air flows into Connecticut is literally killing people now. We're fighting with those states as I speak with you.  It is clear that the President doesn't want us to win those arguments."
In contrast to the Democratic governors, Republican governors largely stayed silent on the issue. Baker was a rare exception to the rule, releasing a statement criticizing Trump's decision. In his statement, the governor called the decision "disappointing" and explained that "Massachusetts is aggressively working to exceed the goals of the Paris Agreement on the state level, while growing our economy through clean energy innovation and environmental stewardship."
Mayors Also React
Reaction from municipal leaders was equally swift and critical. The Mayors National Climate Action Agenda released a statement signed by 68 mayors pledging to "adopt, honor, and uphold the commitments to the goals enshrined in the Paris Agreement."
After President Trump said in his speech, "I was elected by voters of Pittsburgh, not Paris," Pittsburgh Mayor Bill Peduto took to the airwaves to counter the idea that this was representative of his citizens, explaining his city would follow the guidelines of the Paris Agreement and noting that nearly 80 percent of the city voted for Hillary Clinton.
Both the U.S. Conference of Mayors and National League of Cities released statements opposing the move. This is perhaps not surprising, as cities have generally been supportive of the agreement. As noted in a contributed article by National League of Cities' Christiana McFarland and Trevor Langan for Route Fifty on Thursday: "One hundred thirty-four U.S. cities have committed to the Global Covenant of Mayors, the world's largest coalition of city leaders addressing climate change, and 16 of those cities have committed to reducing their emissions by more than half."
"The nation's mayors have never waited on Washington to act, and have been strong proponents of action on climate for decades," said USCM CEO and Executive Director Tom Cochran. "Mayors will continue to harness their collective power to continue to lead the nation on this critical issue, regardless of what happens at the national level."
Editor's Note: This article has been updated.