Building a Skills Agenda for the New Economy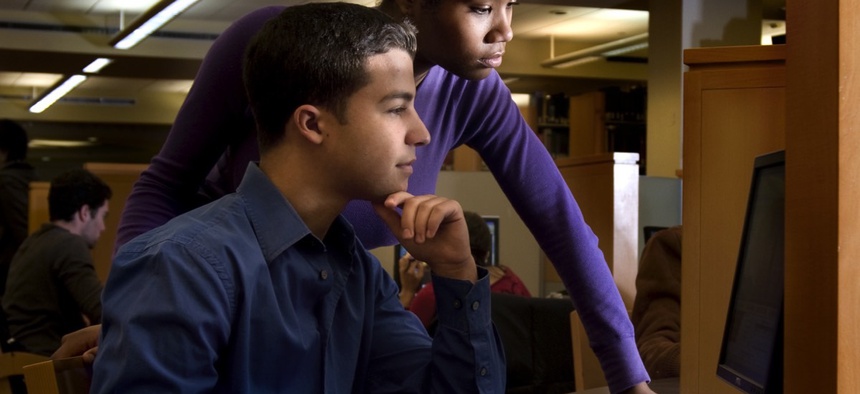 We can't rely on the free market to fix our workforce—here's what works.
In some ways the communities we represent couldn't be more different. Little Rock is a relatively small southern capital city in a state that includes the Ozark mountains and vast wilderness areas, while Cook County encompasses the industrial capital of the Midwest and third largest city in the country, Chicago.
But for all the differences in our local cultures and economies, the fundamental challenge we face as policymakers is exactly the same. Good jobs are available and ready to be created, whether at the growing aviation businesses in Little Rock or in Chicago's financial sector, but companies struggle to fill them.
For instance, in our states, and throughout the nation, we see ten-point gaps between the percentage of jobs requiring "middle skills" and the percentage of workers with those skills.
Meanwhile, people who built a living in jobs that have been automated or outsourced are in economic limbo, frustrated by a lack of opportunity. Students find they are unprepared for what is asked of them as they try to transition from the classroom to the workforce.
This skills gap is a refrain we hear not only from businesses and workers in Little Rock and Chicago, but also from our peers in discussions with fellow members of a national network of pro-growth progressive state and local officials at the NewDEAL organization.
It's time to get serious about the solutions we know work best: creating pathways that connect high schools to community college and apprenticeship programs, and, ultimately, to employers.
Employers and policy wonks have spent years bemoaning this challenge. After too much time without a large-scale effort to address this situation, we must capitalize on momentum toward solving it.
Consider as one important data point: the Labor Department reported that programs combining "on-the-job learning with mentorships and classroom education fell 40 percent" nationwide from 2003 to 2013;" however, with growing urgency to better our workforce, we have seen a promising resurgence in the last few years.
Increasing apprenticeships is one goal that every community can set for preparing workers to succeed in the new economy.
Cook County Commissioner Bridget Gainer started the first earned credit for employers who create and run a Department of Labor registered apprenticeship program. This initiative includes opportunities for employers to build apprenticeships in non-traditional areas, like services and technology fields, where there is projected growth in the coming decades.
In addition to incentivizing programs run by employers, a second goal for states and municipalities should be to jumpstart training efforts across whole industries.
Tallahassee, Florida's Mayor Andrew Gillum has launched a code academy to train the unemployed and underemployed with basic web skills such as software language. The program also helps with job placement and employment. When done right, this approach works.
In Wilmington, Delaware, the Zip Code training initiative has more than doubled the average income of participants.
Third, all communities can benefit from a hub that provides the space, equipment and employer to worker/student connections that are critical to a well-trained workforce. Models exist through the California Community College (CCC) Maker Initiative, as well as the Arkansas Regional Innovation Hub, which state Rep. Warwick Sabin founded almost four years ago.
Partnerships with high schools and community colleges give students access to programs in high-tech areas like robotics and 3D-printing, while employers can create programs to train current employees or potential recruits in welding and coding, and entrepreneurs can hone the skills they need to improve their startups.
The demand for this type of hub is real, with ten thousand students, workers and entrepreneurs using the space last year, including through partnerships with 63 schools in 21 counties. And the economic opportunity created is clear when you bring talented people together with the right skills training and mentorship, like a high school student starting a company that puts local artists' work on t-shirts.
Fourth, we must realize the full potential of our community colleges, which can offer not only a better pathway to a four-year degree for many students, but also provide targeted two-year and certification programs respected by employers. It's why investments like San José Mayor Sam Liccardo's push for free community college are so important.
Fixing our systems of workforce training is not a problem for the free market to solve alone. The private sector cannot make the full range of partnerships with our education and training programs without support. No city or state economic development plan will ever work if businesses don't believe they can find the talent to grow there.
If we get this right, communities from Little Rock to Chicago and coast to coast will unleash the broadly shared economic growth that our people deserve.
Warwick Sabin is serving his third term in the Arkansas House of Representatives and has formed an exploratory committee to run for mayor of Little Rock in 2018. Bridget Gainer is serving in her second term on the Cook County Board of Commissioners. Both are members of NewDEAL, a national network of state and local elected leaders who are pro-growth progressives.
NEXT STORY: Despite Growing Support for Marijuana, Legalization Faces Rocky Road