Baltimore Mayor's Advice for Removing Confederate Monuments: 'Do It Quietly and Quickly'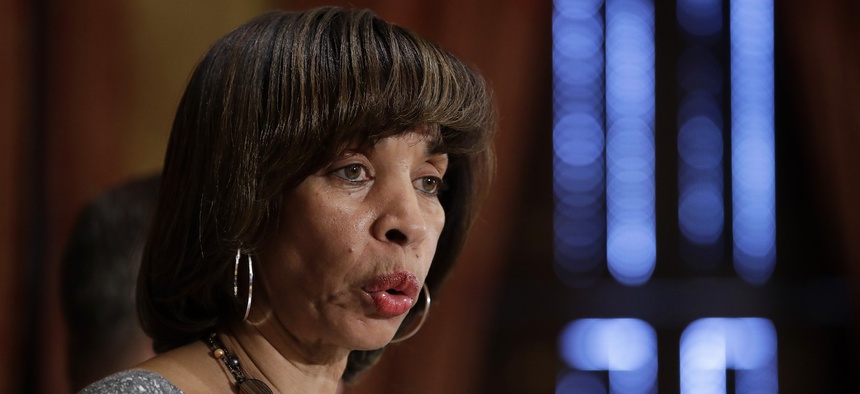 STATE AND LOCAL NEWS ROUNDUP | Health disparities in Houston; Michigan state worker retirees worry about public records request; and Milwaukee builds notable water tech sector.
Our daily roundup of state and local government news is compiled by Route Fifty's staff and edited by Michael Grass. Help us crowdsource link gathering : Flag state and local government news using the Twitter hashtags #localgovwire and #stategovwire .
Leading our roundup …
PUBLIC MONUMENTS | In an unannounced move early Wednesday, city work crews in Baltimore worked quickly to remove four Confederate monuments, in an action that Mayor Catherine Pugh said was justified due to the public safety threat. Pugh's advice for mayors examining how to proceed on monument removal: " Do it quietly and quickly, " she told reporters in the hours after the monuments were removed and brought to an undisclosed location. Members of the City Council on Monday passed a resolution calling for "the immediate deconstruction of all Confederate monuments in Baltimore." [ Baltimore Brew ; The Baltimore Sun ]
North Carolina Gov. Roy Cooper , a Democrat, has called for the removal of Confederate monuments on the grounds of the State Capitol in Raleigh . "Our Civil War history is important, but it belongs in textbooks and museums — not a place of allegiance on our Capitol grounds." Cooper called the Republican-controlled legislature to repeal a 2015 state law that prohibits the removal or relocation of any monument or memorial . He's also asked the Department of Natural and Cultural Resources to "determine the cost and logistics of removing Confederate monuments from state property as well as alternatives for their placement at museums or historical sites where they can be studied in context." [ Medium ; Indy Week ]
The mayor of Birmingham, Alabama has chosen to cover Confederate monuments in Linn Park while city officials consider legal options for how proceed on removing and relocating the monuments. "We need to take them down," Mayor William Bell said. "We will deal with the repercussions after that." [ AL.com ; YouTube ]
In Helena, Montana , the American Indian Caucus of the state legislature wants a Confederate memorial removed from a Hill Park . [ Lee Newspapers via Missoulian ]
And shifting from monument removal to monument additions, Philadelphia officials announced that the city will erect a statue to the educator, activist and athlete Octavius V. Catto on the southern apron of City Hall. Catto will become the first named African American to be memorialized on public land in the city's history . "Philadelphia has more than 1,700 statues on public land, which is more than any other city," said Murray Dubin the  author of "Tasting Freedom: Octavius Catto and the Battle for Equality in Civil War America." "None of these statues are about named or individual African Americans. None." The statue will be the first new memorial erected at City Hall since 1923. [ The Inquirer / Philly.com ]
PUBLIC HEALTH | As Houston , the nation's fourth-largest city " works to overcome its image as a dirty oil town ," there are neighborhoods where great health disparities stand out. That includes Manchester , " a six-square-mile grid of streets where the petrochemical industry towers directly over small homes ." It's a neighborhood where 40 percent of the residents live in poverty. "The cancer risk for residents of Manchester and the neighboring community of Harrisburg is 22 percent higher than for the overall Houston urban area." [ Grist ]
The cities of Los Angeles , Long Beach and neighboring jurisdictions in Southern California face similar challenges when it comes to having neighborhoods in close proximity to pollution generated by port facilities, industries and congested freeways. A Los Angeles City Council committee, citing public health concerns, rejected a plan to build 15 homes adjacent to the busy interchange of the 110 and 91 freeways in the Harbor Gateway neighborhood. State air quality regulators have warned that homes that are situated within 500 feet of a freeway have " higher rates of asthma, heart attacks, lung cancer and pre-term births ." [ Los Angeles Times ]
Digging into the data can sometimes better illustrate the local disparities that can exist. Looking at updated CalEnviroScreen data used to score places based on pollution burden , the 90810 ZIP code in west Long Beach—neighborhoods that are adjacent to freeways and railroads that serve the Port of Long Beach —" [n]o census tract went below the 80th percentile, with three tracts reaching the highest in the state ." [ CalEnviroScreen ; LongBeachize ]
#STATEGOVWIRE
Austin, Texas: Tuesday marked the end of the Texas Legislature's special session , a day earlier than anticipated, but property tax reform , the top priority for Gov. Greg Abbott —and the primary reason the the governor called the session—remains unaddressed. The Senate adjourned without voting on a House-passed property tax measure that would have called for automatic elections for increases of 6 percent or more. The Senate preferred a 4 percent threshold, to which the House essentially replied, take the 6 percent or leave it. The Senate's decision was to leave it. Lawmakers are not ruling out the possibility that Gov. Abbott may call them back once again, with some calling on the governor directly to make that very decision. [ Austin American Statesman ]
Albany, New York: New York Gov. Andrew Cuomo announced Wednesday that his administration will take action to ensure that "health insurers cannot discriminate or deny coverage based on gender identity." [ via @NYGovCuomo ]
Lansing, Michigan: Many retired state employees are angered by a public records request by a Illinois-based non-profit, American Transparency , seeking pension information. The information is public, but some retirees have said the data request is an invasion of privacy and could expose them to identity theft. [ Lansing State Journal ]
Olympia, Washington: With the highly anticipated solar eclipse just a few days away, the Washington State Department of Transportation has offered up this video of tips for travelers to prepare for delays, disruption and potential emergencies as roads fill up to head to the path of totality, which starts in Oregon. [ YouTube ]
#LOCALGOVWIRE
Mankato, Minnesota: In this city about 80 miles southwest of Minneapolis, agricultural runoff has become a costly headache and local leaders are calling on the state for more assistance. "We've spent $25 million alone, just on phosphorus management of our water," according to City Manager Pat Hentges . Another expense: $400,000 for a project to remove sediment from stormwater retention ponds. [ Minnesota Public Radio ]
Milwaukee, Wisconsin: "Almost overnight" Wisconsin's largest city has become " a go-to destination for companies and countries that want to solve their water problems ." In fact, "[y]ou can go around the world, and it's hard to find anything comparable" to the cluster of water technology companies in Milwaukee, according to David Garman , chief technology officer for the Water Council and associate vice chancellor for water technology, research and development at the University of Wisconsin-Milwaukee . [ Shepherd Express ]
Grand Rapids, Michigan: After starting working as a seasonal employee for the municipal government in 1981, City Manager Greg Sundstrom announced this week that he will retire by the end of the year. Sundstrom started as city manager in 2009 during the depths of the Great Recession. "I'm just tired. I think I've done my share of that and it's time to turn it over to another person to try to bring in some creative ideas." [ WOOD-TV , h/t @MayorBliss ]
Joplin, Missouri: The Federal Transit Administration has given the city's Sunshine Lamp Trolley service an award for boosting ridership by 3 percent . In the 2015-16 fiscal year, the system's three trolley routes provided nearly 137,000 rides. The system currently operates limited service that ends at 6 p.m. with no service on Sunday. [ The Joplin Globe ]