Pennsylvania Decision Puts Public Officials on Notice Regarding Their Facebook Use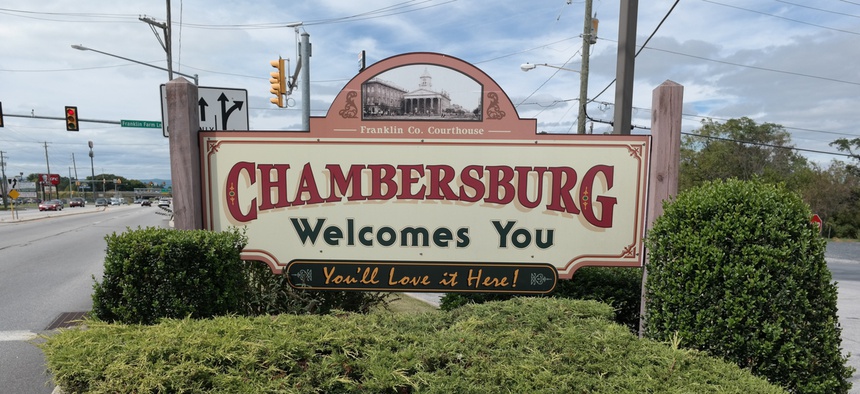 It all started with a proposed local mural. Then things online got snarky and personal.
Debate has rumbled for more than a month through the south-central Pennsylvania borough of Chambersburg over a proposed public mural, an impressionistic flowery painting meant to cover a concrete and stone wall near the center of town along a walking path.
The mural may never see the light of day, but the debate about it—much of which has taken place on social media—now has Pennsylvania officials writing the latest installment in the unfolding national story of government transparency in the era of Facebook and Twitter.
Pennsylvania's Office of Open Records last week determined that the Facebook pages of public officials are subject to records requests, overruling a decision handed down  by the Chambersburg city council at the end of June. The state decision bolsters Pennsylvania's Right to Know public records law. Chambersburg officials have yet to decide whether they will appeal the decision in court.
Noel Purdy, the Chambersburg community activist who brought the appeal to the state, celebrated the news that state officials had sided with her on the matter. In June, borough officials turned down her request for all posts and comments related to the mural published at Mayor Darren Brown's official Facebook page, including any material that had been deleted.
Purdy said she felt the mayor was using his Facebook page to control public debate, in part by paring comments he didn't agree with from the thread about the mural and banning her from participating.
"Public officials shouldn't be able to sit behind a computer screen deleting public comments from their social media pages in an effort to manufacture a narrative that fits their agenda," she said in a statement sent to The Patriot-News / PennLive.com.
From the beginning, the mayor opposed the mural project. Brown made his feelings known in a Facebook thread that garnered hundreds of responses. Later, the mayor said he was simply cleaning up the thread when he deleted "spam" and "belligerent" comments written by Purdy. He said she was "twisting information."
At some point, the debate over the mural took a familiar turn. It got snarky and personal.
Brown posted a photo of Purdy's home and argued that one of the walls of Purdy's home would be a better site for a mural. He later deleted the post.
Purdy's husband eventually submitted a proposal for a different public mural. In a blurred version posted online, the new mural would have featured what looked like a famously irreverent image of Johnny Cash flipping the bird.  
At many levels of government, public officials, citizens and the courts are wrestling with the issues raised by the use of social media in civic affairs.
Earlier this month, the American Civil Liberties Union brought a federal lawsuit against Maine Gov. Paul LePage, accusing the Republican of censoring comments on his Facebook page.
Late last month in Virginia, a federal judge ruled against the chairwoman of the Loudoun County Board of Supervisors, who had temporarily banned a local resident from her official Facebook page.
"The suppression of critical commentary regarding elected officials is the quintessential form of viewpoint discrimination against which the First Amendment guards," Judge James Cacheris wrote in his ruling.
And then there's President Trump. His use of Twitter has drawn a series of public records-related lawsuits since he assumed office.
Trump has been sued for deleting tweets. Lawyers have argued that social media is now subject to the Presidential Records Act, so Trump's tweets, like Barack Obama's before him, must be archived.
Trump has also been sued for blocking certain of his Twitter followers. The arguments made in a case filed this summer on behalf of seven Twitter users blocked by Trump mirror arguments made by the Pennsylvania Office of Open Records sympathetic to Purdy's appeal in the Chambersburg case.    
"President Trump's Twitter account has become an important source of news and information about the government and an important forum for speech by, to, or about the president," Jameel Jaffer, executive director of the Knight First Amendment Institute at Columbia University, a party to the lawsuit, said in July, according to USA Today. "The First Amendment applies to this digital forum in the same way it applies to town halls and open school board meetings. The White House acts unlawfully when it excludes people from this forum simply because they've disagreed with the president."
Speaking to PennLive, Erik Arneson, director of the Pennsylvania Office of Open Records, sounded what may becoming an increasingly familiar refrain.
"We haven't had very many cases at all that deal with [social media], but we expect to have more and believe in a lot of cases it's going to be ruled as a public record, subject to the same exemptions as any public record, but a public record nonetheless."