EPA Program to Clean Up Toxic Sites Gets Attention on Capitol Hill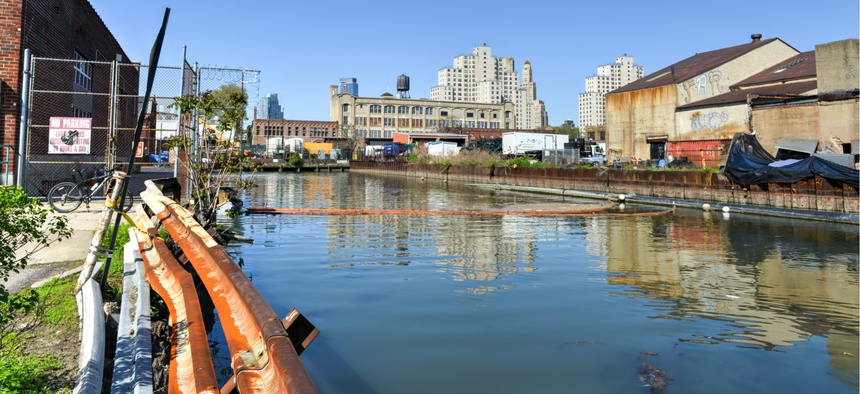 President Trump has proposed slashing the Superfund program. Environmental Protection Agency Administrator Scott Pruitt says he wants to make it a priority. Congress is taking a look at it, too.
WASHINGTON — Before he will consider backing a substantial increase in funding for the Environmental Protection Agency's Superfund program, U.S. Sen. Mike Rounds wants more information about how the program is being operated and the estimated cost of pending cleanups.
The South Dakota Republican chairs the Senate Environment and Public Works subcommittee on Superfund, Waste Management and Regulatory Oversight. Funding has declined in recent years for the Superfund program, which focuses on cleaning up some of the nation's most toxic contaminated land.
For fiscal year 2017, Congress appropriated about $1.08 billion for the program. In inflation-adjusted terms, lawmakers provided the equivalent in today's dollars of closer to $2 billion in 2000.
Between those years, the number of sites has remained relatively constant on EPA's National Priorities List, a catalog of sites that are known to be hazardous, or threatened by contaminants.
Asked if he thought funding for the program should be ramped back up to early 2000 levels, Rounds replied: "In order to determine that you've got to know what your costs are going to be."
He pointed out that a witness told the subcommittee during a hearing on Tuesday that EPA had stopped estimating what Superfund cost liability would look like in future years. Rounds also stressed the importance of ensuring that EPA is basing cleanup efforts on "sound science."
"You have to establish your need and then you establish that you're capable of actually providing a solution," he told reporters after the hearing. "Once you do that, you can begin the discussion and the planning for a long term permanent revenue source."
U.S. Sen. Cory Booker, a New Jersey Democrat who also sits on the subcommittee that oversees the Superfund program, offered a somewhat different perspective.
He and other Democrats have criticized the deep cuts the Trump administration has proposed for EPA—including its Superfund budget.
Booker said that he lives about one mile from a Superfund site in Newark, where he used to serve as mayor.
"If everybody in Congress lived within a mile of a Superfund site," he said, "there might be a sense of urgency and outrage that we are debilitating our ability to clean these up."
The senator said he plans to introduce legislation to reinstate a tax on certain industries that generate pollution, such as the petrochemical sector, to support Superfund costs.
Booker referred to research that suggested birth defect rates were higher in areas where people live near to Superfund sites. New Jersey, he added, is the state that is home to the greatest number of Superfund sites. EPA lists 114 sites there on the National Priorities List.
Katherine Probst, an independent consultant, was among the witnesses who appeared before the subcommittee Tuesday.
"Few, if any, states have the financial resources to pay for the cleanup of an NPL caliber site, much less a mega-site costing $50 million or more," she noted.
The Superfund program is formally known as the Comprehensive Environmental Response, Compensation, and Liability Act. Then-President Jimmy Carter signed it into law in 1980.
There are currently 1,336 sites on the National Priorities List. Of those sites, 1,179 are designated as non-federal, meaning they're not federal facilities. By comparison, in 1999, there were 1,054 non-federal sites on the list, according to the Government Accountability Office.
Entries on the list include places like a 5.8-acre property in Edison Township, New Jersey where Chemical Insecticide Corp. manufactured and packaged pesticides before going bankrupt in 1970 and the 4,525-acre U.S. Magnesium site, 40 miles west of Salt Lake City, Utah, where contaminants such as arsenic, chromium, mercury and chlorine gas have been detected.
EPA Administrator Scott Pruitt has questioned why contaminated sites have lingered on the list for decades in some cases and has identified the Superfund program as one of his priorities. Pruitt earlier this year appointed a task force to look at ways the program could be improved.
The task force issued a report last week with 42 recommendations.
U.S. Sen. Kamala Harris, the top Democrat on the Superfund subcommittee, said she was heartened by the task force's work, but that EPA should not take shortcuts when it comes to health and environmental standards, holding polluters accountable, or limiting public input. "We should reject efforts to expedite cleanups if it means cutting corners," the California senator said.
Harris added that about 53 million people in the U.S. live within three miles of a Superfund site and that poor and minority communities tend to be disproportionately exposed to toxic waste.
Probst noted in her testimony that there are over 100 Superfund sites where people's exposure to hazards is not under control, and over 150 where it's unclear if exposure is under control.
"I'm kind of horrified by that latter piece," she said.
The EPA, Probst pointed out, has not estimated "out-year," meaning projected, Superfund costs since 2001. "It would be really good to know how much money they need," she said.
Like Rounds, Harris agreed with that point.
"We should have an estimate of the cost," she said.
The budget proposal President Trump submitted to Congress earlier this year called for slashing Superfund spending in the upcoming 2018 fiscal year by roughly $330 million to $762 million.
Congressional lawmakers so far have not indicated that they plan to go along with the president's proposal chop the Superfund account. A bill the House Appropriations Committee passed last month included $1.1 billion for the program.