As Sessions Looks More Closely at Legal Weed, State Officials Point to Regulatory Successes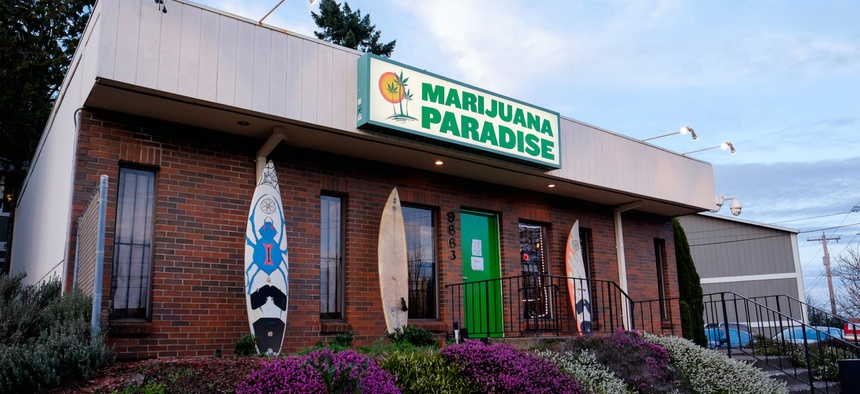 "We're trying to be flexible, to bring the understanding…, the agency's history and legacy of knowledge to bear on this new industry," according to Mark Pettinger, an Oregon Liquor Control Commission public affairs officer.
Advocates of legalized marijuana and officials in states that now regulate its sale and distribution have been carefully watching U.S. Attorney General Jeff Sessions and the Justice Department.
The federal government's chief law enforcement officer has been a staunch opponent of relaxed drug laws and went so far as to form a task force in February to study legalized marijuana, violent crime and other issues. However, that group of law enforcement officials and prosecutors has now come back offering "no new policy recommendations" with regards to relaxed laws around pot, the Associated Press reported on Saturday.
The task force's report "largely reiterates the current Justice Department policy on marijuana," established under the Obama administration, the AP reported.
Sessions recently sent letters to top officials in states that have legalized recreational marijuana, including Washington state, whose system "raises concerns significantly." Washington state Attorney General Bob Ferguson told The Seattle Times this weekend that the inquiry raises questions about the accuracy of Sessions' complaints.
"Honestly, it's hard to take him seriously if he relies on such outdated information," Ferguson said, adding that it might signal that the Justice Department will pay more careful attention to state government adherence to the so-called Cole Memo, the department's document that guides federal drug enforcement regarding marijuana drafted during the Obama administration.
Stuck in limbo are personnel at state agencies that regulate legalized marijuana. That includes Mark Pettinger, a public affairs officer with Oregon's recreational marijuana program, which is overseen by the state's liquor control commission and involves collaborations with other state agencies.
In an interview earlier this year with Route Fifty, Pettinger described how the state worked on a tight timeline in 2014 and 2015 to implement a program that would regulate a whole new, legal industry overseeing business licensing, safety and a whole host of other issues.
In November 2014, Oregon voters approved Measure 91, which legalized the use and sale of recreational marijuana for adults age 21 and older. It also put Oregon Liquor Control Commission in charge of regulating the recreational marijuana market.
"I think there was concern because the [OLCC] kind of had a legacy of being pretty hard and firm," Pettinger said. "We've tried to be flexible in our approach to rulemaking and making changes where things don't make a lot of sense. But it's been a learning process just as it has been in Colorado and Washington, whom we learned a lot of best practices from."
Unlike many other states that have implemented regulatory enforcement for legal pot and turned toward a health department or creating a whole new state agency, Oregon turned to its existing liquor control framework since the OLCC already has experience with licensing and other business-related activities.
"The line I use quite frequently: 'we don't have any scientists in our building,'" Pettinger said, noting that the commission works with three other state government agencies with expertise on taxes, pesticides and certifying labs. "We rely on [our partners] because that's their expertise. We focus on what we do best, which is licensing, taking in consideration all of the things that are required for the businesses to operate … It's all integrated."
Additionally, the OLCC contracted with Olathe, Kansas-based NIC Inc. to build an online portal for the licensing of legal marijuana businesses.
Pettinger described the rollout of the state's online portal as "flawless," particularly when compared with the problematic rollout of the state's health insurance exchange.
Officials have said that the state government collected more than $60 million in revenue last year as a result of recreational marijuana and issued more than 12,000 permits for workers in the industry, according to a report from the office of Gov. Kate Brown.
"We passed legislation to tighten down seed-to-sale tracking in the medical arena," Brown recently told the HuffPost. "My staffers on this are working very closely with the U.S. Attorney's Office."
Despite that, Oregon may have taken a slightly different approach with its implementation route than other states that previously turned to legalization, experts note that the limited number of legalized marijuana program rollouts have largely been successful.
Jon Hudak, a fellow in governance studies at the Washington, D.C.-based Brookings Institution, looked at Colorado's implementation in 2014—two years after the state first rolled out its newly passed legalized marijuana law—and dubbed the implementation as "succeeding."
"Despite firm deadlines, an unprecedented policy area, and initial opposition from political leadership, Colorado developed and rolled out a system that did exactly what voters asked: make retail marijuana available to any adult who wants it," Hudak wrote. "Over time, Colorado should consider necessary changes to avoid direct and indirect problems and work hard to maintain that environment of success that it has achieved thus far."
With seven states now offering legal, recreational pot–and several more expected to legalize in the coming years–it's hardly surprising that some problems are arising. USA Today reported on July 31 that legalization of marijuana has led to more black markets in other states where weed is still illegal.
To that end, marijuana seizures at U.S. border crossings are actually down significantly.
Nonetheless, Pettinger said he believes that even with the new opportunities brought about by legalized pot—and despite a smooth transition process—there will always be changes needed for states to stay ahead of the curve.
"Like any other industry, there are good actors and not so good actors," he said. "We realize that the policies and procedures we're developing right now aren't necessarily the policies and procedures that will be in place six months from now. We're trying to be flexible, to bring the understanding…, the agency's history and legacy of knowledge to bear on this new industry."