States Looking for Bipartisan Solutions on Climate Change Might Consider California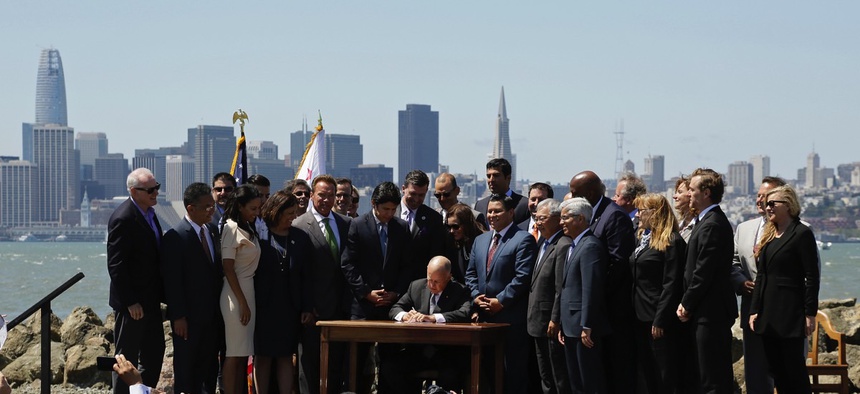 Maintaining an open dialogue and considering the impacts new regulations will have on disparate areas have proven critical to the Golden State's environmental and economic success.
With President Trump intending to withdraw the U.S. from the Paris Agreement, climate change mitigation policies are destined to vary state to state—they already do. But state and local officials are looking to California's recent success authorizing an extension of its cap-and-trade program as a model.
For the first time, legislation approving an extension to 2030 of the sale of permits allowing companies to emit greenhouse gases received bipartisan support—indicating a shift in opinion on the seriousness of the threat.
More important was state and local officials' commitment to maintaining an open dialogue about developing a market-based solution, as opposed to a command-and-control mandate.
"As long as there's that void in leadership at the federal level, there's going to be continued dialogue in many states," said Matthew Rodriquez, California Environmental Protection Agency secretary, during a Governing Across the Divide panel hosted by the National Academy of Public Administration on Tuesday in Sacramento. "California's [program] was set up to give a great deal of authority to local governments."
Not all states will use the Golden State's approach, and still others won't act to mitigate the worst effects of climate change at all, panelists agreed.
But polling shows a significant number of Democrats, independents and Republicans find climate change important, at least until the costs of programs to address the problem become too burdensome, said California Assemblyman Chad Mayes.
The Assembly's former Republican leader, who represents a district in San Bernardino and Riverside counties, put together a three-member working group to outline GOP principles ahead of the cap-and-trade vote, almost all of which were fulfilled by the market-based mechanism that was 40 percent cheaper, particularly for low-income households, than the mandate.
Mayes did warn that combating misinformation on the internet is a challenge when dealing with elected officials worried about what their constituents might think.
"Fake news is real, and it does have an impact on public policy," Mayes said.
Another hurdle lawmakers passing new climate change mitigation policies face is the disparate effects those regulations will have on different parts of the state. California solved its problem with various parts of the state having varying water needs by establishing regional water control boards, Rodriquez said.
Washington state's eastern half is dominated by agriculture, enterprise and more conservative voters, who held up new groundwater policies because of their impacts on the digging of wells. Adjustment costs must be found, said Sandra Archibald, the dean of the University of Washington's Evans School of Public Policy and Governance.
Archibald worked on both her state's carbon emissions inventory and climate action plan and pointed out Washington approved increasingly punitive policies over 10 years to build a coalition of growing industry and Republican support for a carbon mitigation tax, H.B. 1646, that's finally likely to pass. The tax would replace a 2016 Clean Air Rule pushed by Democratic Gov. Jay Inslee that reduced carbon emissions for the first time in the state, after a cap-and-trade proposal failed in 2014.
"We've got the targets," Archibald said. "We've got the Clean Air Act that sets the penalties for failing to reduce emissions."
As a model, California is set to become the world's fifth-largest economy—jumping the United Kingdom. The state leads all others on clean energy, agriculture and college graduates.
While state and local officials continue to wrestle with a housing crisis, implementing legal cannabis and the regulation of subcontractors in the construction industry, "we're doing something," California Attorney General Xavier Becerra said in opening remarks to start the day.
Becerra pointed to a tentative state housing agreement and a separate agreement on roads, highways and mass transit that came earlier this year. Legislators are also working to address reducing racial profiling by state and local law enforcement agencies.
"We figured out the secret sauce," Becerra said. "Don't ask me to tell you the ingredients, but it's working."
The attorney general said California isn't "pulling back" on its environmental efforts or protection of immigrants, in spite of the Trump administration.  
As for the higher tax rates, Becerra encouraged those present to "talk to the veterans" about serving without expecting anything in return because "if you want to freeload, then California is really not for you."
People want more government services, and Becerra said the goal of California government is to ensure that people feel they are contributing and also getting the benefit of what they're providing.
"If you're willing to contribute, you get to stay on the wagon," Becerra said. "And if you're on the wagon, it's a pretty good ride."